To 'The Show' and Back
Jason Martin returns from Pittsburgh with experience, lessons to move forward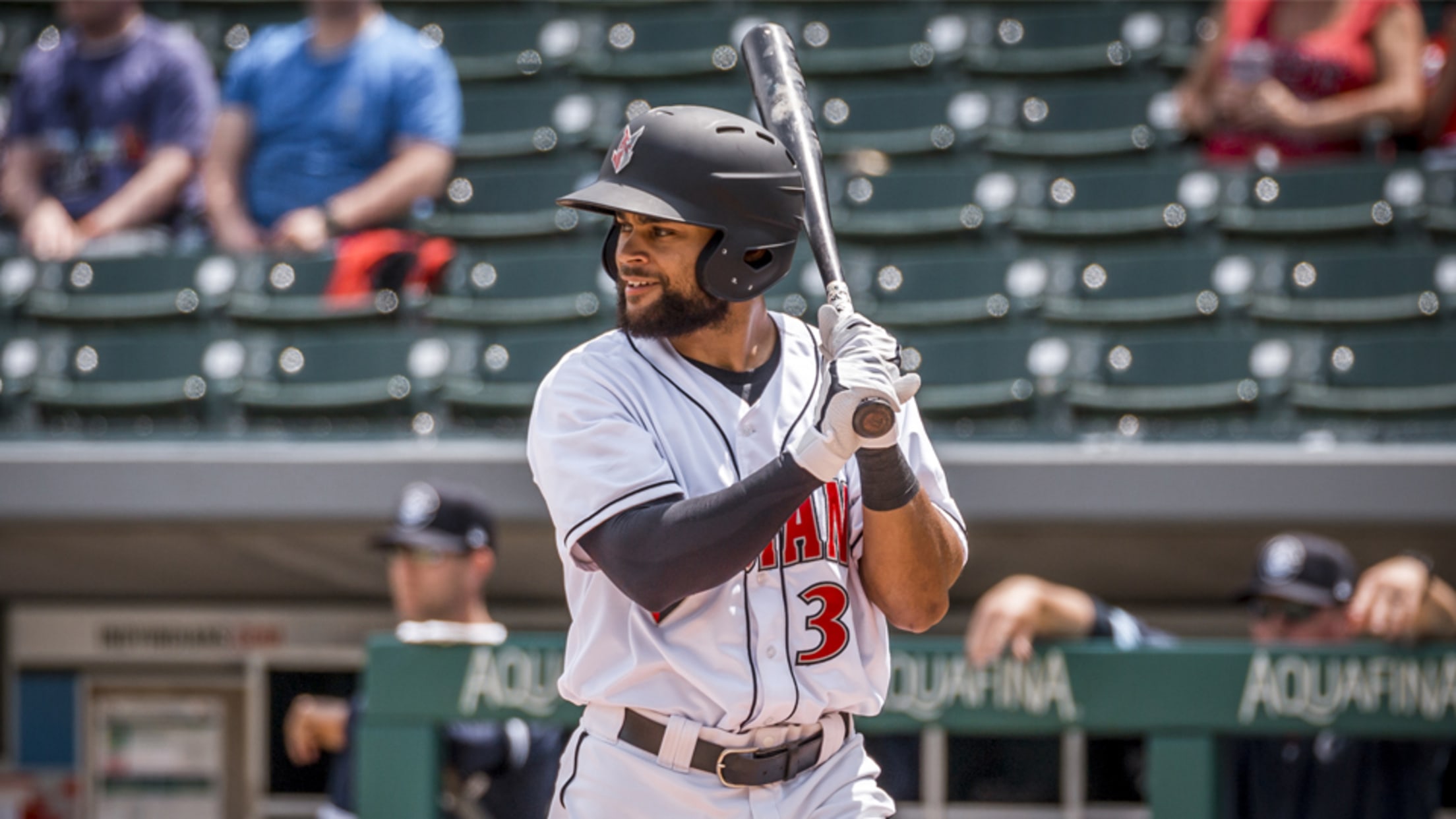 Jason Martin was recalled by Pittsburgh in early April and recorded a single in his first major league at-bat. (Photo by Adam Pintar)
Jason Martin's journey to Pittsburgh began with a phone call and a sheet of paper.
Jason Martin's journey to Pittsburgh began with a phone call and a sheet of paper.
On April 3, the day before Indy's season opener, Martin left practice preparing to travel with his teammates to Columbus, Ohio the next morning before Indians manager Brian Esposito called him back to the clubhouse to sign a waiver for the bus trip. When Esposito handed him a second copy, it said something a little different:
"You're going to the show."
After being one of four players traded to Pittsburgh in a swap that sent Gerrit Cole to Houston in Jan. 2018, Martin opened last summer in Double-A. He hit .325 (83-for-255) in 68 games with Altoona, leading him to Triple-A, where he tripled in his first at-bat with the Tribe. By season's end with Indy, however, he was sporting an average near .200 and seemed destined for a repeat campaign in the International League.
Pittsburgh added the 23-year-old to its 40-man roster in November 2018, and he began 2019 hitting .304 (7-for-23) in spring training. When outfielders went down with injuries in the majors, he was the first to get the call.
"It was just - I don't even know," Martin said. "I can't even put it into words. It was all that I've worked towards my whole life and career for that moment and it came. Just being able to tell my family, it was unreal."
The first people he told were his parents and his fiancé, the emotional moment being met with tears and excitement. Those emotions didn't waiver over the course of those next few days.
On April 6, he was officially recalled from Indy's roster to Pittsburgh's and made his first start that day at PNC Park against the Cincinnati Reds.
"It was just an unreal experience," Martin said. "The best thing was that my parents were able to fly out, my fiancé, my sister, they were all able to witness my debut."
Martin's first major league at-bat came in the bottom of the first inning, where he led off the Pirates in what would become a 6-5 extra-innings win.
With a 3-1 count against Reds starter Tanner Roark, Martin lined a fastball up the middle to make his debut one to remember. He stole second base in the same inning, setting himself up to come around the bases on a double by another former Indian, Josh Bell.
"[That hit] kind of calmed the nerves a bit and then from there it was just rolling," Martin said. "I was just trying to take it all in, being in the parks that I played in, just seeing how the atmosphere was but at the same time being able to play and work on my game and showcase what I could do."
In his second game in the majors, he went 2-for-4 with his first double at the highest level and knocked in his first RBI. One week later, he ripped a go-ahead RBI double in the top of the ninth inning at Washington, a knock that proved to be the game-winner.
Martin appeared in 17 games for the Pirates, playing nearly every day through April 25 before being optioned back to Indianapolis on April 30. In that time, he hit .229 (8-for-35) with two doubles, two RBI and two stolen bases.
"It's the same game, it's a little faster," Martin said. "Being able to come up and come back down, I have a couple things I can work on, especially now since I have the experience. I'm just excited for the future, being able to get that experience this early in the season and be able to work towards that."
Now back with the Triple-A club and with the majors just one call away, Martin's focus is on what he can do better in all facets of the game.
"Just my all-around game," Martin said. "Stuff that I was working on before, better breaks in the outfield, working on my bunting game, just little things with my swing."
"I'm just trying to become a better player every day."