Tribe Announce 2020 Intern Class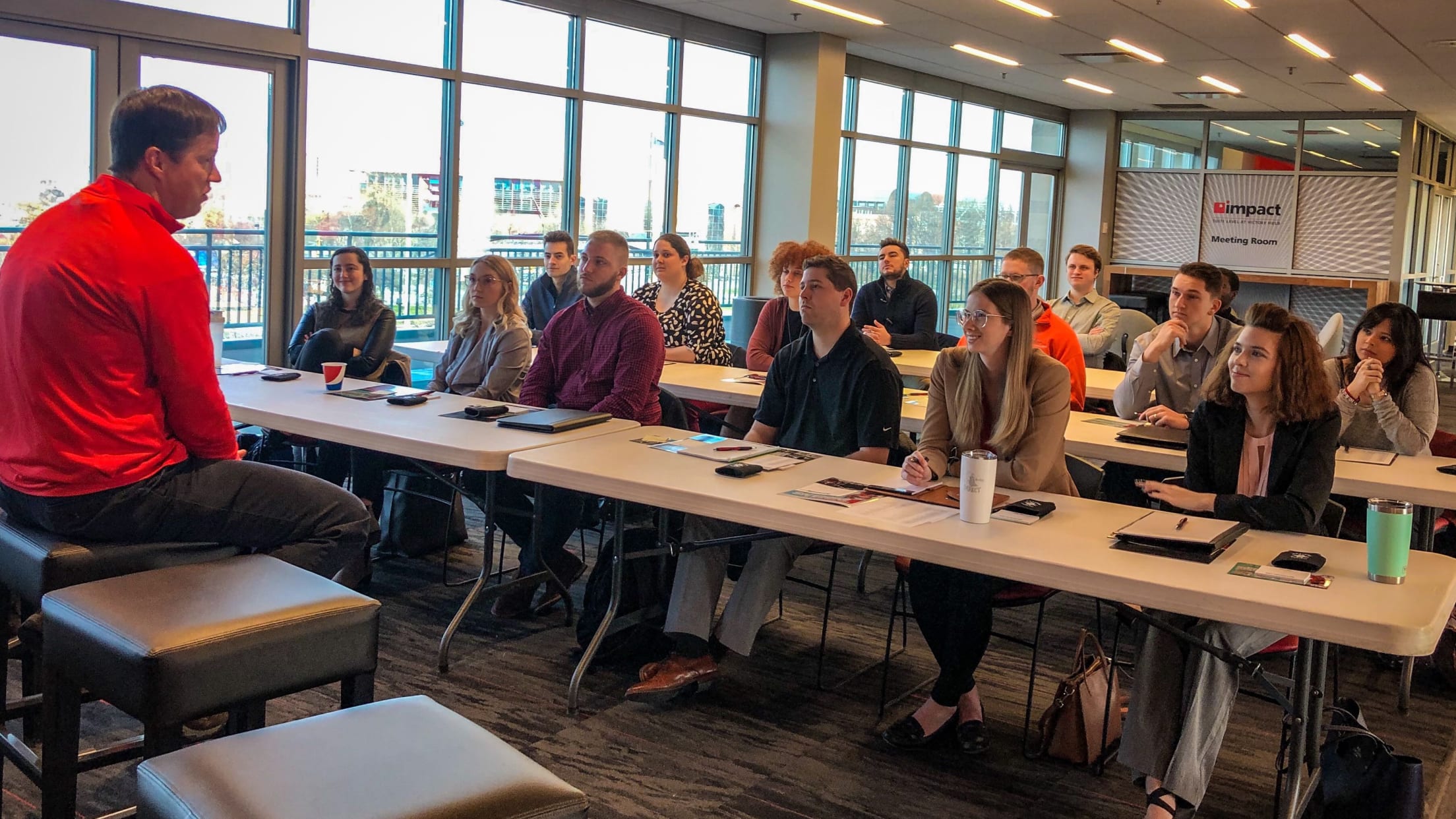 Indianapolis Indians Director of Merchandise Mark Schumacher speaks with Indy's intern Class of 2020 of their first day of orientation. (Photo by Casey McGaw)
INDIANAPOLIS - The Indianapolis Indians today announced the hiring of 16 seasonal assistants for the 2020 campaign. Former Tribe interns have earned full-time positions with many professional franchises, including the Boston Bruins, Chicago Cubs, Cincinnati Reds, Detroit Tigers, Indiana Pacers, Indianapolis Motor Speedway, Learfield IMG College, Los Angeles Rams, Oakland
INDIANAPOLIS - The Indianapolis Indians today announced the hiring of 16 seasonal assistants for the 2020 campaign. Former Tribe interns have earned full-time positions with many professional franchises, including the Boston Bruins, Chicago Cubs, Cincinnati Reds, Detroit Tigers, Indiana Pacers, Indianapolis Motor Speedway, Learfield IMG College, Los Angeles Rams, Oakland Athletics and Tennessee Titans, among others. Indy's 2020 intern class will fill roles in baseball communications, business operations, business strategy and operations, digital marketing, field operations, game presentation and promotions, merchandise, partnership activation, stadium operations and ticket sales.
Megan Garcia - Baseball Communications
School: Cal State Fullerton
Hometown: Los Angeles, Calif.
Megan graduated from Cal State Fullerton in May 2019 with her bachelor's degree in communication with a journalism emphasis. Her on-campus work included serving as senior editor and sports editor for the Daily Titan, Cal State Fullerton's student newspaper. She supervised, assigned and edited stories and wrote her own long-form feature stories relating to CSUF athletics. Last summer, Megan was the media intern for the High-A Rancho Cucamonga Quakes in the California League. In that role, she managed the team social media accounts with live game updates, team events and marketing promotions. She also created GIFs and graphics for online use and assisted with game notes. Most recently, Megan was an intern writer with SB Nation's Silver Screen & Roll. She would partake in postgame interviews for the Lakers and wrote game previews, recaps and features.
Elizabeth Salmons - Business Operations
School: Mount St. Joseph University (Cincinnati, Ohio)
Hometown: Cincinnati, Ohio
Elizabeth recently graduated from Mount St. Joseph University in December 2019 with her bachelor's in sport management and marketing. Her most extensive work has come with E & E Trucking Inc. as vice president, overseeing interview processes, employee onboarding and maintaining company policies to ensure compliance with local, state and federal regulations. She has also worked as a social media intern for Game Day Communications and a credentials intern for the Western & Southern Open during the summer of 2018.
Ian McGuire - Business Strategy & Operations
School: BYU-Idaho
Hometown: Annandale, Va.
Ian earned his bachelor's in business management with a marketing emphasis from BYU-Idaho in July 2019. In college, Ian was a data analyst intern for Jefferson Education Exchange in Arlington, Va. and was the university relations project manager for two stints, directing a team of 10 graphic designers, two copywriters, three videographers and three photographers for university projects. Ian has completed community outreach work in both Uruguay and Argentina, teaching English to citizens from those respective countries.
Hailey Walsh - Digital Marketing
School: Florida State University
Hometown: Cleveland, Ohio
Hailey earned her bachelor of humanities with a focus in digital studies from Florida State University in May 2019. She was a cheerleader and dance team member at FSU and oversaw social media content for the dance team. Hailey was also a digital media associate for her final 12 months at FSU. Since graduation, Hailey has lived in Indianapolis working as a graphic designer for Next Man Up Podcast and the social media staff for USA Football.
Grant Fellers - Field Operations
School: Purdue University
Hometown: Brownsburg, Ind.
Grant is currently a turf science major at Purdue University with an anticipated graduation coming in May 2021. Last summer he spent four months with the Cincinnati Reds as a summer grounds intern. On campus, Grant began work in October 2018 with Purdue Sports Turf as a student worker. Grant also interned for the Golf Club of Indiana in 2018. He graduated from Brownsburg High School, where he was a member on the golf team, fishing club and National Honor Society.
CJ Donegan - Game Presentation & Promotions
School: Maryville University of St. Louis
Hometown: St. Louis, Mo.
CJ earned her bachelor's degree from the Rawlings Sport Business Management program at Maryville University of St. Louis in December 2019. She was a four-year member on the varsity golf team and was also the Student-Athlete Advisory Committee President for her final two semesters. CJ was a four-time Women's Golf Coaches Association All Scholar Athlete. Her most recent work came with the St. Louis Cardinals as a community outreach team member. She promoted and sold Kids Club packages, assisted with charity groups field and player visits, and helped with the preparation for the Ted Savage RBI Golf Tournament. Last summer, she interned with the St. Louis Ambush, a professional indoor soccer team. This coming fall, CJ plans to attend law school as a step to pursue her dream job of traveling the world to assist the sports industry on its expansion efforts.
Jake Cassidy - Merchandise
School: University of Southern Indiana (Evansville)
Hometown: Shelbyville, Ind.
Jake earned his bachelor's degree in sport management with a minor in sport and business studies from the University of Southern Indiana in April 2019. Last year, he worked as a merchandising assistant at Roger Dean Chevrolet Stadium in Jupiter, Fla., the spring training site for the Miami Marlins and St. Louis Cardinals and home to their Florida State League teams. In 2018, Jake worked player services at Victoria National Golf Club in Newburgh, Ind.
Todd Hauser - Partnership Activation
School: Ball State University (Muncie, Ind.)
Hometown: Warsaw, Ind.
Todd graduated from Ball State University in May 2019 with his bachelor's in sport administration and a minor in marketing. At BSU he was a student volunteer for the athletic department and was the vice president of external affairs for the Ball State Sport Administration Association. Todd's experience in the sports industry stretches from being a ticket sales rep for the Single-A Fort Wayne Tincaps in 2018 to a marketing & entertainment intern for Lansing Ignite FC last year.
Kim Duplak - Stadium Operations
School: Western Carolina University (Cullowhee, N.C.)
Hometown: Pompano Beach, Fla.
Kim earned her bachelor's degree in sport management from Western Carolina University in August 2019. While in school, she studied abroad in England, Spain and Hungary, and she recently completed her last year as president of the Sport Management Association on campus. In 2019 she was a promotions and event management intern for the Single-A Asheville Tourists in the South Atlantic League. She facilitated on-field promotions, assisted with team store inventory and worked in the box office, among other duties. Kim was also a game day operations intern and a marketing assistant for the WCU Athletic Department.
Fredrick Mathews - Stadium Operations
School: IUPUI
Hometown: Indianapolis, Ind.
Fredrick will earn his bachelor's in tourism event and sport management from IUPUI this coming May. At IUPUI he was a member of the sports management club and volunteered his time to the Monumental Marathon, Pacers 5K Walk/Run, the Victor Oladipo Basketball Pro Camp and the NCAA DIII Swimming & Diving Championships, among others. Over the past five seasons, he has been a Tribe Team member and in June 2017, he was a game day employee of the month award winner. His resume includes work with Indianapolis Motor Speedway, the Pacers, Indy Eleven and Grand Park Sports Campus, as well.
Jeff Cardenas - Tickets
School: University of Northwestern Ohio (Lima)
Hometown: Fort Wayne, Ind.
Jeff graduated from the University of Northwestern Ohio with his bachelor's in sport management and marketing in May 2017. He played baseball while at UNO after playing his first two seasons at Kankakee Community College in Illinois. He also played two seasons in the Frontier League for the Gateway Grizzlies and was the No. 7 overall pick in the 2018 Frontier League Draft. Jeff's work experience has come with UPS as a driver helper and Best Buy as an inventory specialist.
Bobby Clone - Tickets
School: Ball State University (Muncie, Ind.)
Hometown: McCordsville, Ind.
Bobby graduated from Ball State University in May 2019 with his bachelor's in sports administration and a minor in business management. At BSU, he was a member of the Sport Administration Association student club and participated in Dance Marathon. Bobby's most recent work experience came with USA Football last fall as an NFL FLAG sales and customer experience intern. During spring of 2019, he was an athletic department intern for the New Castle Parks and Rec Department. Bobby has also gained ticket sales experience with BSU Athletics.
David Cory - Tickets
School: DePauw University (Greencastle, Ind.)
Hometown: Scranton, Pa.
David graduated from DePauw University (Greencastle, Ind.) in May 2019 with a bachelor's in communication. At DePauw, he was a two-time letter winner on the football team. His previous work experience has come in the Indianapolis market; he was a public relations and marketing intern for Community Health Network in the summer of 2018, assistant design engineer for Noble Industries in Noblesville in the summer of 2017, and was a crew leader for A&H Athletic Flooring Company in the summer of 2016.
Paul Forman - Tickets
School: Bethel University (Mishawaka, Ind.)
Hometown: Churubusco, Ind.
Paul graduated from Bethel College (now University) in May 2019 as a double major in business administration and economics & finance. Paul played basketball at Bethel for four years, including two seasons as a team captain. He was a three-year letter winner and earned Second Team All-Crossroads League honors in 2018. This past fall, he joined the Indianapolis Colts as a ticket sales intern, making 50-70 calls per day. Last fall he also worked for the Children's Museum of Indianapolis as a Riley Sports Legends Experience coach. Paul took part in two basketball missions to the Dominican Republic during the summer in both 2015 and 2017.
Savannah Kitchel - Tickets
School: Butler University
Hometown: Indianapolis, Ind.
Savannah graduated with her bachelor's in marketing and a minor in organizational communication in May 2019 from Butler University. She also studied abroad at Cardiff University in Wales. At Butler, she worked as a marketing intern for two semesters within the athletic department. Her most recent work experience came with Cook Medical in Bloomington, Ind. as an internal communications intern. From 2015-18, Savannah was a summer camp counselor for the YMCA Lilly Science Camp. She is also a Perry Meridian High School graduate.
Mikayla Rowan - Tickets
School: University of Southern Indiana (Evansville)
Hometown: Brazil, Ind.
Mikayla earned her bachelor's in sport management from the University of Southern Indiana in May 2018. She has continued at USI to pursue her master of business administration with expected completion this coming May. At USI, Mikayla played basketball, earning Academic All-Great Lakes Valley Conference honors five times while serving as team captain her final two years on the roster. Mikayla is no stranger to Victory Field; she was a premium services game day intern for the Tribe last season. In 2018, she was a group sales intern for the Evansville Otters.
Tickets for the 2020 season are on sale now in full- and half-season plans, plus mini and flex plans. Groups may also purchase tickets for the new Elements Financial Club, a social VIP space to be completed on Victory Field's Impact Suite Level by Thursday, April 9. Single-game tickets go on sale Friday, February 28 at 10 AM.
For more on the Indianapolis Indians, contact the Victory Field Box Office at (317) 269-3545 or visit IndyIndians.com.