Hernandez Earns First Pro Win in Sixers' 3-1 Victory Over Storm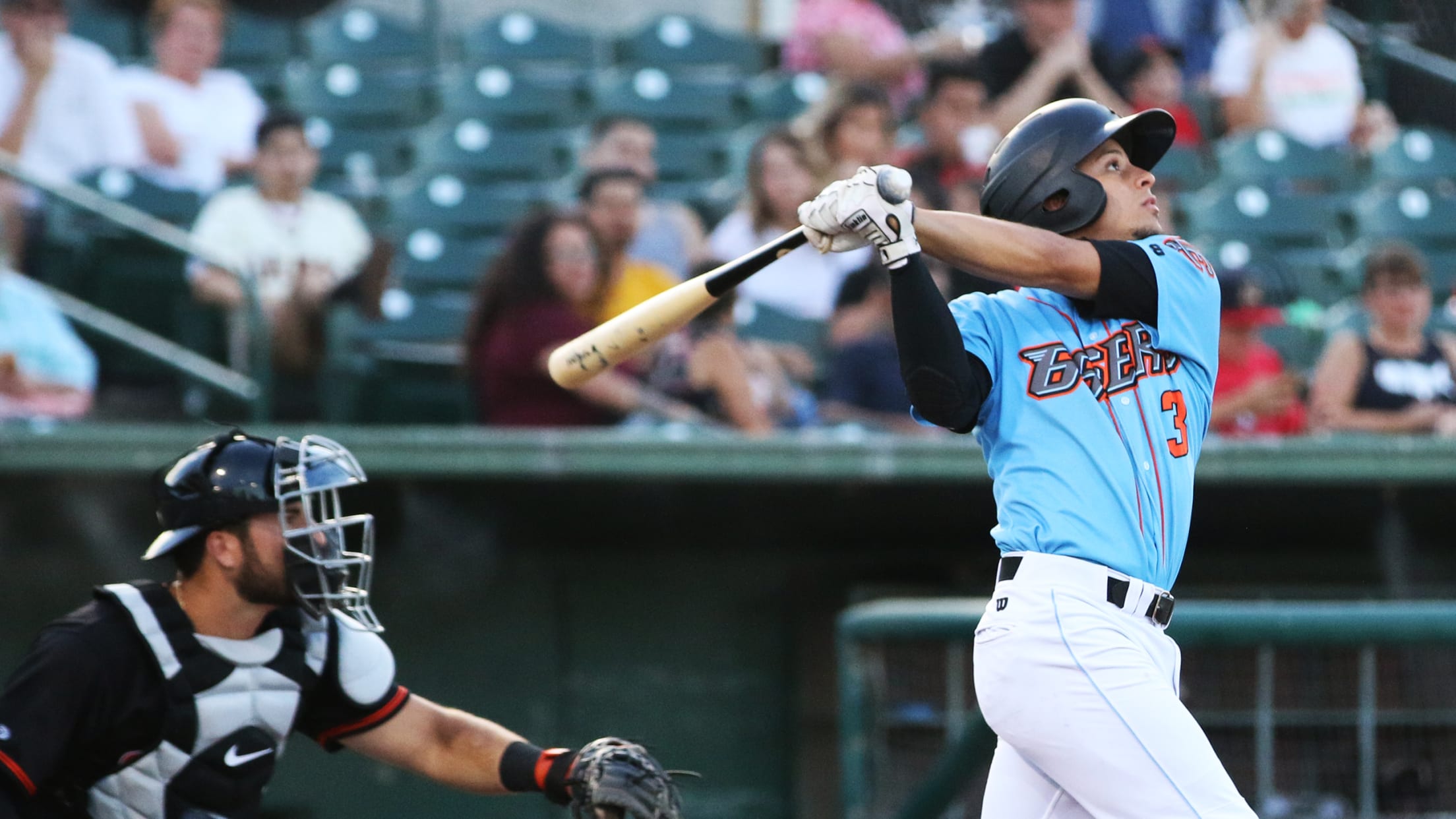 San Bernardino, CA- The Inland Empire 66ers of San Bernardino received strong pitching in a 3-1 win over Lake Elsinore on Sunday to salvage a game in a three-game set at San Manuel Stadium. The Sixers trio of Aaron Hernandez, Nathan Bates and Nate Bertness combined to hold the Storm
San Bernardino, CA- The Inland Empire 66ers of San Bernardino received strong pitching in a 3-1 win over Lake Elsinore on Sunday to salvage a game in a three-game set at San Manuel Stadium. The Sixers trio of Aaron Hernandez, Nathan Bates and Nate Bertness combined to hold the Storm (61-57, 26-24) to just four hits (three singles and a double) as Inland Empire rounded out the season series with Lake Elsinore going 12-19 against the San Diego Padres' affiliate.
The 66ers (46-73, 20-30) got on the board first as Gleyvin Pineda tripled to open the second against southpaw Joey Cantillo (0-1) in his Cal League pitching debut. The three-bagger pushed Pineda's hit-streak to nine-games, matching his season-best. Cam Williams followed with a sac fly to center for a 1-0 lead. The Storm tied the game in the fourth when Hernandez walked Xavier Edwards to open the frame and he stole second. With two outs Gabriel Arias singled home Edwards to tie the game, it was the first of only two hits that Hernandez allowed in his five frames. The Sixers took the lead in the home half of the fifth when DC Arendas smacked a solo homer to right on the first pitch Cantillo offered in the frame; it was Arendas' fourth dinger of the season. Later in the frame Leonardo Rivas doubled for the Sixers and moved to third on a single by Spencer Griffin. He then scored the third and final run on Zane Gurwitz' sac fly to right. Nathan Bates tossed two perfect innings with one K in relief of Hernandez while Bertness followed Bates with two scoreless innings to earn his fourth save. Bertness allowed a leadoff bunt single in eighth but stranded him and a two out double in the ninth to Eguy Rosario but struck out Jack Suwinski to close the door. Orlando Martinez went 1-for-4 for the Sixers extending his hit streak to 16-games. Hernandez (1-3) earned his first professional allowing two hits, three walks and five Ks in his five innings of one-run work.
The 66ers open a series at Stockton on Tuesday at 7:10 pm. The contest can be heard live at 66ers.com.