Inland Empire 66ers Release Fueled by Fun Promotional Schedule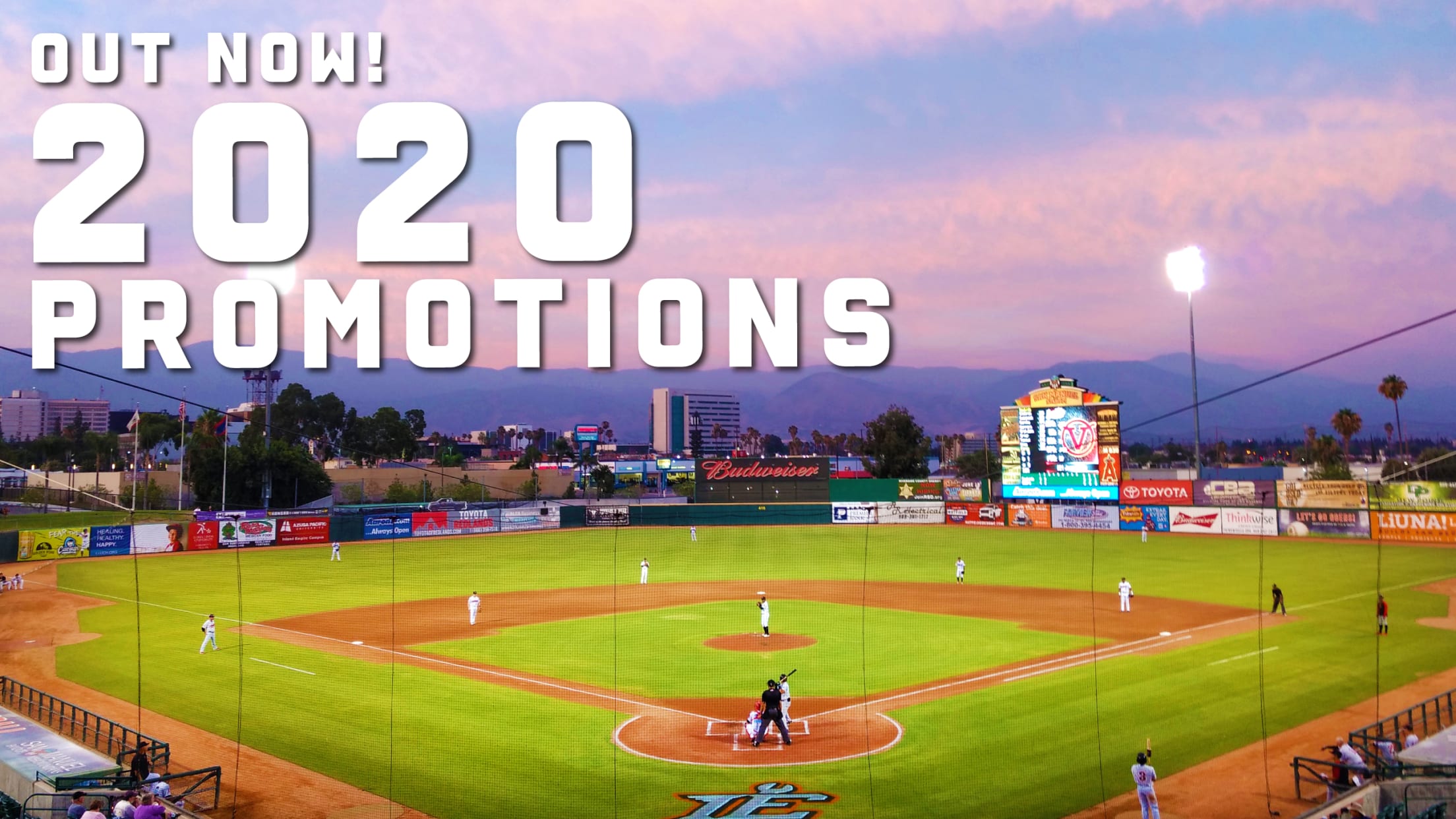 SAN BERNARDINO - The Inland Empire 66ers of San Bernardino, the Los Angeles Angels' High-A affiliate, announced its 2020 Promotional Schedule on Thursday. The 2020 season has a mix of exciting theme nights, fan-favorite promotional items and is dotted with spectacular fireworks shows. A cross-section of the promotional highlights is listed below:Promotional
SAN BERNARDINO - The Inland Empire 66ers of San Bernardino, the Los Angeles Angels' High-A affiliate, announced its 2020 Promotional Schedule on Thursday. The 2020 season has a mix of exciting theme nights, fan-favorite promotional items and is dotted with spectacular fireworks shows. A cross-section of the promotional highlights is listed below:
Promotional giveaways begin on April 18th with a David Fletcher Bobblehead, sponsored by ReMax Advantage & Lakeside. Two hats will be given away this year including a veteran themed hat presented by Alta Vista Credit Union on Armed Forces Night, May 9th. The second will be an area code hat, to be given away on June 6th, which will allow fans to select their Inland Empire location, 909 or 951. On Saturday, June 20th, the first of a three part, connecting "Outfield Series" will debut with a bobblehead of the three time MVP, Mike Trout, courtesy of the Inland Futures Foundation. The second and third bobbleheads of the Series will be given away June 27th and July 25th and will feature current Angels' left fielder Justin Upton, and Angels' top prospect Jo Adell, respectively. The remaining Saturday's will feature a replica Jo Adell neon-green Los Cucuys de San Bernardino Jersey, a bobblehead of beloved and long-time baseball coach Steve "Steve-O" Hernandez, and rounding out the promotional giveaways will be a TBD Fan Vote bobblehead courtesy of SunERGY Construction, with post-game Beer Mile benefitting Operation GLove, on Saturday, August 29th.
Throughout the season, the 66ers will hold lively theme nights that fans will undoubtedly anticipate like Super Hero Night presented by Comic Con Revolution on May 9th, Star Wars Night on August 29th and the return of the fan-favorite, California Burritos, on July 24th and 25th. The 66ers will once again be transformed into the California Burritos, a tribute to the Southern California specialty burrito. The Sixers will also roll out new theme nights including a "What Could Have Been Night" on Friday May 22nd, a celebration of the 100th anniversary of the Negro Leagues on August 21st and an Ode to Fall Night with a Bernie Tumbler giveaway courtesy of Azusa Pacific on August 28th. Select Friday dates, including Opening Night, April 17th, spotlight exciting firework shows. As tradition holds, the return of the largest fireworks show in the Inland Empire on Saturday, July 4th will once again light up the sky at San Manuel Stadium.
The crowd-pleasing Weekly Promotions will be making a return as well. Bring your baseball loving pooch to the ballpark for Man's Best Friend Mondays. $2 Tuesdays will entail $2 tickets, hot dogs, soda, popcorn and Sophia's Tacos. Feel like a winner on OmniTrans Winning Wednesday when you bring your OmniTrans bus pass for two free tickets. Summer temps are no match for Budweiser's Thirsty Thursday featuring $3.50 beers or $3.50 sodas. Guests can spare their wallet on Toyota of Redlands .50 Cent Friday with .50 cent hot dogs, $2.50 lawn seats, $2.50 sodas and $5.50 beers. The 66ers will also honor all military and first responders each Sunday with 50% off all seat purchases for those public servants.
"We are really excited about this season. 2019 was a big year for us and we are building off that momentum to make 2020 even better," expressed 66ers General Manager Joe Hudson. "We've got a great line-up this year for promotions that our fans are going to love."
Fans can find a full listing of the #FueledByFun 66ers Promotional Schedule on bit.ly/2020-Promo-Schedule. Discounted season and group tickets can be purchased now on 66ers.com. Individual tickets will be available for purchase starting March 1st. For more information, call the 66ers front office at 909-888-9922.