Hess flirts with no-hitter in Tides' rout
No. 18 O's prospect takes gem into seventh, fans career-high 10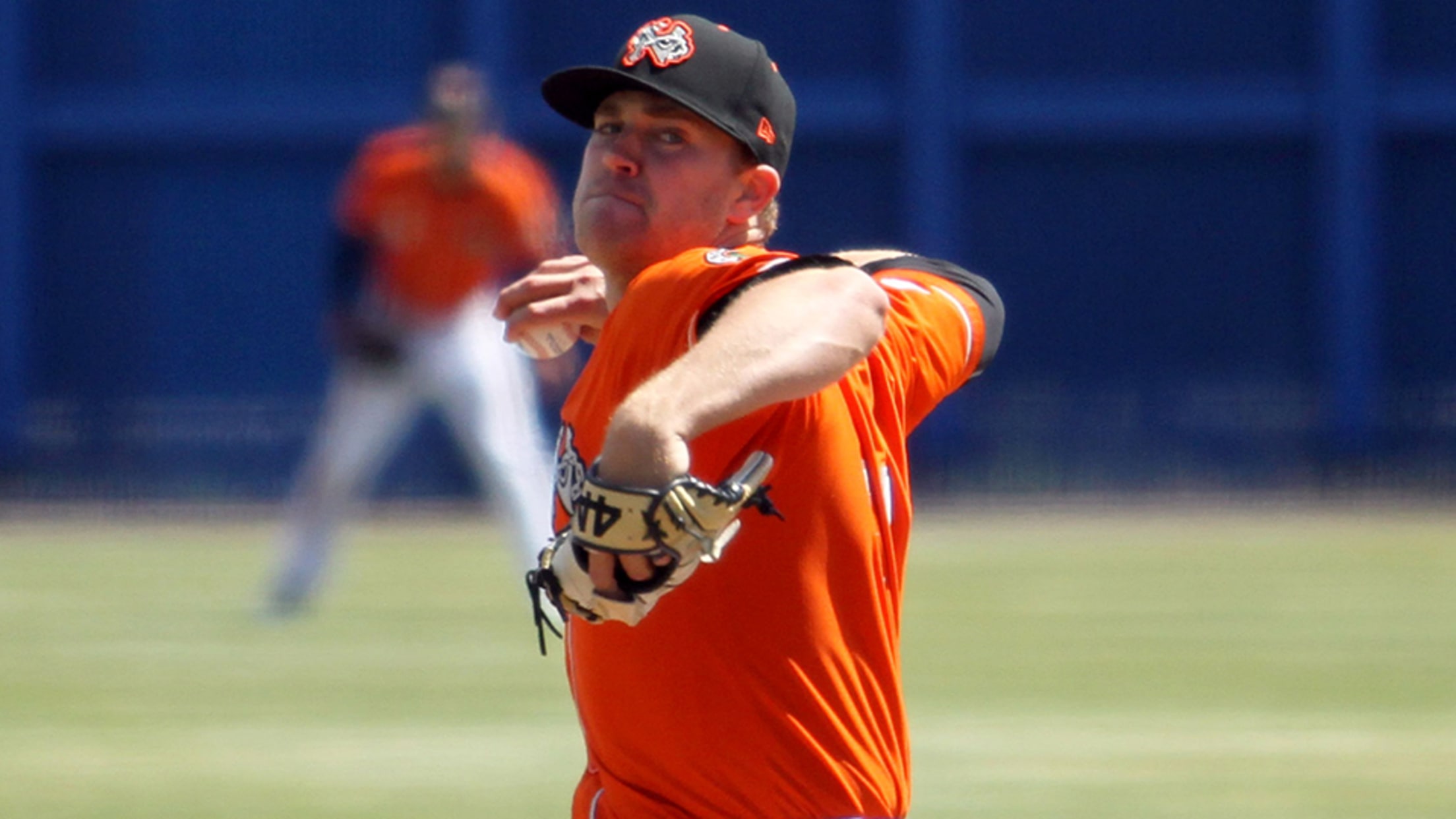 David Hess ranks ninth in the International League with a 1.08 WHIP through six starts for Triple-A Norfolk. (Les Treagus/Norfolk Tides)
There was one out in the bottom of the sixth inning on Education Day at Durham Bulls Athletic Park when Norfolk starter David Hess was met with a wall of high-pitched screams. The video board had instructed the 8,756 in attendance -- mostly children on field trips -- to make
There was one out in the bottom of the sixth inning on Education Day at Durham Bulls Athletic Park when Norfolk starter David Hess was met with a wall of high-pitched screams. The video board had instructed the 8,756 in attendance -- mostly children on field trips -- to make as much noise as possible to distract the right-hander. He didn't understand out why the technique was being used at that particular moment until he walked off the mound two outs later.
"It wasn't until the sixth inning that I really looked at the scoreboard," Hess said. "I had walked [Willy Adames] in the first inning and just thought, 'Whatever, that's that.' They put the noise meter up, every kid in the place started screaming and I kept thinking, 'Why?' Then, I looked up, saw I'd gone six with no hits, and it all kinda made sense."
The Orioles' No. 18 prospect took the no-hitter into the seventh and finished with a career-high 10 strikeouts over seven frames to lead Norfolk to a 13-0 win in Tuesday's matinee.
After issuing the free pass to Adames in the first inning, Hess retired 17 straight Bulls from the first through the end of the sixth -- eight of them by strikeout.
"It really felt like a normal day, to be honest with you," Hess said. "But around the second inning, [catcher Austin Wynns] came out to me and said, 'Go right at these guys. You have everything you need to get these guys out. Just attack them.' When I did that, everything really came together."
With everyone -- pitcher included -- aware of Hess's progress toward a no-hitter, the 24-year-old faced Adames to lead off the seventh. MLB.com's No. 23 overall prospect looped an 0-1 offering over shortstop Rubén Tejada's head into left for Durham's first hit of the day.
Gameday box score
"I felt like it was a decent pitch," Hess said. "I got him on his front foot, but Adames is a good hitter and was able to just get it over the shortstop. I was joking with , 'You couldn't have been a couple inches taller today?' At that point, you hate to give it up. But really, today was just a lot of fun."
The Tides starter shrugged of the base knock by getting Jake Bauers to pop out to short and striking out both Christian Arroyo and Jason Coats looking on a combined seven pitches. Hess exited after the seventh, having thrown 84 pitches, 60 of which were strikes.
The effort was a nice rebound from Hess's five-run, five-inning outing Thursday against Louisville. With the win, the 2014 fifth-rounder, who played at Double-A Bowie in both 2016 and 2017, improved to 2-0 with a 2.12 ERA, 1.08 WHIP and .189 average-against in his first six starts with the Tides. Those numbers are all solid, but the biggest development might be Hess's much-improved strikeout rate. He's now fanned 29 International League batters in 29 2/3 innings. That doesn't rank him among the IL's leaders, but his 24.6 percent strikeout rate is better than those of top-100 prospects Chance Adams (23.3 percent) and Fernando Romero (23 percent). It's also a significant jump from his 14.8 percent rate in 2016 and 19.1 percent last season in the Eastern League.
Hess says he isn't concentrating more on strikeouts, but suggests the uptick in K's arises from an improved arsenal, which includes a low-90s fastball and promising slider.
"Really, what it comes down to, for me, is sequencing and execution of that sequencing. My off-speed is getting better to the point where all four of my pitches -- a fastball, curveball, slider and changeup/splitter -- are all pretty solid for me. It's not a mindset change or anything like that. It's just like today. I need to go right at batters with what I've got, and good things come from that."
One good thing that's already come from Hess's improvements was a brief promotion to the Majors last month. The right-hander was added to the 40-man roster back in November and called up to be a fresh arm for the Orioles on April 15 at Fenway Park. He was optioned back to Norfolk the following day without seeing any action, but starting pitching has been a rough spot for Baltimore this season. Dylan Bundy (3.76) and Kevin Gausman (3.30) are the only starters with ERAs below 4.50 while Chris Tillman (9.24 ERA) has been a disaster through six starts. It's possible that Baltimore could make changes, and Hess's gem against the Bulls only strengthened his resume.
"I feel good, physically and mentally, and every time I go out there, I'm trying to show them what they have in store in me," Hess said. "Whenever they feel like the time is right, I'll be ready."
Orioles No. 13 prospect D.J. Stewart led the Tides offense, going 2-for-3 with a ninth-inning grand slam, two walks and two stolen bases.
Tides manager Ron Johnson earned his 1,700th career win as a Minor League skipper with Tuesday's rout. The 62-year-old began his Minor League managerial career back in 1992 with Class A Advanced Baseball City and has been at the helm in Norfolk since 2012. Of those 1,700 career wins, 439 have come with the Tides.
"RJ's awesome, simply put," Hess said. "I was talking to Brian Graham, our director of player development, and he was telling me that if you want to learn to become a pro, RJ is the perfect manager for you. He lets you work. He's got a really good understanding of how to work with players and staff too. I hadn't heard a bad thing about him before I came here, and everything that they said has been proven true."
Sam Dykstra is a reporter for MiLB.com. Follow and interact with him on Twitter, @SamDykstraMiLB.