Bats' Silverio gets five hits in Triple-A debut
Reds prospect doubles twice, records first two knocks off Hellickson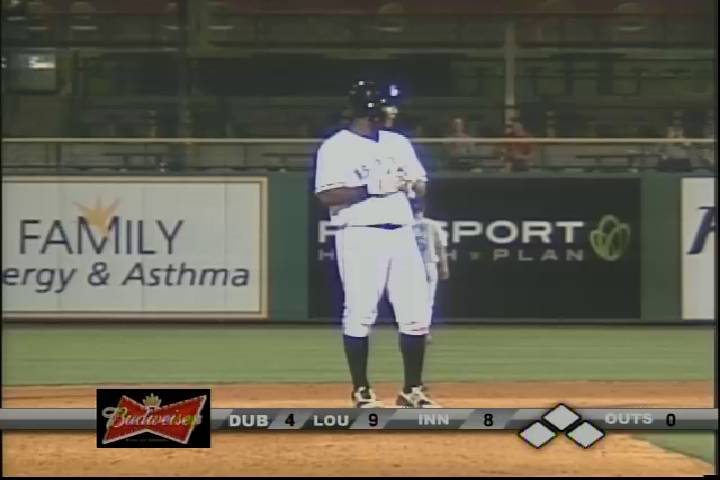 By Jake Seiner / MiLB.com | June 17, 2014 11:29 PM ET
Tuesday night was Louisville manager Jim Riggleman's first look at third baseman Juan Silverio. It's safe to say the newest Bat made a nice first impression on his skipper.
Silverio tied a career high with five hits in his International League debut, helping Triple-A Louisville defeat Durham, 10-5, at Louisville Slugger Field.
The five-hit contest was the third in the 23-year-old's career and first since last August, when he was with Class A Advanced Bakersfield. He doubled twice Tuesday -- including a ground-rule double in the eighth for his fifth hit -- and also scored twice.
"This is my first time seeing Juan and he was very impressive," Riggleman said. "He was really putting the ... the barrel to the ball, driving it. A couple of those balls were smoked really well."
Silverio picked up his first hit in the first inning off rehabbing Rays right-hander Jeremy Hellickson, dropping a two-out bloop single into center field.
The rest of his hits were more authoritative. His second knock was a double off Hellickson that he drove into left field, helping chase the Bulls starter after 2 2/3 innings. He was charged with seven runs -- four earned -- on 12 hits.
Riggleman was most impressed by Silverio's third hit, a hard single driven to right field. The former big league manager was struck by how Silverio sat back on the pitch and went the other way.
"It looks like he has a feel for staying inside the ball and driving it the other way," Riggleman said. "The base hit to right field was very impressive."
Silverio added a two-out single to center in the bottom of the sixth, then capped his night with the ground-rule double in the eighth.
"He hit it very well," Riggleman said. "The last one, really each of his base hits he got, was smoked. The first one was kind of a bloop into center field, but the other four he hit right on the barrel. The ground-rule double he hit very well."
Silverio was bumped up from Double-A Pensacola after hitting .274 with nine homers and 20 RBIs in 64 games. The native of the Dominican Republic was acquired from the White Sox prior to the 2013 season for third baseman Cody Puckett and spent most of his first year with Bakersfield.
Silverio hit .286 with 19 homers and 30 doubles with the Blaze, earning a late-season callup to Pensacola.
Riggleman said the plan was for Silverio to get most of his playing time at third, although he should also do some designated hitting and could see time elsewhere.
"We'll play him a lot at third base," Riggleman said. "We'll see if we need to play him anywhere else. There are a lot of good players here, other guys who were playing third base, too. We tend to spread out the [designated hitting], so we'll see what we'll do with it."
Jake Seiner is a contributor to MiLB.com. Follow him on Twitter at @Jake_Seiner. This story was not subject to the approval of the National Association of Professional Baseball Leagues or its clubs.
View More