Bell's walk-off single keeps Indians alive
Indianapolis avoids elimination, will play for Governors' Cup in Game 5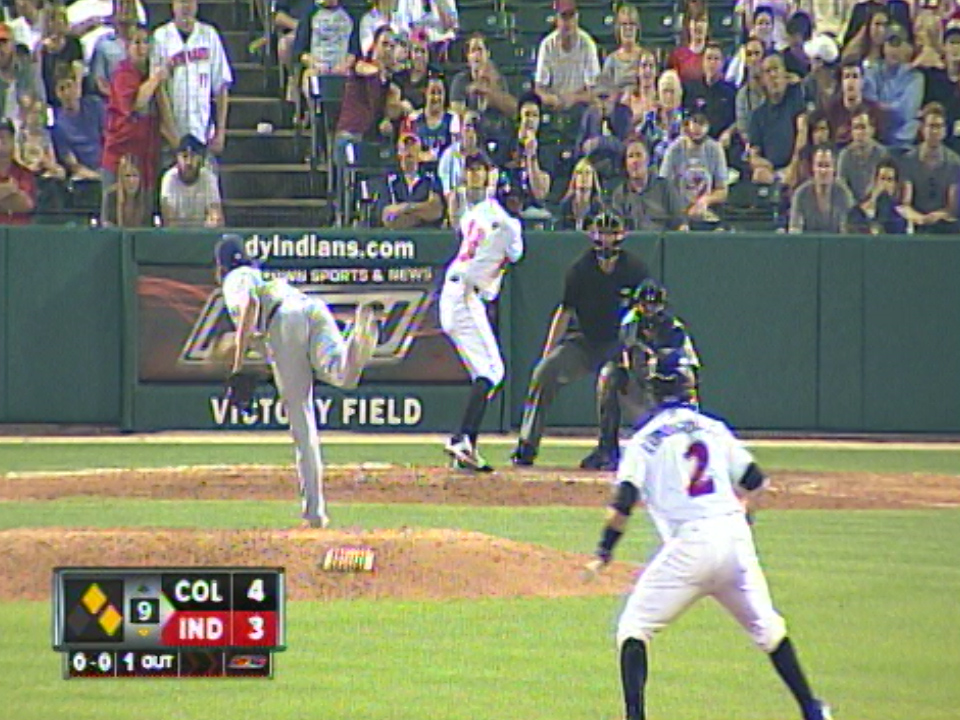 By Danny Wild / MiLB.com | September 18, 2015 11:26 PM
When Josh Bell stepped to the plate with the bases loaded in the bottom of the ninth inning on Friday night, his teammates may have already been eyeing the buckets of ice water.
"You knew he was going to do that," Indianapolis manager Dean Treanor. "Sure enough, he did."
Bell hit a walk-off single to cap a dramatic ninth-inning comeback as the Indians avoided elimination for the second straight night with a 5-4 win over Columbus in Game 4 of the best-of-5 Governors' Cup Finals.
The Pirates' No. 3 prospect lined a game-winning single to right field with the bases loaded to plate Gustavo Nunez after No. 5 prospect Alen Hanson connected on a base hit to left to tie the game against reliever Jeff Johnson.
The teams will meet again on Saturday with the Governors' Cup on the line in a decisive Game 5.
"One thing we do is fight," Bell said.
Columbus appeared to have the win in hand after Michael Choice hit a go-ahead three-run homer in the eighth, but Indianapolis chipped away against Clippers starter Jarrett Grube, who threw 122 pitches over 8 1/3 innings.
The Indians got a run back in the bottom of the eighth when Mel Rojas Jr., who came on after right fielder Willy Garcia left with an injury, drove home Nunez with a ground ball to second.
Keon Broxton started the ninth with a double off Grube and Tony Sanchez followed with a one-out single, prompting Clippers manager Chris Tremie to call on Johnson (0-1) for the final two outs. Nunez kept the rally alive with a single up the middle before Hanson tied it and Bell sent his teammates streaming into the outfield.
"I can't say enough about these guys. I'm not even sure I can describe what happened, but nothing they do surprises me anymore," Treanor said. "They've had games like this throughout the season, but at this point in the season and what's at stake, I don't know how to describe it. Incredible comeback, there's no quit in these guys. I know these are all clichés, but this team epitomizes that."
Bell, batting .423 in the postseason, went 4-for-4 with a walk and also homered in the fourth off Grube.
Closer Blake Wood (1-0) picked up the win after pitching a scoreless ninth.
"This guy has grown since he's been here," Treanor said of Bell. "They hit that solo homer in the fourth and he led off the bottom of the fourth, first pitch, it was a no-doubter to tie it back up. I think that just again gets us going and to see him walk it off ... this guy's got a future ahead of him, and this organization will be proud of him being a part of this."
Grube kept the Indians in line for much of the night but was charged with four runs on three hits and three walks. He struck out six, throwing 70 of 122 pitches for strikes.
Treanor said he wouldn't question Tremie's decision to send the starter out for the ninth.
"That's one of those things. He pitched very well until the eighth inning, we loaded the bases and I'm sure they felt he could get it done," Treanor said. "I never question anything done on the other side, but our guys just battled him in the eighth and the ninth."
"You just come out and play tomorrow," Tremie said. "You've gotta win three games in the series. It would have been nice to win last night's game, didn't work out. Tomorrow's game is what we've gotta win, so that's what matters."
The comeback win came a day after Indianapolis overcame a cycle from Columbus' Zach Walters in a 6-5 victory in Game 3. Every game in the series has been decided by one run.
"Yeah, they have a good ballclub," Tremie said. "But they've all been one-run ballgames, and we'll come out and win tomorrow."
Adam Moore went 3-for-4 and put the Clippers ahead first in the fourth with a solo shot off Indians starter Chad Kuhl. Bell tied it in the bottom of the inning with his first playoff homer before Choice went deep for the third straight game in the eighth off reliever Frank Herrmann.
"We gave up the three-run homer and the response in the dugout when we were gonna hit in the bottom of the inning was everybody was encouraging everyone else. It was a loud dugout," Treanor said. "These guys just believe in each other. These guys just find a way win."
Making his Triple-A debut, Kuhl held the Clippers to one run on six hits and a walk over seven innings. He struck out four.
Columbus will send right-hander Mike Clevinger to the mound in Game 5 in what will be his second Triple-A start. The 2011 fourth-round pick dazzled in his first appearance when he struck out 10 over 7 2/3 hitless innings to beat Norfolk in the semifinals on Monday.
Treanor said he hasn't decided who will get the nod for the Indians.
"It's all hands on deck. There's guys that want the ball, but I'll make a decision [Saturday], check on some things with the organization and make a decision in the morning."
Danny Wild is an editor for MiLB.com. Follow his MLBlog column, Minoring in Twitter. This story was not subject to the approval of the National Association of Professional Baseball Leagues or its clubs.
View More