Bisons' Stroman tosses six no-hit innings
No. 2 Blue Jays prospect strikes out 10, retires 16 straight vs. Bats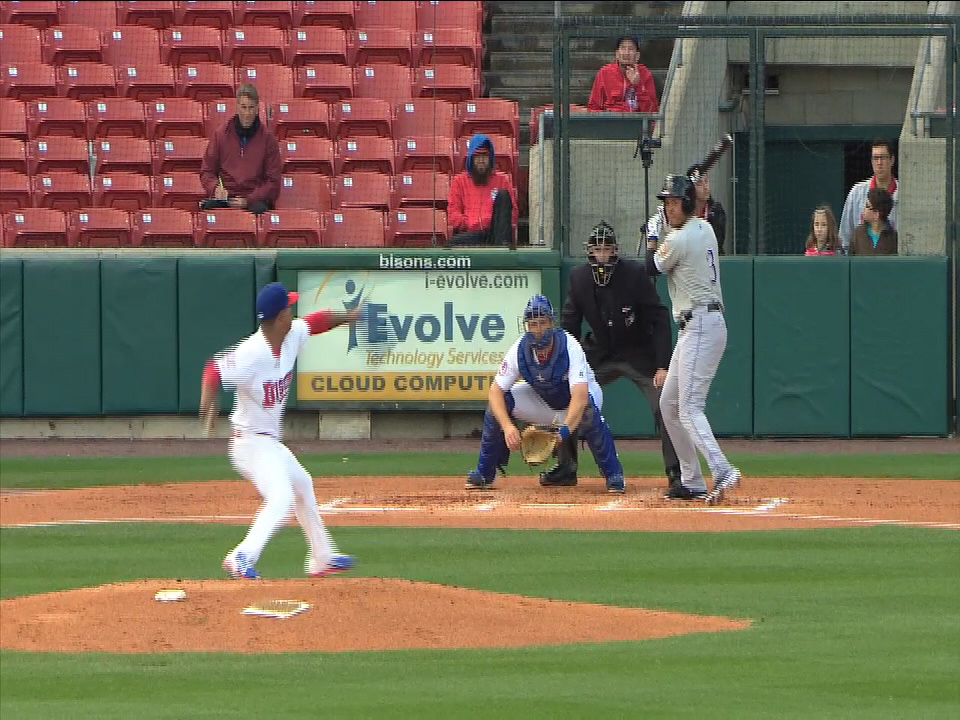 By Jake Seiner / MiLB.com | April 29, 2014 9:57 PM ET
When Marcus Stroman's rotation spot was pushed back to Tuesday, it kick-started speculation that the Blue Jays prospect could be headed to the big leagues in the near future. While that could be true -- and that thought did cross Stroman's mind -- what the news meant more immediately to the Buffalo right-hander was that he would get an extra bullpen session between starts.
"Throwing 'pens always helps," Stroman said. "Whatever you felt like you weren't doing in your previous start, you can work on it."
Stroman put an emphasis on sharpening his command and improving his changeup and slider with the extra session, and the extra reps paid off Tuesday. The 22-year-old struck out 10 over six hitless frames in the Bisons' 4-1 victory over the Louisville Bats in International League action.
Toronto's No. 2 prospect issued one walk and didn't allow a run in his fifth Triple-A outing. The free pass came with two outs in the first inning, as Ruben Gotay got aboard on a 3-2 pitch. After that, Stroman retired the final 16 batters he faced, utilizing 80 pitches to carve up the Bats.
"I felt like I had pretty good command of all my pitches," Stroman said. "The walk was me nibbling too much early. It was a 3-2 pitch, and it was a fastball being down."
He also induced six groundouts, something the Duke product said he achieved by locating all his pitches down in the zone. The groundouts came on fastballs, changeups and cutters, he said.
"Just keeping the ball down has been huge," Stroman said. "All the pitching coaches, everyone in the organization has been preaching to me to keep the ball down."
The 2012 first-rounder (22nd overall) has been a hot topic over the past week. The right-hander was originally slated to pitch Saturday, but that start was postponed due to rain. Buffalo held off on using him until Tuesday, which aligned Stroman with Dustin McGowan's rotation spot in Toronto. Reports have indicated McGowan may not be long for the Blue Jays' rotation -- he told MLB.com after his last start he was feeling fatigued after around 60 pitches, and the right-hander's results hadn't been great either.
Stroman said the team offered no explanation for why he was skipped two days following Saturday's rainout. He was told merely he'd be on an 80-pitch limit and would get to work an extra bullpen session in the time between. The hurler said he understood what the move might mean, but he tried to avoid speculation in the days leading up to his outing.
"You just have to focus on today," he said. "It's hard. Everybody is chirping, but I have to focus on what I can do to help the Bisons win. You do what's in your power to develop your pitches so when you do get the call, you're ready. For the most part, it doesn't distract me at all. I was able to focus on what I'm doing here, what I'm doing now."
His ability to hold his composure despite the chatter didn't surprise Buffalo manage Gary Allenson.
"I had him last year and it just seems like nothing bothers him," Allenson said. "He got flustered maybe once or twice last year, but for the most part … if you were looking at the scoreboard and he was struggling, you couldn't tell it by the look in his face. Or pitching good, just got the same look. It's a confident look, like there's nothing that bothers him."
Austin Bibens-Dirkx replaced Stroman in the seventh and allowed a leadoff double to Jason Bourgeois to end the no-hit bid. Bourgeois entered the game for center fielder Skip Schumaker, who was ejected in the second for arguing a play at second base.
The last no-hitter by a Buffalo pitcher was by Bartolo Colon on June 20, 1997 against New Orleans.
Buffalo's Kevin Pillar, who collected four hits Monday, went 1-for-4 with a run and a strikeout. The 25-year-old, ranked 15th in Toronto's farm system, is hitting .256 through 22 games and has hit safely in his past 11 contests.
Jake Seiner is a contributor to MiLB.com. Follow him on Twitter at @Jake_Seiner. This story was not subject to the approval of the National Association of Professional Baseball Leagues or its clubs.
View More