Giolito finding his groove after rocky start
No. 4 White Sox prospect continues to improve, looks toward bigs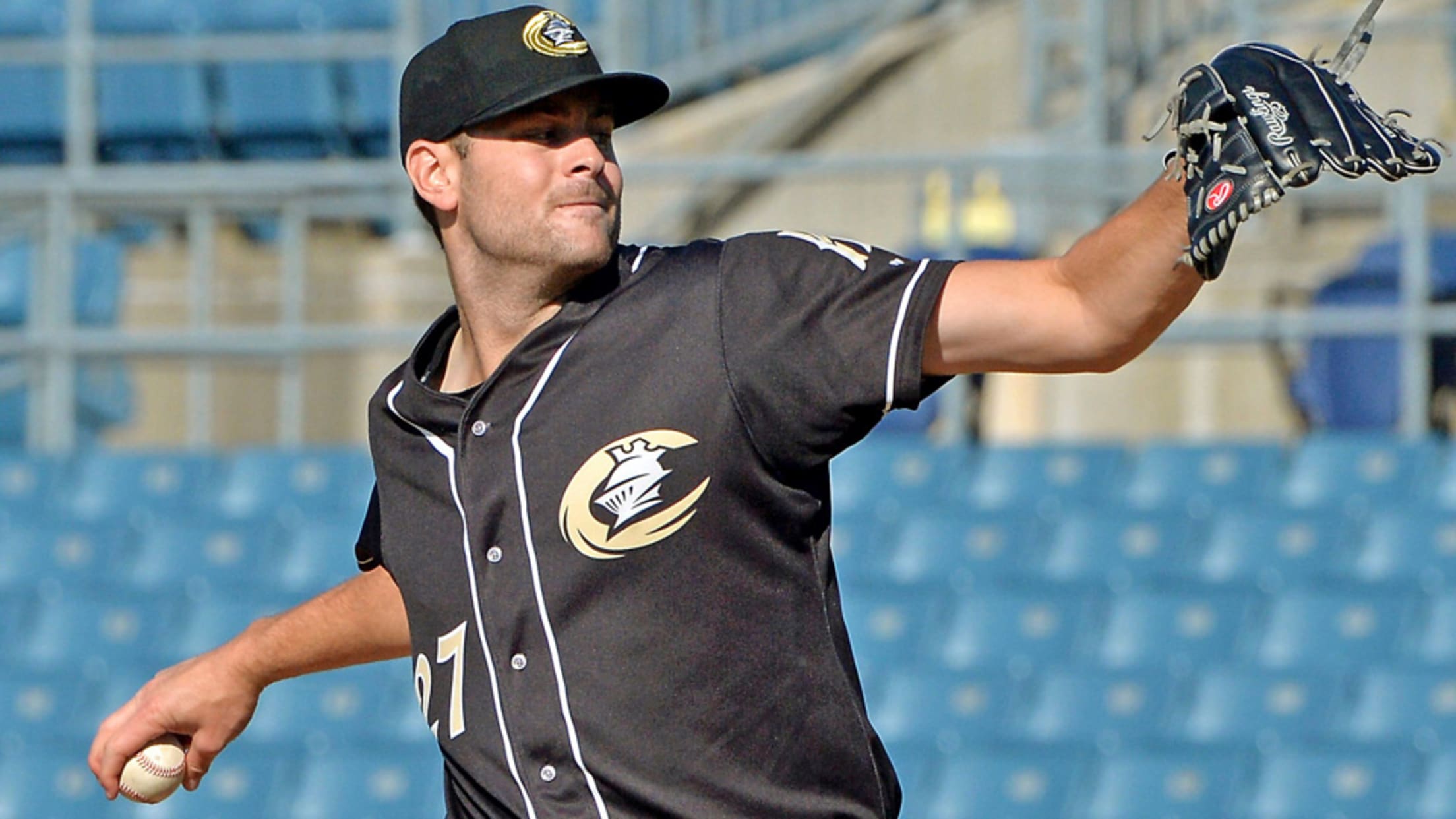 Lucas Giolito has a 4.86 ERA with 62 strikeouts and 31 walks over 63 innings this season with Triple-A Charlotte. (Rick Nelson/MiLB.com)
Lucas Giolito was feeling the pressure.But it wasn't from fans or scouts or even the front office. It was from himself."I wanted to come to the new organization, make a good first impression, perform well," he said. "I didn't really do that."
Lucas Giolito was feeling the pressure.
But it wasn't from fans or scouts or even the front office. It was from himself.
"I wanted to come to the new organization, make a good first impression, perform well," he said. "I didn't really do that."
Rewind to Dec. 7, when Nationals traded Giolito and fellow Minor League right-handers Reynaldo López and Dane Dunning to the White Sox for big league center fielder Adam Eaton. Though leaving an organization that a player has been with since Draft day can be difficult, the 22-year-old felt welcomed at his first Spring Training in the new system.
After 9 2/3 innings over four starts at big league camp, Giolito was sent to Minor League camp to get settled with his new teammates, but something was not right.
"He struggled with his command, and whenever you come down from the big leagues, it's a letdown," said Steve McCatty, the Triple-A Charlotte pitching coach. "But he's always gone out there and battled."
As the season got into full swing, the pressure got heavier for Giolito -- the No. 2 White Sox prospect at the time -- but it wasn't just a mental issue. There was something wrong with his delivery as he got off to the worst start of his career, notching a 7.33 ERA through his first five outings.
"I just felt out of sync with a lot of things -- my timing was off," he said. "I was trying to force pitches in situations, instead of just trusting the work I've been putting in."
While Giolito was frustrated, he didn't let it show. McCatty continued to see the upbeat, funny guy he met when they were both a part of the Nationals organization. After more tough starts, the California native realized something needed to change.
"I had to regroup and start really working on everything that hadn't been going well in the beginning of the year," he said.
Giolito stopped focusing on the results and looked toward the process, working to improve his mechanics, command and presence on the mound.
The stats began to catch up to the new mentality on May 13 when he threw what was at the time a season-high six innings with a season-low two runs allowed against Louisville. With another ERA-lowering start on May 18, things were looking up for the 2012 16th-overall pick as he headed into his first matchup against a Nationals affiliate.
Coming into Game 1 of a doubleheader against Syracuse on May 25, Giolito was looking to spin a seven-inning complete game. Adding in a slider that he developed since his days with the Chiefs, the 6-foot-6 hurler found his fastball location and worked in his changeup -- fooling his old team for his first career no-hitter.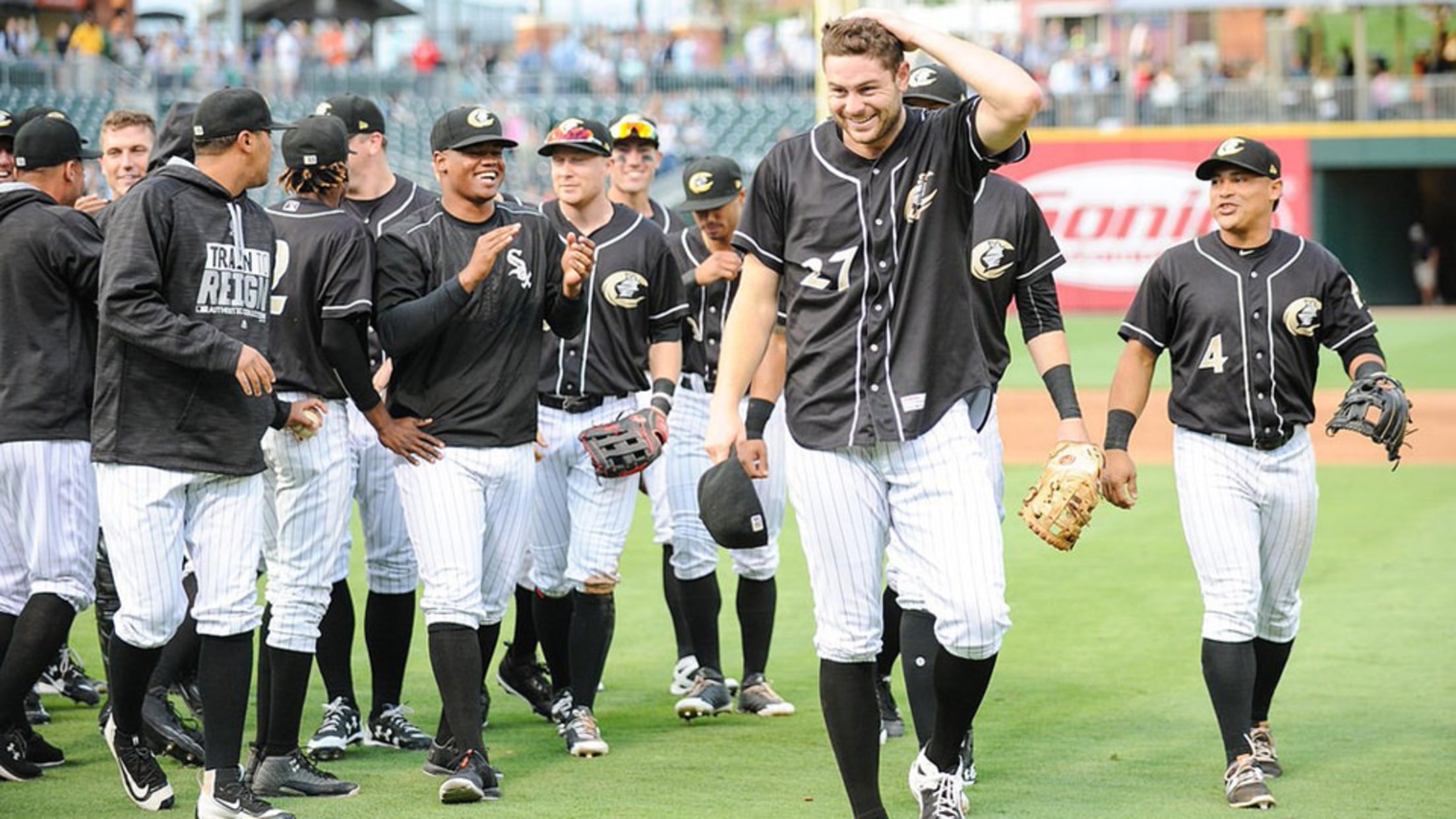 "Just the way the season started, it felt special to turn it around in a dramatic fashion, especially with a bunch of guys I played with last year," he said. "I felt like right there I was able to, I'd say the biggest thing is, I was able to command the fastball that night and I hadn't really been able to do that all season."
Giolito felt like he was back. The no-hitter seemed like the confidence boost he needed to once again establish some consistent success. Including the gem against his former team, the Harvard-Westlake School product has a 2.28 ERA with 22 strikeouts and nine walks in 23 2/3 innings over his last four starts.
"He's throwing the ball really well," McCatty said. "He's learning, still working on the command with the curveball, but it's still a plus pitch. He's also developing a slider that he's able to throw for strikes, and his changeup has really improved. So, he's been throwing the ball really well."
While Giolito said the improvements feel really good, he added that he's still not pitching to the best of his ability yet. But MLB.com's No. 30 overall prospect has been able to take a big step toward that goal with help from rehabbing Major League veteran James Shields.
"He noticed a thing in my delivery about the way I'm using my legs, and so he actually showed me some stuff to work on in the gym, so I can better utilize my legs when I'm pitching, and I feel like it will really help to increase consistency, maybe extension, maybe velocity," Giolito said. "He's been around the game for a very long time. I know this was his first rehab assignment as a Major Leaguer, which kind of shows his work ethic and what he's been able to accomplish. So, I was trying to soak up as much information as long as he was here."
From the early struggles to the recent advice, Giolito has had an "interesting" first two months to the season. While he's gained friendships and lessons from his new teammates and coaches, he said he isn't feeling the pressure from before. He's not thinking about his pitching line, but more how he got there and how he can get even better.
"I just want to continue to improve. I want to get to that point where I feel like everything feels right, I feel like I'm clicking and I'm ready to go up to the big leagues," he said. "So, when that comes -- when hopefully a good amount of us here do get that call later this year to go and help the big league club -- I can say that I feel ready and I feel ready to go. So, when I get up there, I'll stay there and I'll never have to come back down."
Kelsie Heneghan is a contributor to MiLB.com. Follow her on Twitter @Kelsie_Heneghan.