IL notes: Bieber establishing own identity
Indians No. 8 prospect reaches Triple-A in second full season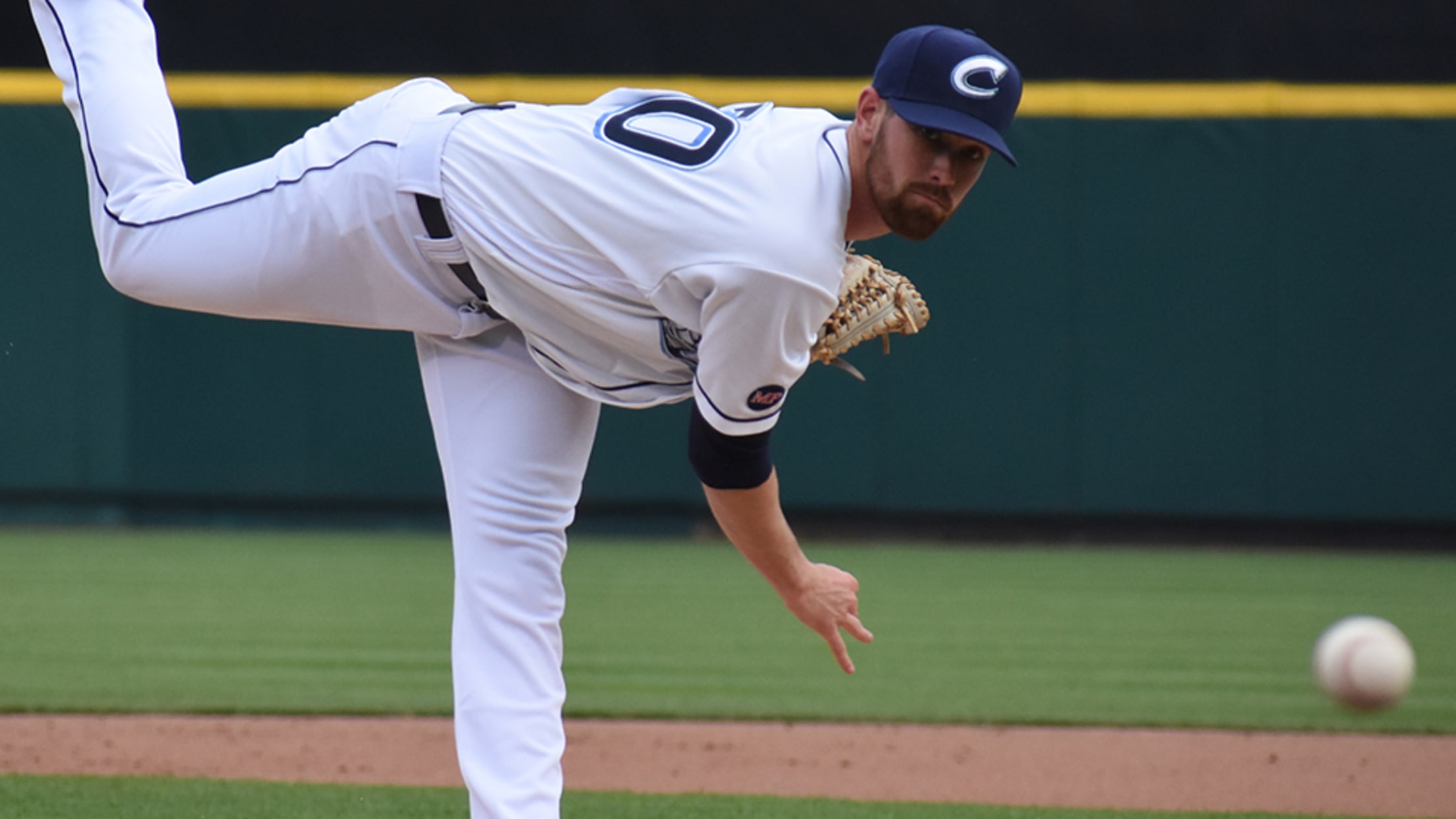 Shane Bieber ranks 13th among all Minor Leaguers with a 0.87 WHIP across two levels. (Cathryn Wood/Columbus Clippers)
When Shane Bieber was in middle school, a friend asked if he'd ever heard of a rising young singing star from Canada."I went home and looked up this guy named Justin Bieber," Bieber said. "And when I did, I said, 'Uh oh. This guy is going to be famous.'"
When Shane Bieber was in middle school, a friend asked if he'd ever heard of a rising young singing star from Canada.
"I went home and looked up this guy named Justin Bieber," Bieber said. "And when I did, I said, 'Uh oh. This guy is going to be famous.'"
Bieber's prediction proved to be correct, but the Indians have faith that the pitcher from UC Santa Barbara will make a name for himself in baseball. And there are "Beliebers" outside the organization as well, as Bieber began this season as Cleveland's eighth-ranked prospect.
Last year, the 6-foot-3, 195-pound right-hander rose quickly through the organization, posting a 10-5 record and 2.86 ERA while reaching Double-A in his first full professional season. Bieber had hoped to begin this season in Triple-A but instead returned to Akron in the Eastern League.
"You try to go into Spring Training with no expectations because so many crazy things can happen," he said. "It's not really worth stressing about, in my opinion. You just try to go out and do your thing at whatever level you're at."
That doesn't mean Bieber was completely happy when he rejoined the RubberDucks.
"I wouldn't say it was easy [to accept], but I was comfortable there because I spent part of last season there," he said. "Plus, the coaching staff I had in [Class A Advanced] Lynchburg was in Akron now, so the locker room meshed well together."
After a 3-0 start that featured a 1.16 ERA, the 23-year-old was promoted to Triple-A Columbus early this month.
"It was reassuring [to be promoted], but you still can't be satisfied," Bieber said. "I'm working through a couple of things with my delivery, but that's a constant in the Minor Leagues when you're working on development."
Clippers manager Chris Tremie likes what he's seen from Bieber in his first two starts, in which the right-hander allowed three runs on nine hits and two walks with nine strikeouts over 12 2/3 innings.
"He's very professional about the way he goes about his business," Tremie said. "He obviously commands the ball really well and he's a confident kid with good routines. He's got a good feel for repeating his delivery. Right now, he's working to be consistent with that delivery."
While many pitchers at the Triple-A level seek to improve their command, that's not an issue for Bieber, who issued only 10 walks in 173 1/3 innings last season.
"My off-speed stuff was playing a little bit better at the end of last year than it has at the start of this year," he said. "I'm just trying to get back to where my stuff was last year. I feel I'm just refining my stuff, getting better daily."
And Bieber simply laughs when visiting teams play Justin Bieber songs during his start or when reporters ask him about a connection to the famous pop star.
"I'm just trying to make a name for myself," he said. "He's a little bit ahead of me when it comes to popularity, but that's how it goes. I'm used to hearing it - I almost expect it. So I just embrace it and have fun with it."

In brief
Gomez going great
: Charlotte right-hander
Jeanmar Gómez
is off to a strong start, having not allowed an earned run in all but one of 11 appearances. He's yielded 12 hits and three walks over 18 2/3 innings for a 0.80 WHIP. The 30-year-old right-hander, who saved 37 games for the Phillies two seasons ago, has struck out 16 while allowing opponents to bat .194 against him.
Can't keep him off base
: Norfolk outfielder
Joey Rickard
has reached base in 26 consecutive games, the longest streak in the IL. The only game he's played and not reached base was on April 18, when he was used as a pinch-runner and defensive replacement at Lehigh Valley. Rickard is hitting .301 with 20 walks for a .424 on-base percentage. His 21 RBIs are tied for fourth in the league.
Sleger's strong start
: Rochester right-hander
Aaron Slegers
is 3-1 with a 2.41 ERA in his first six starts this season. The 25-year-old has given up five walks and 33 hits over 37 1/3 innings; Slegers has two starts in which he pitched six scoreless innings and two others in which he yielded just one run while working at least six frames.
He said it
: "[Struggling in the first inning] is something I've dealt with my entire career, honestly. I've just got to go out there and execute pitches like I do the rest of the game. … The first-inning stuff is something that I'm going to have to figure out. It's obviously just as important as any other inning. … Once I get through the first, I'm pretty confident going forward." --Gwinnett LHP
Kolby Allard
to the
Gwinnett Daily Post
on May 8 after giving up a first-inning run, then shutting out Charlotte over the next five. He's given up 12 hits and seven runs in the first inning of his first six starts but only 18 hits and two runs over 27 innings after the opening frame. For the season, he's 2-1 with a 2.12 ERA.