Cole tosses five scoreless in rehab start
Pirates right-hander strikes out seven, shows good life on heater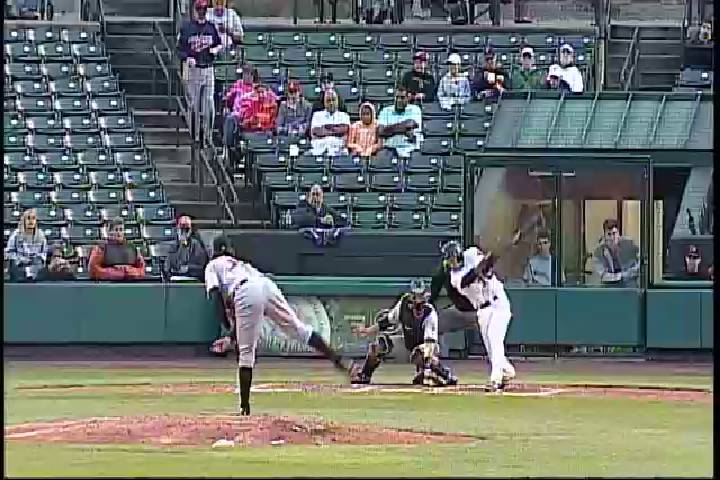 By Jake Seiner / MiLB.com | July 28, 2014 11:10 PM ET
Gerrit Cole didn't say much to Indianapolis pitching coach Tom Filer following his first rehab start Monday. But then again, he didn't need to.
"I know he really liked what he did tonight," Filer said. "He wasn't disappointed in anything that happened."
Cole -- making his first rehab appearance after landing on the disabled list with tightness in his lat in early July -- went five innings for Triple-A Indianapolis in a 5-0 International League win over Rochester.
The right-hander threw 81 pitches (50 for strikes), giving up five hits and three walks while striking out seven.
"I thought he looked really good," Filer said. "The ball was coming out of his hand fine. It seemed like he had a decent rhythm. His secondary pitches, he was able to use them pretty well, but most of all, I thought his fastball had a lot of life to it."
Filer said he thought Cole used all of his pitches in the outing, leaning more on fastballs early and then utilizing his secondary pitches more as the game went on.
"I thought he really located away … to his glove side," Filer said. "He threw some really good pitches out there, and of course, he always pitches in. He was effective with that, especially early … maybe not brushing guys back, but pitching inside effectively."
The right-hander allowed a single to Doug Bernier to start the game, but induced a ground-ball double play a batter and struck out Pedro Florimon looking to end the first. In the second, he allowed a leadoff double to Josmil Pinto and then walked Deibinson Romero, but retired three straight batters to end the inning.
Rochester went down in order with two strikeouts in the third, and Cole struck out Florimon again to start the fourth. With one out, Pinto drew a walk, Romero doubled and Daniel Ortiz was hit by a pitch. With the bases loaded, Cole struck out Chris Rahl and got Wilkin Ramirez to fly out to right to evade the jam.
In the fifth, Cole allowed a leadoff single to Reynaldo Rodriguez and then a one-out walk to Eric Farris. With runners on first and second, Florimon dropped a soft liner into left-center. Rodriguez tested left fielder Jaff Decker's arm, but Decker delivered a sharp throw home to nab Rodriguez at the plate.
The outfield assist was Decker's 11th in 77 games with Indianapolis this season. In his seven-year Minor League career, Decker has thrown out 62 baserunners.
"Every time he throws somebody out, he has a big fan in me," Filer said. "I know it helps the pitchers out a lot. He's always hustling out there, always look to show off his arm. He's very accurate."
After Decker's assist, Cole got Pinto to ground out to end the inning and his day.
The trip to the disabled list was Cole's second this season -- he missed time earlier with shoulder soreness. He made two starts after the first DL stint, but was pulled early from the second outing July 4 with discomfort in his back. After feeling more discomfort in a bullpen session a few days later, Cole went back on the disabled list.
Filer said he expects Cole to make one rehab appearance with the Indians before potentially rejoining the Pirates. If that start goes as well as Monday's outing, the Pirates could have their young hurler back in the rotation in time for a postseason push.
"The big thing that stood out to me tonight was the life on his fastball," Filer said. "He had some really good pop to it, a little hop. At times, he was really able to locate it well."
Jake Seiner is a contributor to MiLB.com. Follow him on Twitter at @Jake_Seiner. This story was not subject to the approval of the National Association of Professional Baseball Leagues or its clubs.
View More