Gwynn walks off on memorable Father's Day
Son of late Hall of Fame outfielder provides theatrics in 10th inning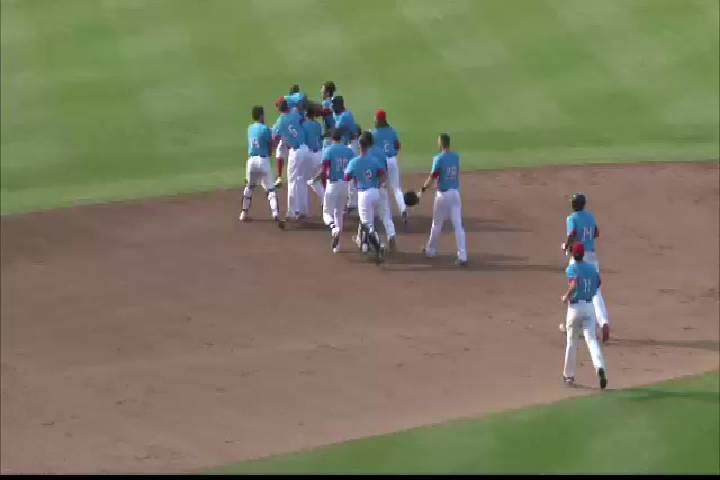 By Sam Dykstra / MiLB.com | June 21, 2015 9:27 PM
On June 16, 2014, the baseball world lost one of its legends, a player with one of the sweetest left-handed swings of the second half of the 20th century. On June 16, 2014, Tony Gwynn Jr. lost his father.
Almost exactly a year later, the son honored his dad with one sweet swing of his own. On Father's Day, no less.
Coming to bat with one out in the bottom of the 10th inning in a scoreless game, Gwynn delivered a walk-off single off fellow left-hander Andrew Albers through the right side of the infield to give Triple-A Syracuse a 1-0 victory over Buffalo at NBT Bank Stadium.
"It was a cool moment," said the Chiefs left fielder. "Anytime you can be part of a walk-off, it's pretty awesome. But today being Father's Day and this being the week of the first anniversary of his passing, it meant that much more. I'm just blessed to have the opportunity to honor my father like that."
As much as the hit meant to Gwynn, himself a father of three girls with a boy on the way at the end of the month, on an emotional level, it almost meant the same on a professional level. The 32-year-old veteran, who has Major League time with the Brewers, Padres, Dodgers and Phillies, signed with the Nationals in March and thrived in Spring Training, hitting .341/.420/.500 in 21 games.
Although he was given an outside shot of cracking the Opening Day roster, he struggled in his move to the International League, where he .157 in April. A small resurgence -- his average was up to .250 on June 11 -- was erased by another difficult stretch this week, when he went 2-for-27 in seven games entering Sunday.
Given that the one-year anniversary of his Hall of Fame father's death from salivary gland cancer came on Tuesday, the most recent downturn is understandable.
"It's been a tough week. I'd be lying if I said anything different," he said. "He was a big part of my life. But I still have a job to do and that's something I take very seriously. We're all human beings. We're emotional people. When we're dealing with a passing -- the memories of my father in my case -- it's going to be difficult. But I just have to lock in on what I'm doing, work my way through it that way."
That little piece of advice may come directly from the Padres legend, who entered Cooperstown in 2007 with a .338 career average, 3,141 hits and a knack for studying videotape over and over and over. According to the son, his dad taught, "Everything comes down to the work you put into it."
That work resulted in three outs Sunday before the theatrics in the 10th. Although it only raised his average to .228, Gwynn certainly hopes the hit is the start of something.
"It depends," he said. "In this particular case, I've obviously been struggling, but all day today, I felt pretty good. Whenever you get a hit, you hope it's the sign that things are getting better. A big moment, though, I think can be something that you can carry forward."
Then again, Sunday's hit may not have been indicative of much more on the diamond than a chance to win a ballgame and an opportunity honor a man who collected more than a few in his time. For Gwynn, that's really all he needed.
"For me, it's a gift to my dad or from my dad -- both, really," he said. "And in that way, it's a good Father's Day."
Chiefs starter Taylor Jordan allowed two hits and three walks over seven scoreless innings. Bisons veteran Jeff Francis struck out seven and gave up three hits and a walk over eight shutout frames. Neither factored in the decision.
Sam Dykstra is a contributor to MiLB.com. Follow and interact with him on Twitter, @SamDykstraMiLB. This story was not subject to the approval of the National Association of Professional Baseball Leagues or its clubs.
View More