Holt's catch caps Columbus' Game 2 victory
Murata starts strong as Clippers move within win of Governors' Cup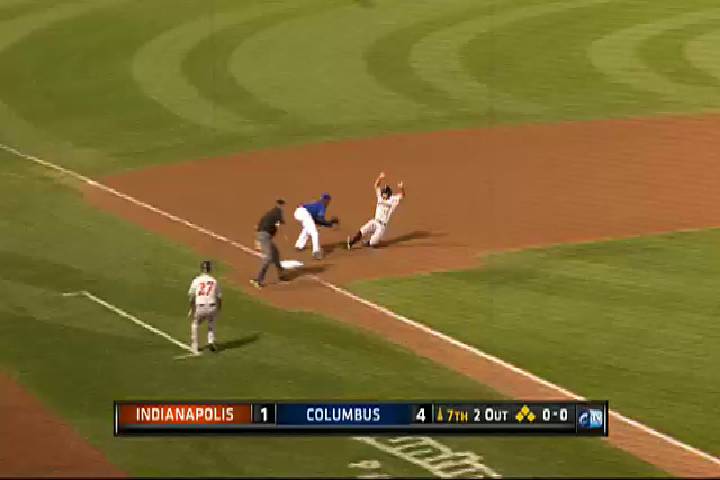 By Danny Wild / MiLB.com | September 16, 2015 11:10 PM
In a crucial game full of drama and close calls, Tyler Holt may have stolen the night.
"Obviously an intense moment and just an outstanding catch by him," said Clippers manager Chris Tremie. "An unbelievable catch by him to end the game."
Toru Murata pitched six strong innings, Michael Choice and Adam Moore went yard and Holt made a spectacular game-ending catch with the bases loaded in the ninth inning to help Columbus edge Indianapolis, 5-4, to take a 2-0 series lead in the best-of-5 Governors' Cup Finals on Wednesday.
Murata kept the Clippers in it for much of the night, but Holt's basket catch on the warning track to end the game instantly became one of the playoffs' most memorable moments. With the go-ahead run on second base, the center fielder sprinted back to the wall and appeared to catch Willy Garcia's fly ball his chest for the final out in the Clippers' last home game of the year.
Holt appeared to trap the ball against his body with his glove, then popped up, spiked the ball and ran to celebrate with his teammates as the Clippers moved to within one victory of the Governors' Cup and a date at the Triple-A National Championship. Indians manager Dean Treanor briefly argued with umpires in the infield after the final out, but the catch was not reviewable.
"It's really exciting, this group right now," said Choice. "We're definitely going out there to go get it and get these two victories and bring it back."
Murata, who went 15-4 with a 2.90 ERA this season, held the Indians to one run on three hits and a pair of walks while striking out four for the win. He was forced from the game in the top of the seventh when John Bowker hit a comebacker off the Cleveland righty's shin to lead off the inning. He exited after 92 pitches, and Tremie said he would be evaluated again Thursday.
"He was good, unfortunately he got hit in the leg, [which] got him out of the game, but he was still out there pitching really well," said Tremie. "He wasn't effective early, although he didn't give up any runs the first couple innings. He kind of found his groove in the third and fourth innings and he was cruising pretty good. He's been good for us all year and [it was] a great outing."
C.C. Lee came on allowed a run in finishing the seventh before Columbus patched together the final six outs with a bullpen that struggled at times this season. Jeff Johnson pitched a flawless eighth, but veteran Carlos Marmol loaded the bases and allowed two runs on a hit and three walks while recording two outs in the ninth. Tremie brought in Nick Maronde, but the lefty walked the only batter he faced before Dustin Molleken came in to get the final out.
"It took everybody in this game to win it, and [Holt] making that great play capped it off, but it took a team effort to win it," Tremie said.
Columbus took an early lead when Holt singled and scored on Jesus Aguilar's missed catch error in the first. Choice followed a two-run homer to left an inning later. Moore clubbed a one-out long ball to left-center in the sixth and James Ramsey scored the Clippers' final run in the seventh on a throwing error by first baseman Josh Bell, the Pirates' No. 3 prospect.
The Indians made it interesting in the ninth after scoring twice in the seventh. Trailing 5-2, Indianapolis loaded the bases against Marmol with Dan Gamache's single and two walks before pinch-hitter Mel Rojas Jr. drew a bases-loaded walk. Pittsburgh's No. 5 prospect Alen Hanson knocked in a run with a sacrifice fly and Maronde walked Bell to force home another run, but Molleken got Garcia to fly to Holt for the win.
"I've got faith in everybody in that clubhouse, it takes a team to win," Tremie said. "Everybody in there is going to contribute to what we do this season. We're going to go out and keep working together, but it takes everybody."
After the game, the Clippers got some support from their neighbors in Columbus:
Well done, @CLBClippers! #FindAWay to finish the job in Indianapolis.⚾️

- NHL Blue Jackets (@BlueJacketsNHL) September 17, 2015
The series shifts to Indianapolis, where top Pirates prospect Tyler Glasnow will get the ball in a must-win Game 3 for the Indians on Thursday. Right-hander Will Roberts, Cleveland's fifth-round pick in 2011, gets the start for Columbus.
Danny Wild is an editor for MiLB.com. Follow his MLBlog column, Minoring in Twitter. This story was not subject to the approval of the National Association of Professional Baseball Leagues or its clubs.
View More