IL notes: Davies aims to reward believers
Tides manager compares undersized O's pitching prospect to Pedroia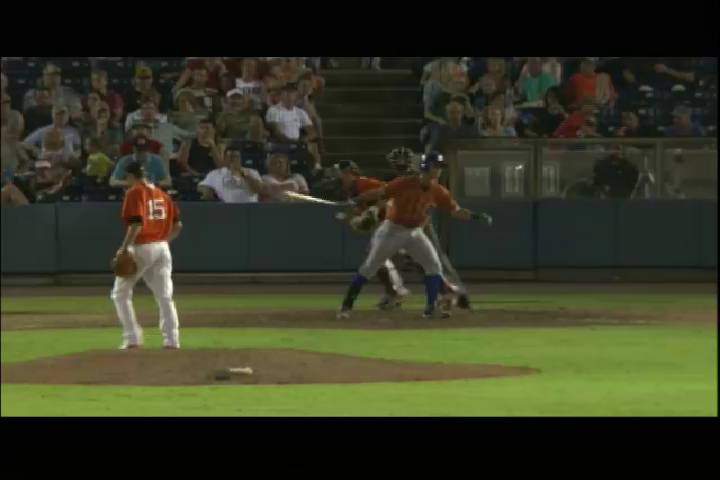 By John Wagner / Special to MiLB.com | July 27, 2015 10:00 AM
Norfolk's Zach Davies is only 22 years old and he's listed at 6-feet and 150 pounds. Those numbers, combined with a baby face, make him look ... well, young.
"When you look at Zach, he looks like a high school kid," Tides manager Ron Johnson admitted. "But then you see him pitch and you can see he's a competitor -- and he has good stuff."
The idea that Davies is too "young" or too "slight" to pitch in the Major Leagues has been something he has dealt with since signing with the Orioles after they selected him in the 26th round of the 2011 Draft.
"People have that perception of me, and it kind of puts a chip on my shoulder," Davies said. "I believe in myself and I know what I can do.
"But I've been given opportunities in [Baltimore's] organization and I know I've got believers here. My goal is to show them they believe in the right person."
So far, he's done excellent work toward making those believers look good. In 18 games (17 starts) for Norfolk this season, Davies is 4-6 and ranks eighth in the IL with a 3.02 ERA. He's struck out 80 and allowed 86 hits over 95 1/3 innings.
"Zach has got three 'plus' pitches: his fastball sits at 92-93 [mph] and he's got a plus changeup and a plus curve," Johnson said. "He's just 22 years old and he's learning to command his fastball. When he commands his fastball consistently, he's going to pitch in the big leagues."
The only negative in Davies' season has been his 32 walks. But he's shown signs of better command lately, issuing only two free passes over 20 innings in his last three starts.
"I've had bouts where I've struggled with command," Davies said. "I've had innings where things don't get too out of hand, but from batter to batter I've struggled. And walks hurt me. When I notice things getting out of hand, I need to get back in focus and get right."
Johnson said he's not worried about the walks, adding, "He's like a lot of young pitchers in that he 'picks.' He doesn't miss by much, but he's got to trust his stuff more so that he might catch a little more of the plate."
Davies said he knows what he needs to do to make the Orioles' front office believe he's worthy of taking that final step to pitch in the Majors.
"I need to just keep putting up numbers," he said. "I need to make sure I'm doing things the right way because if I'm not, then that last step can't happen. But I make sure I control the things I can control and I'm doing the right things."
And Johnson, who coached and managed in the Red Sox's system before taking over in Norfolk, said he remembers dealing with another young, undersized prospect.
"People look at the body type of Zach Davies and think, 'That's not the body type for a starter in the Major Leagues,'" Johnson said. "But at the same time, I remember when the Boston organization drafted a shortstop who was a little bitty guy who swung straight up. That guy was Dustin Pedroia, and that worked out pretty well."
In brief
High speed: Indianapolis 2B Alen Hanson has provided a jolt of speed at the top of the Indians lineup. He's hitting .279 in 84 games for the Tribe and is tied for third in the league with 27 stolen bases. The 22-year-old also ranks second with eight triples.
Ignore the numbers ... sort of: Charlotte RHP Kyle Drabek has a misleading 5-5 record, because his other numbers indicate he's throwing much better than a .500 mark would indicate. He has a 2.59 ERA that ranks fourth in the league and his average of 10.26 baserunners per nine innings is tops among IL starters. Drabek also ranks third with a .215 opponents' batting average.
He said it: "In Double-A, you kind of feel like the old guy. Then you get up here and they're all like, 'Awww, you're 26, you're the young guy. I like being in Triple-A a lot more. I get to feel like the young guy instead of the old guy back in Double-A." -- Syracuse OF Caleb Ramsey to the Syracuse Post-Standard. He's hitting .278 with a homer, 17 RBIs and 23 runs scored in 57 games following a promotion from Double-A Harrisburg in late May.
He said it, part II: "I didn't sleep or eat very much all week. I wanted to do a good job so badly." -- Pawtucket broadcaster Josh Maurer to the Providence Journal. Maurer, who filled in on NESN's Red Sox telecasts for a week -- and witnessed an 0-7 road trip to Los Angeles and Houston -- is in his second season on the PawSox radio broadcast team. He's partnered with Will Flemming.
John Wagner is a contributor to MiLB.com. This story was not subject to the approval of the National Association of Professional Baseball Leagues or its clubs.
View More