Cave leads RailRiders to another division title
Defending Triple-A champions claim third straight IL North crown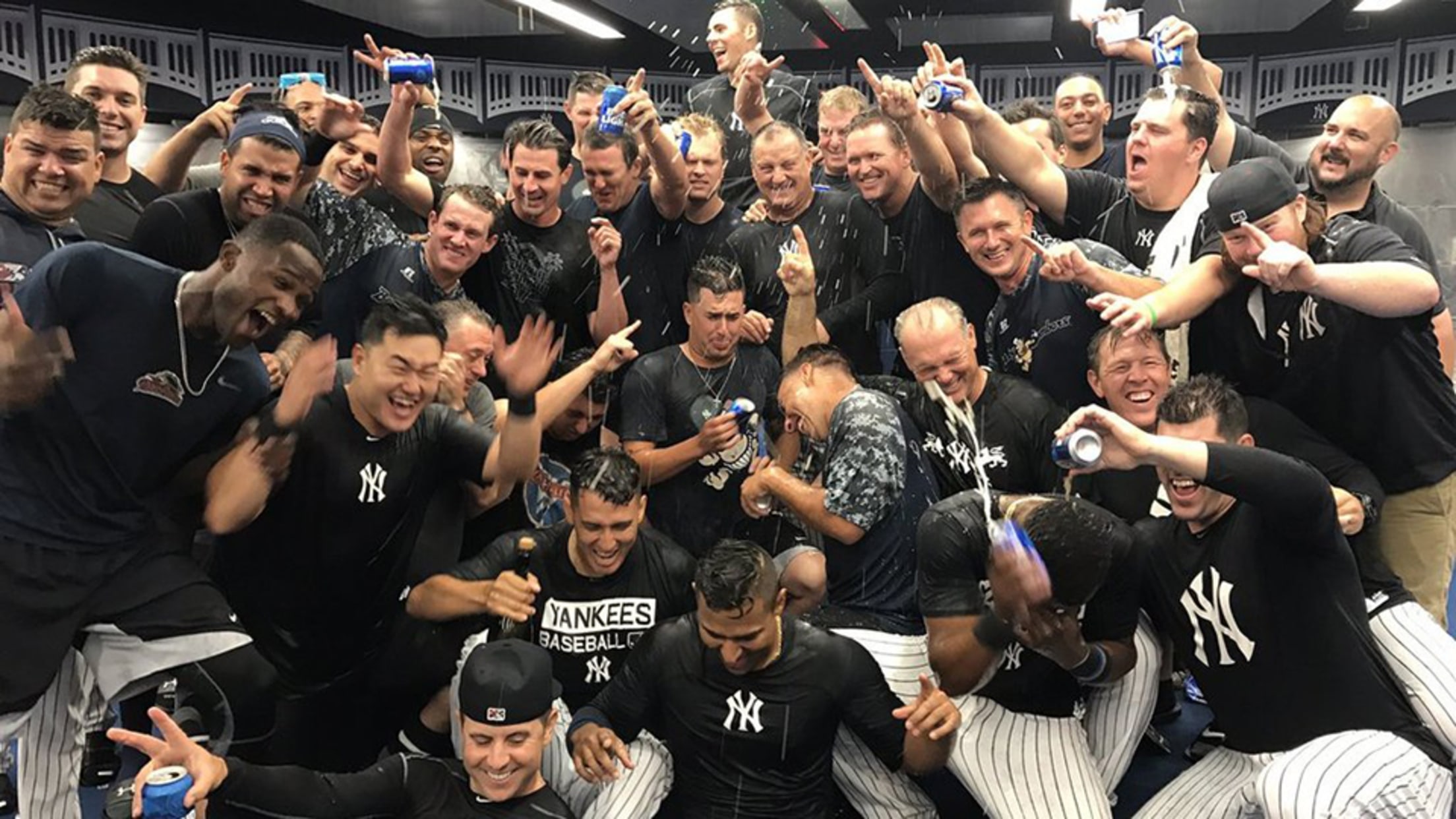 Scranton/Wilkes-Barre was crowned International League North Division champions for the third straight year. (Scranton/Wilkes-Barre RailRiders)
Even with several of their former top players starring in the Major Leagues for the Yankees, the Triple-A RailRiders keep rolling along. After clinching a playoff spot Saturday, Scranton/Wilkes-Barre wrapped up its third straight International League North Division title with a 5-3 win over Rochester on Monday night at PNC Field. 
Even with several of their former top players starring in the Major Leagues for the Yankees, the Triple-A RailRiders keep rolling along.
After clinching a playoff spot Saturday, Scranton/Wilkes-Barre wrapped up its third straight International League North Division title with a 5-3 win over Rochester on Monday night at PNC Field.
Jake Cave homered and drove in two runs while Bryan Mitchell allowed two runs on four hits over five innings en route to the team's ninth IL North Division crown in 12 years. Manager Al Pedrique's club leads the circuit with 84 wins as the RailRiders seek their second straight Governor's Cup and Triple-A championship.
"It doesn't get old. Each year is different," Pedrique told The Times-Tribune after the game. "This is special. I'm very, very proud of this team, starting with the staff and the trainer. But if you don't have the players, you're not going to win."
Gameday box score
Batting second, Cave gave the RailRiders a quick lead in the bottom of the first by smacking a deep blast to right field for his 15th home run. After Mason Williams slugged his second long ball in the second, New York's No. 19 prospect added an RBI single to right in the third. Cito Culver stretched Scranton/Wilkes-Barre's lead with a monstrous two-run homer to left in the fourth, his 12th of the season.
"[Twins No. 7 prospectFelix Jorge] threw one in the middle of the plate, and I took my 'A' swing at it," Culver told the paper. "Al has done a great job this year having confidence in us. I was just happy he had confidence in me at that point.
"No matter what route my career takes and no matter where everybody else goes, these are things I'm always going to remember the rest of my life. I can win a World Series, but when I'm old, people will ask me about baseball, and I'll tell them that when I was in Triple-A, I got to pop bottles. This is the seventh time I've done it [with Scranton]. And we're looking to do it again. It's awesome."
The early run support was enough for Mitchell (3-3), who allowed just singles to Leonardo Reginatto and Daniel Palka through four scoreless frames. The right-hander surrendered an RBI double to Engelb Vielma and a sacrifice fly by J.B. Shuck in the fifth. Mitchell threw 50 of 72 pitches for strikes.
J.P. Feyereisen and Nick Rumbelow combined to allow a run on three hits and a walk with three punchouts over the final four innings. Rumbelow got Anthony Recker to ground into a game-ending double play to collect his fifth save.
Yankees sixth-ranked prospect Miguel Andújar, Cave and Williams had two hits apiece for the RailRiders, who have won five of their last six.
• Get tickets to a RailRiders game »
Making his second Triple-A start, Jorge (0-1) yielded five runs and seven hits -- including three roundtrippers -- with two strikeouts over four innings for the Red Wings.
In other clinching action:
Florida State League
Without taking the field Monday, another Yankees affiliate also sealed up a crown. Tampa clinched its second consecutive Florida State League North Division title when inclement weather canceled the Baby Bombers' doubleheader nightcap with Bradenton. The Yankees claimed the first-half division title with a 39-31 record, and their 79-49 overall mark is the best on the circuit.