Red Wings' Romero strikes out 10
Twins No. 2 prospect allows run, two hits in 6 2/3 innings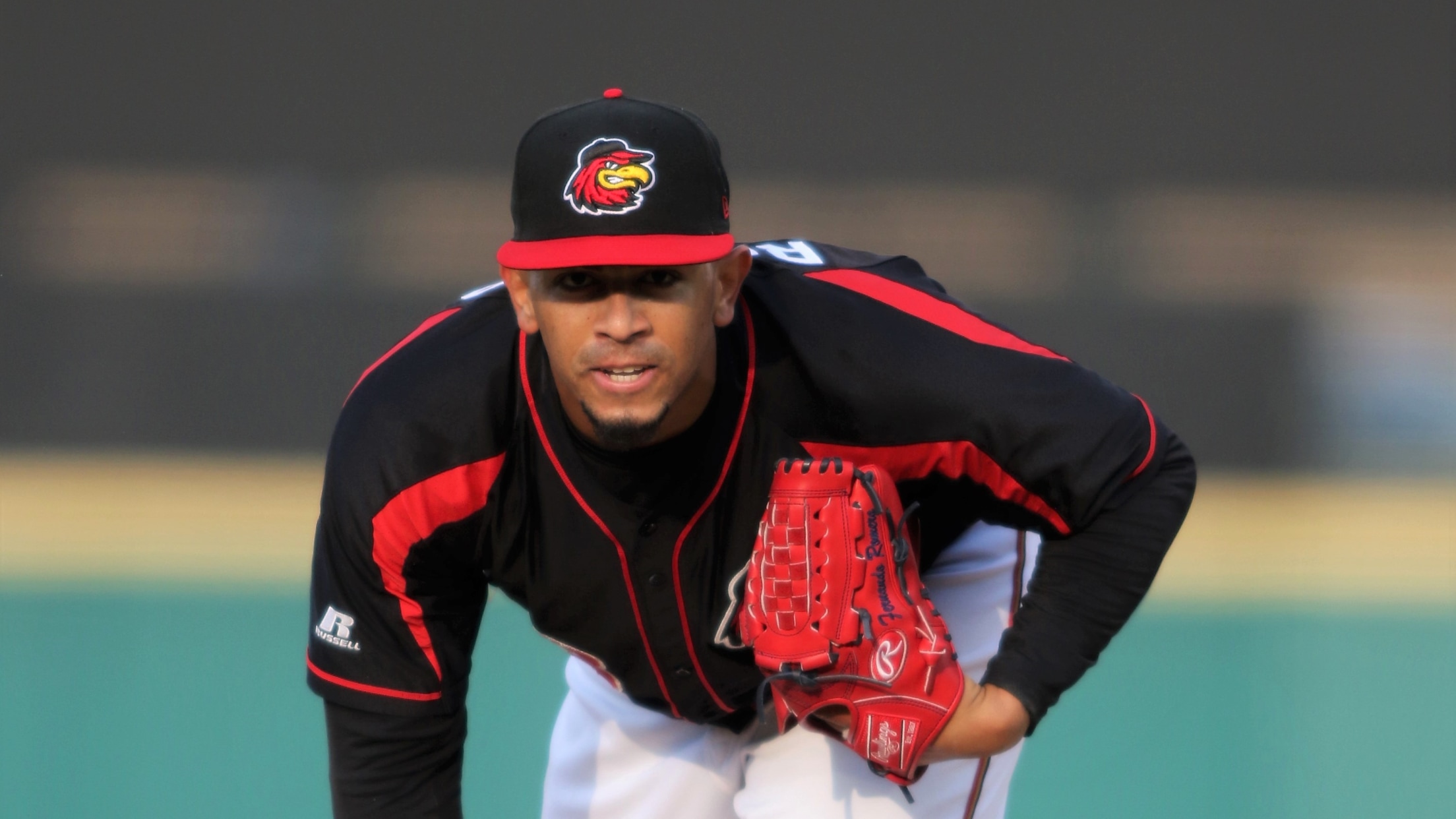 Fernando Romero has allowed 11 hits over 16 innings in three starts this season. (Joe Territo/Rochester Red Wings)
In three starts, Fernando Romero has made the jump to Triple-A look effortless.The best came on Sunday, when the Twins' No. 2 prospect recorded 10 strikeouts and gave up one run on two hits over 6 2/3 innings in Rochester's 1-0 loss to Columbus at Frontier Field. It was his longest outing
In three starts, Fernando Romero has made the jump to Triple-A look effortless.
The best came on Sunday, when the Twins' No. 2 prospect recorded 10 strikeouts and gave up one run on two hits over 6 2/3 innings in Rochester's 1-0 loss to Columbus at Frontier Field. It was his longest outing since tossing seven innings for Double-A Chattanooga last June 25.
Romero (0-1) allowed four baserunners in the matinee. Both hits came in the fourth inning as Yandy Díaz singled home Indians No. 9 prospectGreg Allen, who doubled. Other than that, the right-hander was nearly flawless, throwing 52 of 88 pitches for strikes.
"He used his fastball on both sides of the plate real well," Red Wings pitching coach Stu Cliburn said. "He pitched inside really well. He covered that side of the plate and most of his strikeouts came on his slider. He had both sides going today."
Romero went five innings in his International League debut on April 10, yielding two runs on five hits against Syracuse. His next time out, he needed 75 pitches to get through 4 1/3 innings and gave up two runs on four hits and three walks at Charlotte. Sunday's effort dropped his ERA to 1.69 and his opponents' batting average to .162, which ranks fourth in the IL. He also has a 1.13 WHIP.
Gameday box score
"He's such a young kid, still at the Triple-A level, command is something to work on," Cliburn said. "We want command of all three pitches. His changeup, he threw about five or six today, and we'd like to get that mark up a little bit to develop it. Today, he threw mostly his slider and fastball."
Romero spent all of last year in the Southern League, where he was 11-9 with a 3.53 ERA and 120 strikeouts in 125 innings. He underwent Tommy John surgery that cost him most of the 2014-15 seasons but reached 98-99 mph with his fastball a year ago.
"As of right now, he's a full go," Cliburn said. "We keep all our guys the first few outings around the 80-pitch mark and after that 90, and up to May we can get it up to the 100 mark."
With the native of the Dominican Republic four years removed from surgery, the Twins want to build up his durability and get Romero deeper into games and into the season. As his stuff continues to improve, he has a shot at reaching the Majors this year.
"He was into the seventh with two outs, and both his walks came in the seventh," Cliburn noted. "We were going to take him to 90 pitches, but he ended up with 88."
Matt Magill allowed one hit over 1 1/3 innings and Ryne Harper struck out the side in the ninth for the Red Wings.
Major League veteran Alexi Ogando (1-0) was even better for the Clippers, holding Rochester hitless until James Ramsey led off the sixth with a single. He turned out to be one of only two baserunners against the 34-year-old right-hander, who struck out eight and issued one walk.
Ben Taylor, Columbus' fifth pitcher, recorded the final out for his second save.
Marisa Ingemi is a contributor to MiLB.com. Follow her on Twitter @Marisa_Ingemi.