PawSox, Chasers battle for Triple-A title
IL, PCL champions take field in Charlotte for National Championship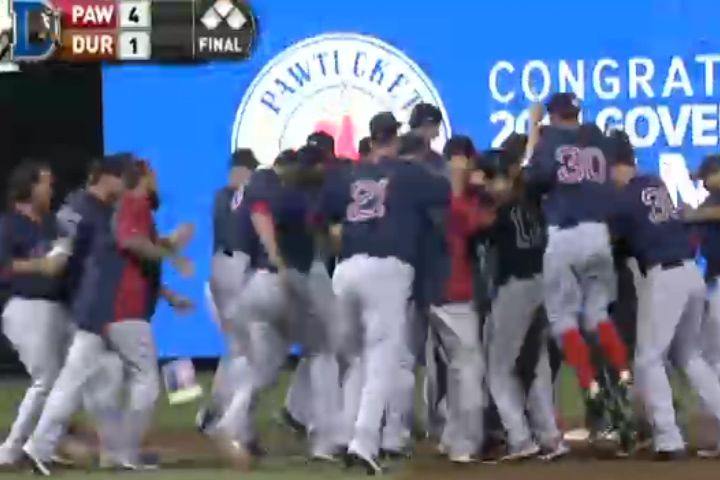 By Sam Dykstra / MiLB.com | September 15, 2014 6:30 PM
They're just two words, but they can turn an exhibition between two teams from two separate leagues into a game that turns a great season into a fantastic one over the course of nine (or more) innings.
National Championship.
That's what will be played Tuesday in Charlotte's BB&T Ballpark when the International League champion Pawtucket Red Sox take on the Pacific Coast League titleholder Omaha Storm Chasers for Triple-A supremacy.
As was the case in the IL and PCL Finals, there is some familiarity in seeing these two squads in the Triple-A National Championship Game, even if no history exists between the teams themselves. Omaha will be competing in its third National Championship in the last four seasons, becoming the first squad with a trio of appearances in the event since it came into being back in 2006. The Storm Chasers won their first Triple-A title with a 2-1 win over Durham last year and fell, 8-3, to Columbus back in 2011. This will be Pawtucket's second National Championship Game appearance after falling to Reno, 10-3, in 2012.
Pawtucket Red Sox, 79-65, International League Wild Card; defeated Durham, 3-2, in Governors' Cup Finals
To think, Pawtucket very nearly missed out on its second IL title in three seasons. On Friday, Durham's Cole Figueroa rounded third on a single by Mikie Mahtook in the bottom of the 10th for what could have a game-winning, series-ending run. PawSox left fielder Bryce Brentz collected the hit and fired home. Catcher Blake Swihart snagged the one-hopper and applied the season-saving tag. The PawSox would win the game, 4-2, in 13 innings and took the Governors' Cup Finals with a 4-1 win in Game 5.
---
Watch the Triple-A Championship on MiLB.TV and NBC Sports Network at 7 p.m. ET Tuesday.
---
"That was a big moment in a big game," said Swihart. "Right after, Bryce came over to me and said, 'Was that a tough ball to catch?' And you just have to laugh because he went right after the baserunner there and didn't allow the game to end. It's just a reminder that this is a game of inches."
One of the PawSox's biggest keys during its playoff run has been the infusion of talent it received, not only from Double-A Portland but also from trade deadline deals and, perhaps most notably, a particular signing from Cuba.
Rusney Castillo has grabbed the majority of the headlines this postseason and for good reason. The 27-year-old Cuban outfielder signed a seven-year, $72.5 million contract with the Red Sox last month and has been progressing through the ranks during postseason play -- first with the champion GCL Red Sox, then with Double-A Portland before their exit and now with Pawtucket. He's gone 5-for-18 (.278) with two doubles, an RBI and a stolen base from the top of the lineup since joining the PawSox and will be back hitting leadoff before joining the big league club Wednesday.
Then, there's the case of the rotation. Six pitchers have made starts for Pawtucket this postseason, and only one -- Matt Barnes, who has been promoted to Boston -- was with the team even as late mid-July. Edwin Escobar (Giants) came over to Pawtucket in the Jake Peavy deal, Henry Owens was promoted from Portland in August and Brian Johnson, Keith Couch and Eduardo Rodriguez, who also joined the Sox from the Orioles on July 31, made their Triple-A debuts in the playoffs.
"That just shows how good the coaches and organization have been in making this team," said Swihart, who won't play Tuesday after injuring his thumb in Game 4 of the Finals. "They know what they're doing in drafting these guys and bringing in guys who could help us win. They knew this group had the chance to mesh well over a short period of time, and we've developed the good chemistry that you need to win a title."
Escobar, the No. 8 Red Sox prospect, is scheduled to make the start in the National Championship Game. After going 3-8 with a 5.11 ERA at Triple-A Fresno, the 22-year-old left-hander went 0-2 with a 4.28 ERA in five starts with Pawtucket during the regular season but has impressed in the playoffs as he's gone 1-0 with a 1.72 ERA, 12 strikeouts and no walks in two starts (15 2/3 innings).
"He's going to attack the zone immediately, every at-bat," said Swihart. "He'll get his fastball right in there, and once he does that, he can do whatever he wants. You have to be ready for him to own the zone because that's what he's been doing. ... It's why he's out there for this game."
Omaha Storm Chasers, 76-67, Pacific Coast League American Northern Division champion; defeated Reno, 3-2, in PCL Championship Series
If there's one thing to be said about individual teams in the Minors, it's that they're never the same year in and year out. A championship run, like the one Omaha currently enjoys, doesn't scream "dynasty." It screams organizational depth.
Consider this. Of the Storm Chasers starting 10 (including DH) that clinched the PCL title last season, only one (Paulo Orlando) was back in the lineup to capture the 2014 crown Sunday.
But don't believe that all that roster turnover means Omaha is downplaying the chance to repeat as Triple-A national champion.
"You want to do at least the same as the team ahead of you," said Storm Chasers manager Brian Poldberg, who captured a PCL title in his first season managing at the Triple-A level. "You want to win every game you've played A win here would just be the cherry on top of the other trophy, and we've got to keep doing everything the same way we have been to get it done."
That way has been relying on an impressive mix of both offense and defense in their series wins over Memphis and Reno. Led by outfielders Whit Merrifield (15-for-39, three homers, six RBIs) and Orlando (16-for-39, one homer, four RBIs, two steals), the Storm Chasers own a collective .281 average and .785 OPS while averaging 4.7 runs per game in their nine postseason contests. That's even more impressive when you consider the Royals, who need all the assistance they can get as they chase their own postseason berth, brought up Carlos Peguero (team-leading 30 homers during the regular season), Francisco Pena (27 homers) and Johnny Giavotella (.813 OPS) on Sept. 1 when rosters expanded.
As for pitching, Omaha relied heavily on right-handed starter Aaron Brooks, who went a perfect 3-0 with a 0.75 ERA in his three starts including Sunday's win when he tossed the team's only individual shutout of the playoffs. Brooks, of course, won't be available for the National Championship game, and the honor of starting instead will fall to No. 8 Royals prospect Christian Binford, who started the season at Class A Advanced Wilmington before moving up to Double-A Northwest Arkansas in July and Triple-A in August. He posted a 2.88 ERA with 139 strikeouts and only 22 walks in 140 2/3 innings across the three levels and scattered two hits and a walk over 5 2/3 scoreless innings of relief during the postseason.
"This is a guy that's a strike-thrower," said Poldberg of the 6-foot-6 right-hander. "He can throw his fastball to either side of the plate against anybody. He just needs to go out and do the same things he's done since we got him back in mid-August. He's got [six] outings under his belt here, so we're confident in him."
If Binford should falter, however, Omaha should can find some solace in their bullpen. Storm Chasers relievers haven't allowed a run in 29 innings during the team's postseason run. Left-hander Tim Collins, who spent each of the last three seasons exclusively in the Majors, has been nearly untouchable, striking out seven while giving up one walk over seven no-hit innings of relief, and Royals top prospect Kyle Zimmer has come back from a lost season mired by biceps and back injuries to toss four scoreless innings, with four strikeouts, one walk and one hit.
Still it doesn't matter much to Poldberg, an Omaha native, whether it's hitting, pitching or the bullpen that brings a second straight Triple-A title back to his hometown.
"You always want to win that last game," Poldberg said, "because it means you've had a heck of a season."
Sam Dykstra is a contributor to MiLB.com. This story was not subject to the approval of the National Association of Professional Baseball Leagues or its clubs.
View More