Brault posts seven zeros for Indianapolis
Pirates No. 8 prospect rolls through longest outing of the season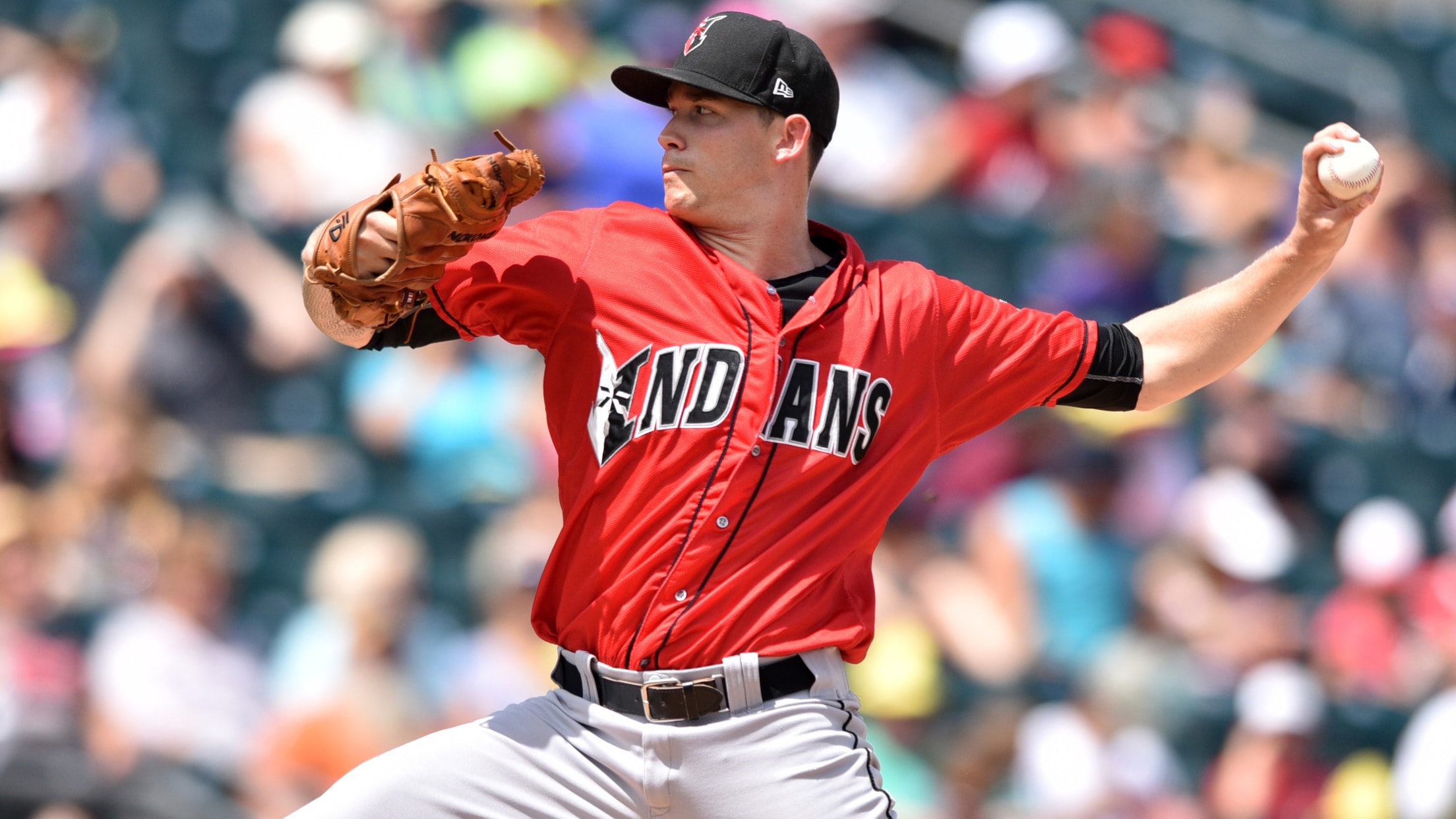 In eight appearances for Pittsburgh last season, Steven Brault was 0-3 with 29 strikeouts and a 4.86 ERA. (Ken Inness/MiLB.com)
Steven Brault has gotten kind of used to performing a high-wire act on the mound, but was even happier to get through a start for Triple-A Indianapolis with some efficiency."If you ask my mom or dad -- who have been watching me pitch forever -- that's kind of like my
Steven Brault has gotten kind of used to performing a high-wire act on the mound, but was even happier to get through a start for Triple-A Indianapolis with some efficiency.
"If you ask my mom or dad -- who have been watching me pitch forever -- that's kind of like my forte: I get myself into jams and that's why my efficiency has never been all that great," the Pirates' No. 8 prospect said.
Gameday box score
On Sunday, Brault stretched to his longest start of the season, scattering three hits and a walk while striking out four over seven frames before the Indians squeaked out a 3-2 win over the Toledo Mud Hens. in 11 innings at Victory Field. The left-hander lowered his ERA to 2.54 in 47 2/3 innings this season.
"I was just attacking hitters: Staying athletic, not overthinking things," Brault said. "Toledo is more of a strength team; they're a little more aggressive. There was a lot of decent or weak contact and then I kept my defenders engaged, not taking too much time in between pitches. I think that always helps."
It marked his first seven-inning appearance since last Aug. 14 against Lehigh Valley.
"I like to be able to be out there as long as I can. It's nice to get 21 outs instead of 18 or 15," he said. "I know that's how I can help my team most. So you just kind of leave the field with a much better feeling."
The 25-year-old got a taste of the Majors last season, going 0-3 with 29 strikeouts and a 4.86 ERA over 33 1/3 innings for Pittsburgh. He was assigned to Indianapolis this year out of Spring Training.
"I think a big part of it is knowing that I'm here to work on things and I can feel myself getting better," Brault said. "If you're not living in the moment and you're not trying to get something done, then you're just moving backwards anyway."
The Regis University product retired the side in order in the opening frame and got two outs in the second before a single by Omar Infante. Brault got Jason Rogers to pop out, and in the bottom of the frame, Indianapolis designated hitter Eric Wood belted his sixth homer of the year against Toledo starter William Cuevas.
After a 1-2-3 third, Brault worked around his only free pass to Argenis Diaz to lead off the fourth before Bryan Holaday was caught by catcher Jacob Stallings trying to swipe second. The 11th-round pick by the Orioles in 2014 coerced 11 groundouts from the Mud Hens.
"My sinker has been working for me as far as getting ground balls recently, it's a pitch I didn't throw too much last year, but now it's back and I use it regularly," Brault said. "I like the idea of just being able to throw it to get the quicker outs."
The California native got himself in another sticky situation in the fifth after Infante's one-out double and a single by Logan Watkins put runners at the corners. But Brault got Brendan Ryan to fly out and Matt den Dekker to bounce out to end the frame.
"Our manager [Andy Barkett] letting me work out of my own jams is always nice because it means that he trusts me," Brault said. "Now that I have been able to be more consistent with my command, I can actually just attack the hitters the way I want instead of having to try and get a strikeout. It's definitely a much better, more confident way to go about it."
He rolled through a perfect sixth before Infante reached again with two outs in the seventh on a throwing error by Indianapolis shortstop Max Moroff. Brault fanned Watkins swinging to complete his afternoon.
"If you get upset when a position player makes an error, then you should take a look in the mirror and realize that it's going to happen and you just keep going," Brault said. "To expect perfection from your position players is dumb. You just kind of take it as you will. When somebody makes an error, you now get to work on working with somebody on."
He was replaced by Indianapolis reliever Dovydas Neverauskas after 98 pitches, 65 strikes. The righty surrendered the lead in the eighth after the Mud Hens strung together three hits and two runs.
Rogers evened the score with his sixth homer and Barrett Barnes plated the game-winning run with a sacrifice fly.
Gerard Gilberto is a contributor to MiLB.com. Follow and interact with him on Twitter, @GerardGilberto4.