Rays' Moore fans 16, returns to form
Coming off Tommy John Surgery, southpaw sets Bulls strikeout mark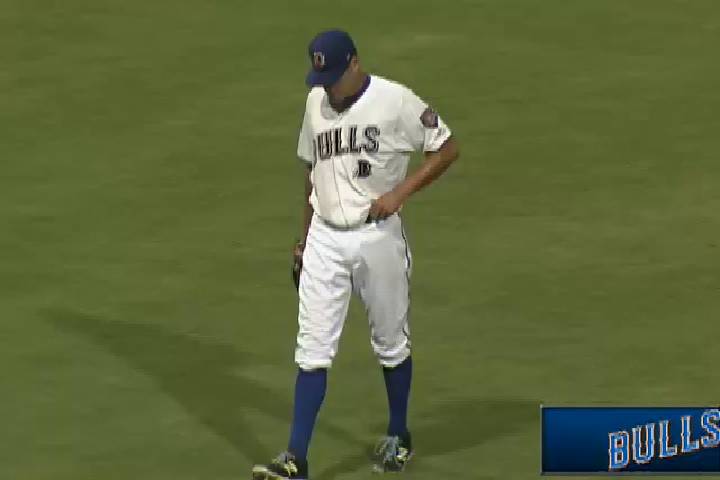 By Kelsie Heneghan / MiLB.com | August 23, 2015 12:55 AM
After the game on Saturday night, Triple-A Durham manager Jared Sandberg ran into Matt Moore as his starter was making his way back to the dugout for postgame fireworks. The skipper couldn't help but notice the large grin on the pitcher's face.
Although Moore has stayed positive throughout his return from Tommy John surgery, the hallway exchange marked the happiest Sandberg had seen him.
"I said I was proud of him and shook his hand," Sandberg said. "He had a huge smile on his face and was like, 'Man that was great.' So he was excited."
The veteran southpaw electrified a sellout crowd of 10,417 at Durham Bulls Athletic Park, shattering the team record with 16 strikeouts over six innings before the Bulls rallied for a 5-2 victory over Columbus.
"That was incredible. It was a lot of fun to watch, a great confidence-booster for him," Sandberg said. "It was great for him to go out there and show his dominant stuff that he's had in years past and great to show the dominant stuff in the journey back from Tommy John surgery."
Moore gave up two runs on four hits and a walk. His lone mistake was a 1-0 offering in the sixth that Zach Walters served up for a two-run homer. The 26-year-old dialed up to 95 mph on the radar gun for the first time since undergoing surgery en route to a career high at any level.
"He was able to get ahead with the fastball. Used the curveball and changeup wisely, but he mainly pitched with the fastball," Sandberg said. "It was magical. It was great to see him back out on the mound with magical stuff, confident and swing-and-miss type stuff, knowing that when his time does come when he gets back to the Major Leagues, he's going to be ready to go up there and perform at a high level like he has done in the past."
Moore pitched 10 innings over two starts with the Rays to start the 2014 season before undergoing elbow ligament replacement surgery. The New Mexico native spent 14 months rehabbing before returning to the mound for a game.
Class A Advanced Charlotte was the first stop for Moore, where he held Florida State League foes to two earned runs over 11 innings in three starts. Next was the International League as the southpaw was stretched to five innings in each of two starts for the Bulls before returning to the Majors. That's when things got rocky as Moore notched an 8.78 ERA with 17 strikeouts in six starts.
"We saw him in two rehab starts as he was coming back through the process and before the Major Leagues and he was really good when he was here. And then he got to the Major Leagues and, for whatever reason, he didn't perform to expectations of himself, the organization and the Major League level," Sandberg said. "He came down after his stint in the Major Leagues with a really good attitude. He had some goals in mind and he is pitching towards those goals."
In his second stint with the Bulls, Moore has worked on building his arm strength and throwing his fastball for strikes. The 6-foot-3 hurler has yielded seven runs on 19 hits over 23 2/3 innings in four starts since returning from the big leagues. Sandberg has noticed the role model Moore has been to Durham's other pitchers, especially Rays top pitching prospect Blake Snell.
"He understands that he's still trying to come back from Tommy John surgery, and there's a process to that and he's buying into that. Tonight was by far his best start since coming down and in his six starts here," Sandberg said. "The in-zone strike percentage on the fastballs was really, really good and with that, the confidence continues to grow as he continues to get swings and misses with his fastball."
The 16 strikeouts broke the record Moore shared with Jason Hammel and Wade Davis. The southpaw tied the single-game mark when he fanned 13 against Gwinnett on July 27, 2011 in his second Triple-A start.
"After tonight's start, he's definitely ready to go up and help whenever they need that help, but [the Rays] have not given me any indication as to what the timetable it," the manager said. "Right now, he has a great frame of mind and pitching towards those goals, and he knows that with the process, whenever he's called up, he'll be ready to compete. If you're asking me, he's ready to go up there and compete at the Major League level."
The Bulls took Moore off the hook with a four-run seventh that featured four walks and a two-run single by J.P. Arencibia in front of a club-record 13th sellout of the season.
Pitching around a walk, Robert Zarate (2-1) tossed two scoreless frames for the win and Kirby Yates struck out the side in the ninth for his sixth save with Durham.
Kelsie Heneghan is a contributor to MiLB.com. Follow her on Twitter @Kelsie_Heneghan. This story was not subject to the approval of the National Association of Professional Baseball Leagues or its clubs.
View More