Righty Meyer strikes out 11 for Rochester
Top Minnesota pitching prospect dominates Pawtucket in no-decision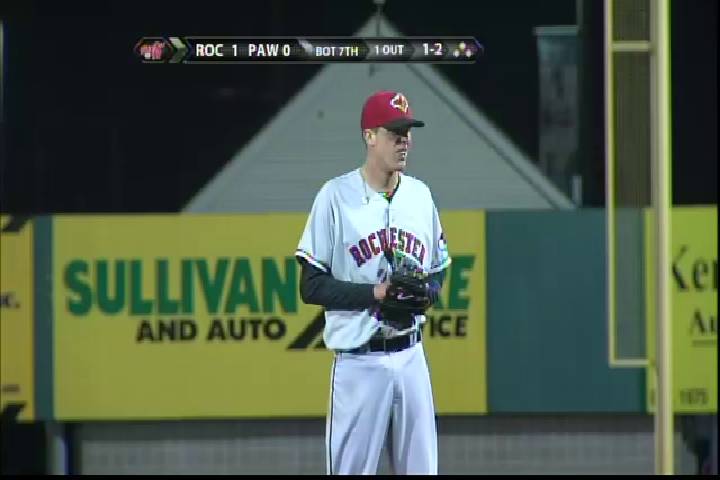 By Jake Seiner / MiLB.com | April 23, 2014 11:42 PM
Up until last week, it had been a rough season for Alex Meyer's circle changeup.
"The first one I threw this year, [Buffalo's] Juan Francisco deposited it over the fence," the Twins' top pitching prospect said. "I didn't throw another one the rest of the game."
About a week ago, Meyer was fed up with the offspeed pitch. Then a little piece of advice from two teammates got the 24-year-old back on track.
"Deolis Guerra and Yohan Pino, those two guys pulled me aside and told me, 'Don't throw the circle change,'" Meyer said. "I'm way more confident with the new grip they showed me, going with more of a three-finger change."
Meyer said he threw about 15 three-finger changes for Rochester on Wednesday. The pitch helped him set up his knockout breaking ball, which he used for many of his 11 strikeouts in a 3-1 loss to Pawtucket in International League action.
The strikeouts tied a career high for Meyer, who scattered three hits over 6 2/3 scoreless innings. He walked three and didn't factor into the decision for the fourth time in four Triple-A starts.
Minnesota's No. 3 prospect racked up all but one of his strikeouts in five or fewer pitches, and eight with four or fewer. He said he worked his fastball and changeup off each other early in counts, spotting up the heater then collecting foul balls and a few swings-and-misses with the change. Once he got ahead of hitters, he struck out many of them with his breaking ball.
Among his victims was Red Sox third baseman Will Middlebrooks, who fanned three times against Meyer in a rehab appearance.
"I asked a coach, 'Who'd he make mad? Why is he here? Are there five guys better than him in Minnesota," Middlebrooks told Brian MacPherson of the Providence Journal.
"That's awesome," Meyer said about Middlebrooks' quote. "It was neat when he came into the box and I had two outs and it was me vs. him. To be able to get him, that puts a lot of confidence in you."
Meyer said the outing was important for his self-confidence after a rocky start in Triple-A. The University of Kentucky product entered the year with just 70 innings of Double-A experience under his belt and stumbled to a 5.14 ERA in his first three outings with the Red Wings.
The 6-foot-9 hurler said recovering control of his changeup helped fix many of the things that plagued him in previous outings. Before the game, Rochester catcher Dan Rohlfing told Meyer he was going to make him throw more changeups. Meyer said Rohlfing's insistence and assurance helped immensely.
"It was something I had been working on, and he made me feel confident in it," Meyer said of the pitch. "I was getting pretty good sink on it. It was moving a little bit. It was coming out of my hand well. I can throw it at full arm speed. I don't have to slow things down. It had a little run and sink to it, and it was easier for me to command than the circle change was."
Meyer allowed just one base runner in the first four innings -- a leadoff single by Ryan Lavarnway in the second. He got two outs in the seventh before allowing a single to Brandon Snyder and was pulled having thrown 100 pitches (63 strikes).
Rochester led when Meyer exited the game, 1-0, but Boston's No. 5 prospect Garin Cecchini put Pawtucket ahead with a two-run double in the eighth.
No. 3 Red Sox prospect Allen Webster countered Meyer with 6 1/3 one-run innings, allowing five hits and a walk while striking out five. Webster (1-1) has a 3.08 ERA through five starts.
Jake Seiner is a contributor to MiLB.com. Follow him on Twitter at @Jake_Seiner. This story was not subject to the approval of the National Association of Professional Baseball Leagues or its clubs.
View More