Royals pair flushes at title game opportunity
Binford, Zimmer get spotlight and make most of it in championship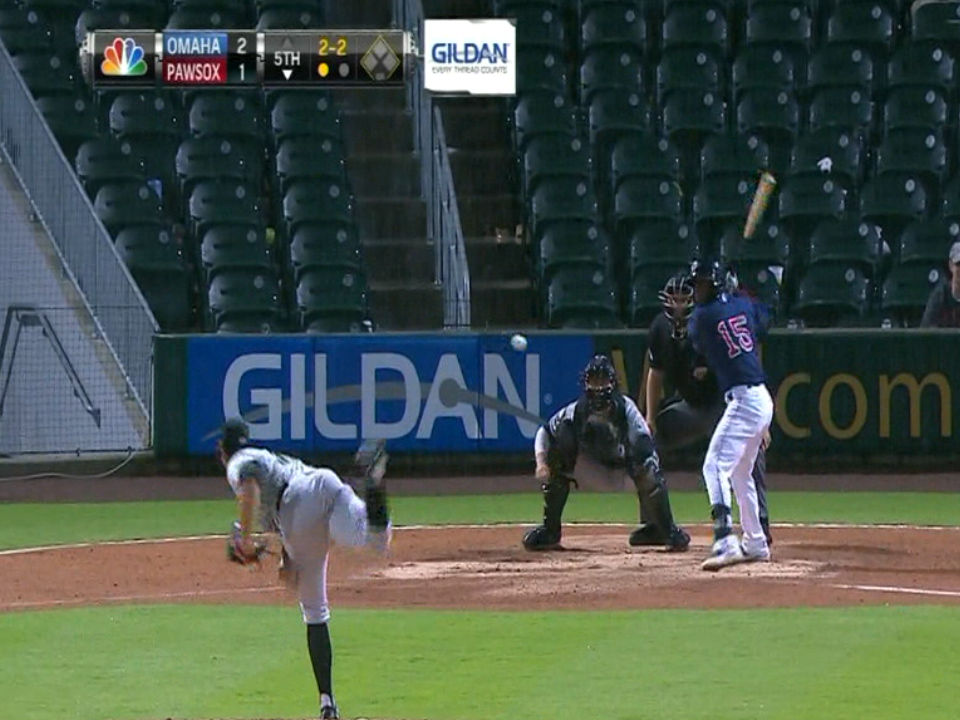 By Bob Sutton / Special to MiLB.com | September 17, 2014 1:56 AM
CHARLOTTE, N.C. -- A pair of pitchers with the Omaha Storm Chasers relished the chance to go to the mound in the Triple-A National Championship Game.
No. 8 Royals prospect Christian Binford was the starter and No. 2 Kyle Zimmer ended up being the winner. Both of them yielded solo home runs in Omaha's 4-2 victory over the Pawtucket Red Sox, but were able to look far beyond that.
Zimmer thought his entire season might be wiped out because of a pulled muscle, and he spent about seven months rehabbing at the organization's Arizona headquarters. So just being at BB&T Ballpark for Tuesday night's game felt like an accomplishment to him.
"It was definitely a long time down there. It wasn't fun," he said of his time on the shelf. "To look like it was a wasted year and then to come experience something like this is amazing."
The 2012 first-round pick yielded a tying home run to No. 18 Red Sox prospect Travis Shaw on a 3-0 pitch to begin the bottom of the sixth frame, but that was all he gave up while striking out four in his two-inning outing.
"I grooved one," Zimmer said. "He's one of their big hitters, so I wasn't surprised."
Earlier, the right-hander had been ready to enter the game when it resumed after a rain delay. But another rain cell hit and the tarp went back on the field.
"I was pretty much hot, ready to go into the game and it started raining again," Zimmer said. For Binford, it capped a season of accomplishments that saw him rise from Class A Advanced Wilmington to Double-A Northwest Arkansas and then finish with Omaha. At age 21, he was the youngest player on the Storm Chasers roster.
"It was awesome," he said. "Facing a (Pawtucket) team full of guys who could be in the big leagues any day."
Binford worked three-plus innings, allowing only a home run on his first pitch of the night.
The right-hander was more reflective on what the season has meant as a whole.
"Knowing I can pitch at all these levels, it has been great for my career," he said.
Zimmer was just glad he didn't miss the 2014 excitement.
"Some of my best friends in the organization are on this team," he said. "It's something I'll be able to enjoy forever."
In brief
Castillo makes his time count: Pawtucket center fielder Rusney Castillo, Boston's heralded summer Cuban acquisition, wasted no time putting on a display in the national title game. He hit Binford's first pitch for a home run to left field.
"He's an aggressive player," PawSox manager Kevin Boles said. "For him to attack the baseball that way he did, he's not afraid."
Drawing a crowd: Outfielder Whit Merrifield of the Storm Chasers could take credit for some of the Championship Game turnout, since it took place in his home state. His contributions to the players' pass list numbered about 60, drawing a razzing from Omaha teammates. "That's kind of expected," he said of the good-natured reaction provided by a story in a local newspaper Tuesday morning.
"After I got to Triple-A, about a month later, my mom called and told me this game was here," he said.
Merrifield also starred for nearby University of South Carolina, producing the title-winning hit for the Gamecocks in Omaha in the 2010 College World Series. Next month, he will be playing in the Mexican Pacific League.
Doing it on defense: Pawtucket outfielder Bryce Brentz had some defensive snags in the National Championship Game two years ago in a loss to Reno. His defense was discussed again this year at the title game, but for an entirely different reason.
Four nights earlier a couple of hours away in Durham, his 10th-inning throw from left field cut down the would-be series-clinching run at the plate in Game 4 of the Governors' Cup Finals against the Durham Bulls.
"It's a do-or-die situation," Brentz said. "With the game on the line, it's a short porch, but you don't want to come in too far. (Durham's Cole Figueroa) is a fast runner, but I couldn't airmail it. I just wanted to give (catcher Blake Swihart) a good, clean play."
Boston's No. 20 prospect said he didn't realize until later the nifty scoop Swihart made before applying the tag on the bang-bang play. That was a temporary comfort for Brentz, a 25-year-old on Boston's 40-man roster.
"Up to that point, I was (hitless)," he said. "If you can't impact the game offensively, then you want to impact the game defensively, especially with the night I was having."
Brentz drew a crowd reaction when showing off his arm again Tuesday night, but his throw wasn't in time to prevent Cheslor Cuthbert's fourth-inning sacrifice fly for Omaha. But he did throw Merrifield out in the seventh when the left fielder tried to turn a leadoff single into a double.
Bob Sutton is a contributor to MiLB.com. This story was not subject to the approval of the National Association of Professional Baseball Leagues or its clubs.
View More