Stock Watch: Refsnyder rising with 'Riders
Yankees second base prospect knocking on door of Majors audition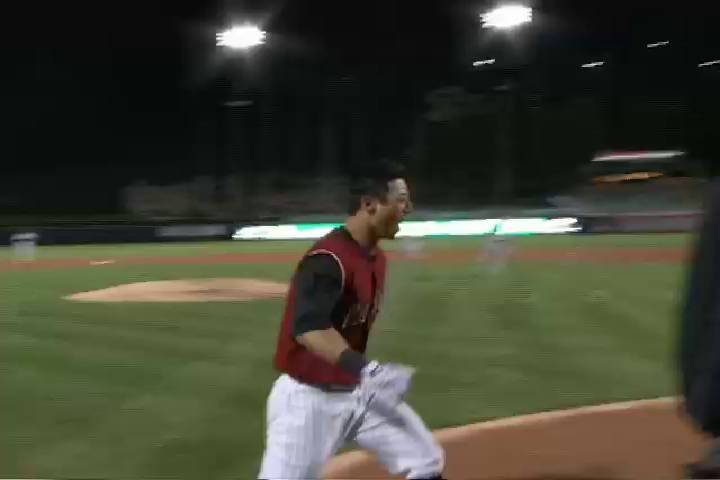 By Jake Seiner / MiLB.com | July 30, 2014 12:00 PM
Once a week this season, we're going to break down the prospects who have moved the needle on their prospect stock, mostly highlighting players on the rise, but also pointing out a few who are struggling against expectations. Note: All stats are through games played on Monday.
Trending up
Yankees 2B/OF Robert Refsnyder, Triple-A Scranton/Wilkes-Barre:
In such a large media market and with so many interested parties, it can be tough for Yankees prospects to fly under the radar, but heading into 2014, Refsnyder was not considered to be much of a prospect. A fifth-round pick out of Arizona in 2012, Refsnyder was named the Most Outstanding Player at the 2012 College World Series but faced questions as a pro about the utility of his stick and his ultimate defensive home.
In his first look at the upper Minors, Refsnyder has annihilated Double-A and Triple-A pitching. In 104 games, he's hitting .323 with 13 homers between the Eastern and International Leagues. For a while, Refsnyder had more walks than strikeouts with the RailRiders, and though that's no longer the case, he's still shown the ability to draw walks and has a .392 on-base percentage for the season.
Even if he didn't light the South Atlantic and Florida State Leagues on fire, Refsnyder did show aptitude with the bat in the lower levels. In 59 games spread across 2012 and 2013 with Class A Charleston, Refsnyder posted a .746 OPS with a 15-percent strikeout rate and 9-percent walk rate. In 117 games with Class A Advanced Tampa, he hit .283 with more walks (78) than strikeouts (70). Controlling the strike zone is something Refsnyder has done throughout his pro career.
Plenty of players -- particularly veterans of big colleges -- show that same ability in Class A, though, only to be exploited at the higher levels. Often, that's because Double-A, Triple-A and Major League pitchers will be more aggressive and efficient in attacking those hitters with quality strikes in the lower quadrants of the zone.
When that happens, overmatched hitters make either less or weaker contact, particularly if they don't possess scary power. And prior to this season, Refsnyder wasn't much of a heavy hitter, posting a fairly pedestrian .121 isolated power with a career high of six homers.
In that regard, Refsnyder seems to have transformed his game. He's been driving the ball with consistent authority, especially to his pull side.
The right-handed hitter has pummeled the left-center power alley this season. Each of his career-high 13 home runs has gone to left or left-center, and many of his 29 doubles have been driven between left and center, as well.
That's something new for Refsnyder. Below, borrowed from the stellar MLBFarm.com site, are heat maps of Refsnyder's balls in play from 2013 (left) and 2014 (right). Note how much more contact is going in the air to left field, and how much further from home plate those balls seems to be traveling.
All those line drives to left aren't by accident. According to this New York Daily News profile by John Harper, Double-A hitting coach Marcus Thames helped Refsnyder "overhaul" his swing earlier this year. The goal was to keep Refsnyder's posture more upright, with an eye to easily delivering the barrel to pitches on the inner half -- the same pitches Refsnyder is often driving so effectively to left-center field.
There's no MiLB.TV feed available in the Florida State League, so I had to go back to when Refsnyder was with Charleston for a comparison, but the difference to which Refsnyder alluded is plain to see. Here's a side-by-side look at his setup, with a 2012 at-bat on the left and 2014 on the right:
In the 2014 screengrab -- taken from a double Refsnyder hit on Monday night -- the 23-year-old appears to be sitting a little lower in his stance, although his lower body is mostly the same. The big difference, obviously, are his hands, which are now located almost parallel to the top of his head. The bat is tilted way behind his body, and his torso is somewhat taller and leaning slightly more back toward the catcher.
The tilted bat isn't necessarily something you'd teach, but Refsnyder lifts the barrel into a more conventional position in his load:
The difference in posture is more evident here. In the Charleston video, his back is hunched slightly toward home plate. His hands are higher now than at Charleston, as is his leg kick -- both these screen grabs were taken at the apex of the leg kick.
It's the hand positioning, in particular, that seems to have led to stronger contact from Refsnyder, though. As he told the Daily News, "I was working underneath the ball" prior to the adjustment, and in watching the video from the two swings, it does appear that Refsnyder is able to make a quicker, less lofted move toward the baseball in 2014.
As well as Refsnyder has hit this season, his offensive profile is still one that would fit better at second base than in a corner outfield spot. His ultimate Major league role is going to be largely dictated by his defensive profile, and the hope is he can make it work at second. An outfielder in college, Refsnyder played his 200th Minor League game at second base last week, so he's still fairly new to the position.
Scouting evaluations of Refsnyder seem to be cautiously optimistic that he can play passably at second -- MLB.com recently added Refsnyder to the Yankees' Top 20 prospect list and graded him below average (45 out of 80) at the position.
Having watched just three games' worth of plays -- small sample warning goes here -- on MiLB.TV, there are elements of Refsnyder's defense that do look shaky. I saw him take a routine grounder off the forearms and later throw wide of first on a standard double-play turn. I also saw him cleanly put out batters on a couple other routine grounders, and I saw him make an athletic, diving stop up the middle that helped save a run. Again, that's a small sample, but at least from one writer's view, there's definitely work to be done if Refsnyder's going to stick at the keystone.
Cardinals LHP Rob Kaminsky, Class A Peoria:
The Cardinals had two first-round picks in the 2013 Draft and went with pitchers at both spots. With the 19th pick, they nabbed polished Gonzaga left-hander Marco Gonzales. Feeling they'd already grabbed an advanced southpaw, the team took a chance on Kaminsky, a high school left-hander, with the 28th pick.
Gonzales has already reached the Majors, and Kaminsky is having one of the best first full years of any of 2013 high school draftee. The 19-year-old has a 1.50 ERA through 13 starts with the Chiefs, flashing three potentially plus or better pitches and an idea of how to utilize them. Though he doesn't quite have the look of a future ace, the 5-foot-11 hurler does have tremendous upside to go with an impressive amount of polish, given his age.
Trending down
D-backs OF Stryker Trahan, Class A Short Season Hillsboro:
Nearly 100 games into the Midwest League season, it was clear that the 2012 first-rounder (26th overall) wasn't likely to figure out the Class A level this season, and so Arizona yanked the converted catcher back to the short-season level Monday. The 20-year-old was hitting .198 with South Bend, showing some power with 13 homers but also a lackluster approach that resulted in a 36-percent strikeout rate.
Jake Seiner is a contributor to MiLB.com. Follow him on Twitter at @Jake_Seiner. This story was not subject to the approval of the National Association of Professional Baseball Leagues or its clubs.
View More