August 4 Game Notes: Iowa Cubs vs. Toledo Mud Hens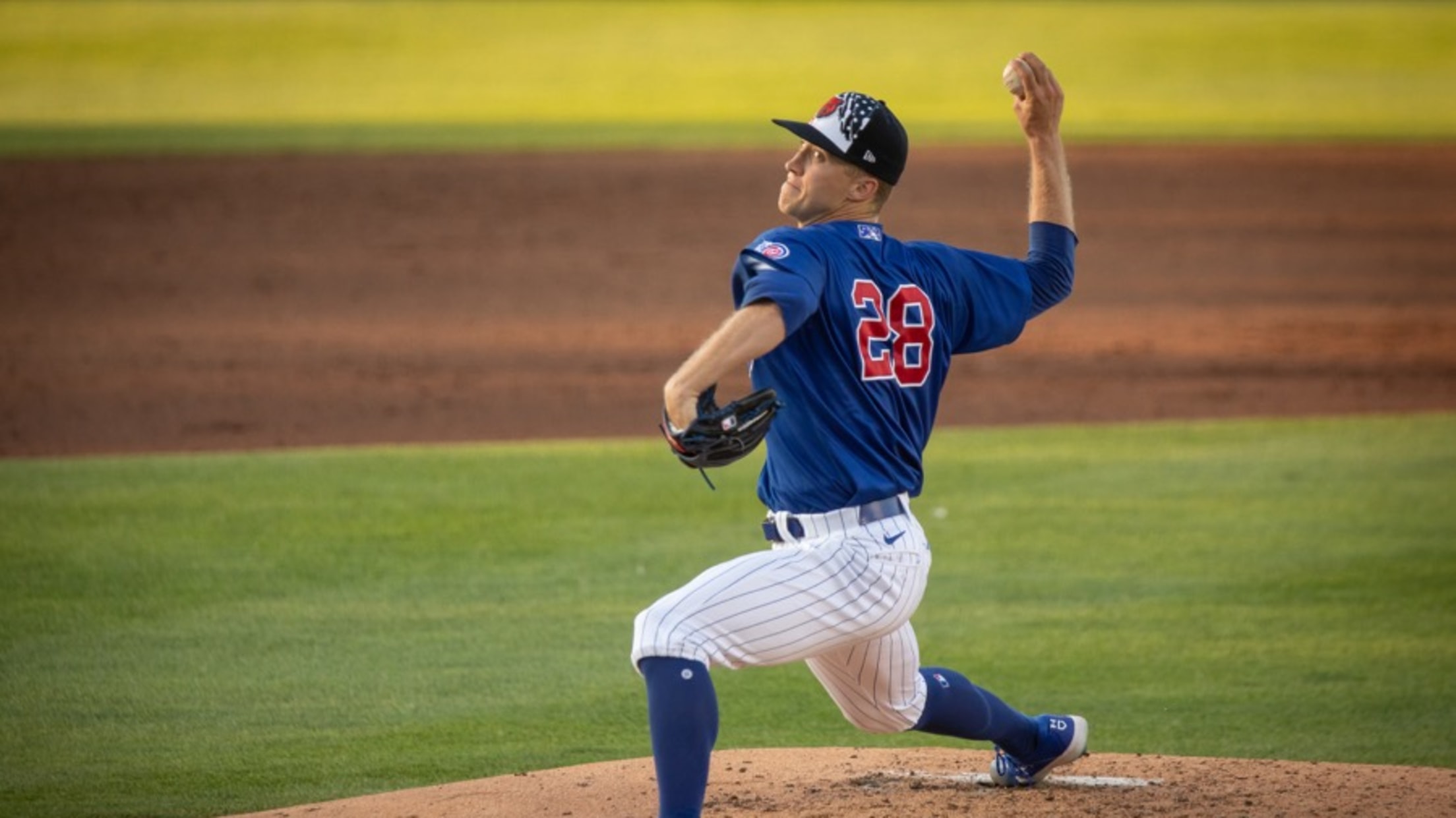 IOWA CUBS (45-56) vs. TOLEDO MUD HENS (51-49) Thursday, August 4, 2022 • 6:38 PM • Principal Park • Des Moines, IA RHP Caleb Kilian (3-1, 3.55) vs. RHP Chi Chi Gonzalez (0-0, 2.25)
IOWA CUBS (45-56) vs. TOLEDO MUD HENS (51-49)
Thursday, August 4, 2022 • 6:38 PM • Principal Park • Des Moines, IA
RHP Caleb Kilian (3-1, 3.55) vs. RHP Chi Chi Gonzalez (0-0, 2.25)
TONIGHT'S GAME: Iowa and Toledo will meet for game three of their current series, with Toledo leading the series 2-0. Caleb Kilian is set to take the ball for Iowa, entering the game leading the active roster in innings pitched (66.0), starts (16) and strikeouts (84) while tied for the team lead in wins (3). Kilian is 3-1 with a 3.55 ERA in 16 starts for Iowa this year, allowing 26 earned runs on 62 hits in 66.0 innings pitched. He has allowed just six home runs while walking 32 compared to 84 strikeouts. On the other side, Chi Chi González get the nod for Toledo, set to make his second start of the year for the Mud Hens and seventh overall start. Gonzalez has had an interesting season so far, getting designated for assignment by Minnesota on June 12, claimed by Milwaukee on June 14, designated for assignment by the Brewers on July 12 and signed by Detroit to a minor league contract on July 19. He made a five inning start against Iowa back on May 5 as a member of the Saints, allowing three earned runs on nine hits and one walk while striking out two. In his most recent start on July 30 against Indianapolis, the right-hander spun four innings of one-run ball, allowing five hits and one walk while striking out five.
CALLED UP: Ahead of Chicago's doubleheader in St. Louis today, they promoted left-handed pitcher Matt Dermody to the big league roster, and he's set for his first taste of Major League action since 2020. Dermody signed a Minor League contract with Chicago this offseason and has been with Iowa all year so far, appearing in 20 games, including 13 starts. Before his departure, he led the team in wins (6) and innings (79.1) while placing second in starts (13) and strikeouts (70). The lefty has already hit single-season career highs in starts and strikeouts, and is 16.2 innings away from matching his career high in that category, too. His promotion started his second career stint with the Cubs, as he appeared in one game and pitched one perfect inning for them in 2020. With Dermody off the active roster, Cayne Ueckert stands as the only remaining pitcher who has been with Iowa all season.
HEATING UP: After struggling through the majority of the season, infielder Trent Giambrone is off to a hot start this August. He was hitting just .204 at the end of July, but has gone 5-for-11 in the three games since. The five hits include a double and a home run and have resulted in two RBI and two runs scored. The run he drove in on Tuesday served as his first RBI since June 24, while his home run in game two of yesterday's doubleheader was his first since May 25. Giambrone collected just one extra base hit in each of June and July after notching three in both May and April, meaning he has already nearly matched his season high for extra-base hits in a month through just the first three days of August.
WHICH WILL WE GET: Iowa's starter tonight has had an interesting last couple of games, allowing just one earned run on two hits over his last two starts. On July 23 against Omaha, Caleb Kilian surrendered just one hit and one walk while striking out eight over five innings of work, good for arguably his best start of the year. His last time out, on July 29 against St. Paul, the 25-year-old allowed one earned run on just one hit over four innings of work, but walked a career-high six batters along the way. He also struck out six batters, but threw just 52% (43-of-82) of his pitches for strikes. Walks have been a problem for Kilian for the first time in his career this year, walking 32 batters in 66.0 innings with Iowa and 12 in 11.1 innings with Chicago. In 12.2 more innings in Double-A last year, he walked just 12 batters, 20 less than he already has this year with the I-Cubs.
HOT AND COLD: Jackson Frazier had a piping hot start to the month of July, recording a hit in 17 of his first 18 games in the month, including hitting streaks of five and 12. He reached base in all 18 games, and his 12-game hitting streak tied his career high. The streak was the second longest by any I-Cubs player all year, just two shy of Dixon Machado's 14-game streak from May 29-June 15. Frazier started his I-Cubs career with a .195 average (8-for-41) through his first ten games, but went 21-for-67 through the first 18 games in July, collecting 19 runs batted in over that span. Since his streak ended on July 24, however, the outfielder has gone from red hot to freezing cold. He has been held without a hit in his last six games, going 0-for-21 with 11 strikeouts since July 26. In 24 plate appearances, Frazier has walked twice, been hit by a pitch once, and struck out 11 times while not recording a single hit. He has a batting average of .000 and an on-base percentage of .125.
PUTTIN' ON THE HICKS: John Hicks continued his power surge in yesterday's doubleheader, collecting a home run in game one and a double in game two. The home run was Hicks' 12th of the season, putting him third on the active roster in home runs, and his second in as many games. It was the second time this year that the catcher has hit homers in back-to-back games for Iowa, as he also accomplished the feat on June 3 and 4, and he is one of eight I-Cubs to do so this season. So far in August, Hicks is hitting .500 (5-for-10) while leading the team in hits, runs (5), total bases (16), extra-base hits (5) and RBI (4).
KEEP ON HITTING: Darius Hill went 2-for-4 with two runs batted in in the second game of the doubleheader yesterday, extending his hitting streak to 10 games. His 10-game streak now ties his season long and career high set earlier this year with Iowa, when he recorded 10 straight games with a hit back on June 10-24. Yesterday's two-hit game marked the fifth multi-hit game of his 10-game streak in which he is hitting .341 (15-for-44) with two runs scored, a double, a home run and nine runs batted in. The multi-hit game gave him 19 this year, putting him just one shy of Jared Young for the team-lead. Hill's 19 multi-hit games have come in just 44 games played with Iowa while Young has played in 84 games with the I-Cubs.
AGAINST TOLEDO: Despite winning the second game of the doubleheader yesterday, Iowa trails the current series 2-0. Game two that Iowa won yesterday was actually the sixth and final game of the series from the very first homestand of the year back on April 12-17, giving Iowa a 5-1 series win over the Mud Hens. With the doubleheader split yesterday they are now 6-8 this year against Toledo and 5-3 here at Principal Park. Iowa leads the season scoring by one run now, at 69-68.
SHORT HOPS: Iowa has gone 2-6 in their last eight games, with each of their wins coming in either a seven-inning doubleheader or extra innings; their last nine-inning win was back on July 26, a 6-2 win over St. Paul...Zach Davis stole two more bases yesterday, giving him 17 on the year, good for the team lead… Andrelton Simmons hit his first home run yesterday since June 27, 2021…Trent Giambrone and Levi Jordan hit back-to-back home runs yesterday for Iowa marking the first back-to-back home runs for Iowa since Greg Deichmann and Narciso Crook went back-to-back on June 4 against St. Paul.