June 6 Game Notes: Iowa @ Omaha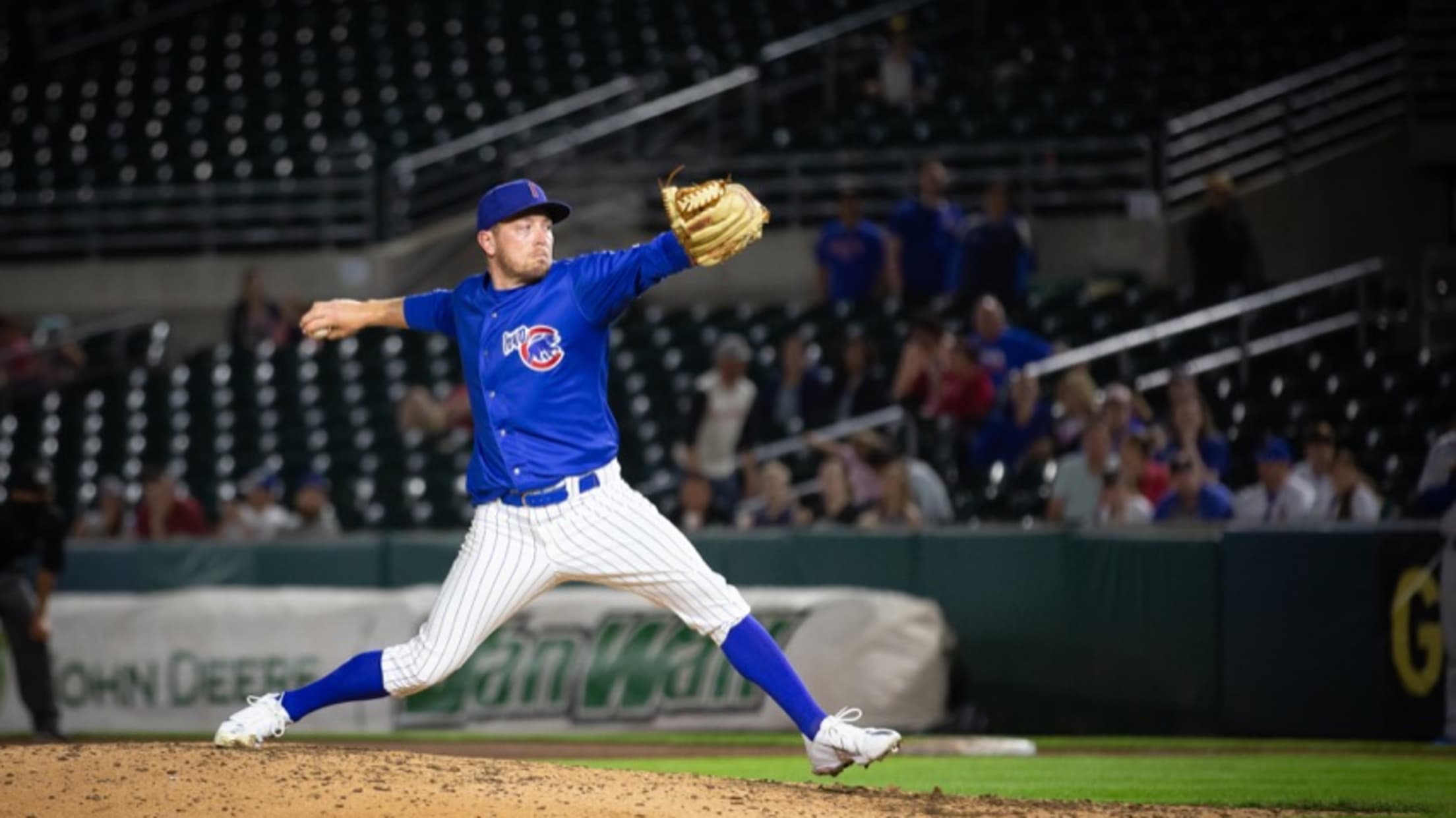 IOWA CUBS (10-17) @ OMAHA STORM CHASERS (20-8) Sunday, June 6, 2021 • 5:05 PM • Werner Park • Papillion, NE RHP Adrian Sampson (0-0, 5.40) vs. LHP Jake Kalish (0-1, 9.92)
IOWA CUBS (10-17) @ OMAHA STORM CHASERS (20-8)
Sunday, June 6, 2021 • 5:05 PM • Werner Park • Papillion, NE
RHP Adrian Sampson (0-0, 5.40) vs. LHP Jake Kalish (0-1, 9.92)
TONIGHT'S GAME: Iowa looks to salvage the series with a second win in the series finale of the six-game set. Adrian Sampson will take the ball for manager Marty Pevey, in his third consecutive start for the I-Cubs. He holds no record and a 5.40 ERA on the year. Sampson has faced the Storm Chasers twice, once in relief and in the first game of this series as the starter. Jake Kalish will start for Omaha, looking for his first win of the year. Kalish will be making his third start this year and his fourth appearance against Iowa.
FREE FALLING: Iowa has been struggling lately, and the standings show it. On May 21, the I-Cubs were 9-5, had won four straight games, and were just one half of a game out of first place. Since their victory that day, Iowa has gone 1-12, including a nine-game losing streak. Over those 13 games, the I-Cubs have been outscored 87-43 and have fallen to fifth place in the Triple-A East Midwest Division standings. They are nine-and-a-half games out of first place and are currently on a three-game losing streak against the first-place Storm Chasers. After winning two of their first three series and splitting the other, they have now lost two straight series and have an overall run differential of -11.
*NOT TOO SHABBY: Scott Effross * took the mound for Iowa in just his fourth career start and the second game of his Triple-A career. Effross delivered all the I-Cubs could've asked for, tossing four innings of two-run ball. He gave up just two hits, while walking nobody and striking out six batters. One of the runs the righty surrendered was on a solo home run off the bat of Kyle Isbel, one of two extra-base hits in last night's game. Omaha hit just .167 (3-for-14) against Effross and he threw 38 of his 64 pitches for strikes. The 64 pitches he threw tied a career high, set back on July 20, 2017, when he threw five innings of two-hit ball in a start for the Myrtle Beach Pelicans. Before last night, Effross' last start was on June 19, 2019, in which he spun five scoreless innings, allowing just four hits for Tennessee. Despite the solid outing from Effross, he suffered the loss as Iowa's offense failed to score a run. It marked the first loss for him all year, after going 3-0 in eight games with Tennessee to start the year.
CRUSHING KALISH: In three games against tonight's starter Jake Kalish, Iowa has done well against the lefty. Kalish will make just his third start in what will be his ninth appearance of the year. He has given up one or more earned runs in all but one game this season, allowing two or more in six of his eight appearances. Iowa has registered six runs on seven hits, including two home runs and two walks in just 2.1 innings against Kalish this year.
HOW ABBOTT THAT: Last night, Chicago Cubs' top prospect Cory Abbott was the projected starter for Iowa, before he got called up to Chicago to make his major league debut. Abbott appeared in last night's game against San Francisco out of the bullpen, tossing two scoreless innings. The righty allowed one hit, surrendered one free pass and struck out one in his major league debut. With Iowa this season, Abbott was 1-3 with a 6.39 ERA in five start. Over 25.1 innings, he allowed 18 earned runs on 28 hits, six home runs and 14 walks. He was also tied for second in the Triple-A East with 41 strikeouts, including a career-high 13 in his last outing against St. Paul.
THE DIFFERENCE A NIGHT MAKES: Two nights ago, both Iowa and Omaha's offenses exploded for 21 runs on 28 combined hits. Each team hit two doubles, while Iowa added two home runs and Omaha smashed five. Four players in the I-Cubs lineup registered multi-hit games and every player but one registered at least one hit for the Storm Chasers. Last night, however, Iowa's offense was completely shut down, getting only five players on base. Three singles a walk and an error was all the offense the I-Cubs could create against Omaha, losing their third straight game 5-0. It marked the third time this season Iowa has been shutout. Back on May 21, when Iowa was 9-5, they had scored four or more runs in nine of their 14 games. Over their last 13 games, when the I-Cubs have held a record of just 1-12, they have scored four or more runs in just five games.
AGAINST OMAHA: Iowa dropped their third straight game to the Storm Chasers last night, falling to 4-6 overall and 1-4 at Werner Park this year. In 2019, Iowa lost just one game at Werner Park, going 7-1 in their eight total games. So far this series, Omaha is outscoring the I-Cubs 31-18 and with last night's win, officially won the series over Iowa. Iowa's lead over Omaha in the all-time series has shrunk to just 20 games, at 190-170.
WELCOME TO THE TEAM: Since joining the I-Cubs' roster on May 25, Vance Vizcaino is hitting .290 (9-for-31) for Iowa. The outfielder has registered a hit in eight of his 11 games, including one extra-base hit, a double on May 28 against St. Paul. He has driven in five and has taken two walks, owning an OBP of .353.
DAKOTA IS DOMINATING: Dakota Mekkes threw two more scoreless innings last night, lowering his ERA to 1.88 on the year. The righty has not allowed a run in five of his seven appearances this year, and has tossed 1.1 or more innings in each game. Since his first game of the year on May 6 against Indianapolis when he tossed 1.1 innings of scoreless relief, he has spun two or more innings in each outing, including three innings against St. Paul on May 28. In all, Mekkes has allowed three earned runs on seven hits, one home run, four walks and 16 strikeouts. Opponents are hitting just .146 in 48 at-bats against the big righty.
SHORT HOPS: The throwing error made by Dee Gordon last night marked the seventh straight game Iowa has played with an error...Strange-Gordon also lost his hitting streak after going 0-for-4 with a strikeout, his streak was at five games with the I-Cubs.