PCL Semifinals Game 5 Notes - Iowa vs. Round Rock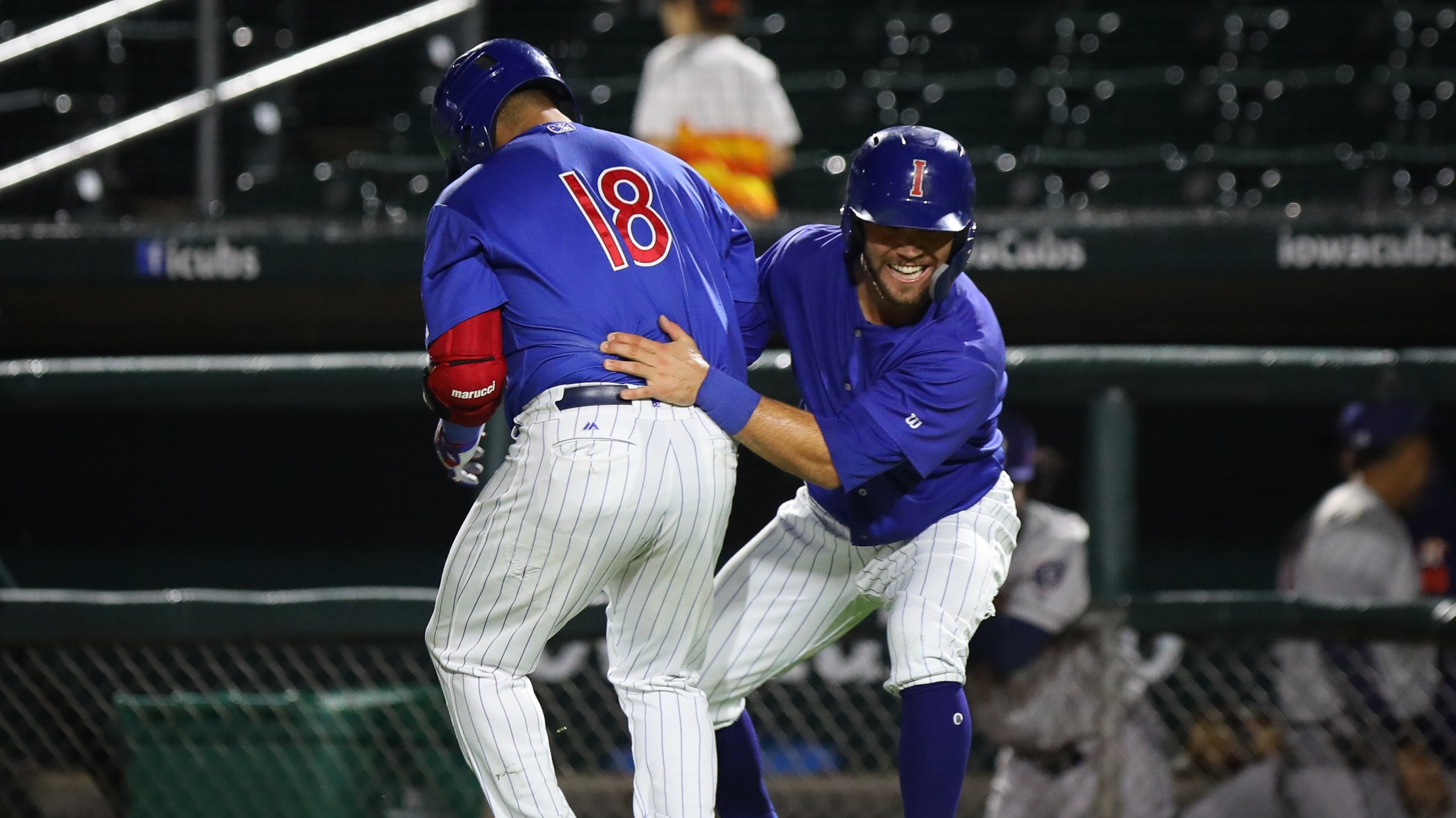 (Dylan Heuer)
Iowa Cubs (2-2) vs. Round Rock Express (2-2)Sunday, Sept. 8 - 12:38 PM - Principal Park - Des MoinesRHP Trevor Clifton (4-8, 5.18) vs. RHP Forrest Whitley (0-3, 12.21)
Iowa Cubs (2-2) vs. Round Rock Express (2-2)
Sunday, Sept. 8 - 12:38 PM - Principal Park - Des Moines
RHP Trevor Clifton (4-8, 5.18) vs. RHP Forrest Whitley (0-3, 12.21)
TONIGHT'S GAME: Iowa has taken back-to-back win- or-go-home games from Round Rock. The teams enter Game 5 today with the series on the line. The Express had rattled off six straight victories over the I-Cubs prior to Friday's game. This is Iowa's first postseason appearance since 2008 and fifth since joining the PCL in 1998.
JUST SCRAPPED BY: All four games in this set have been decided by one run for Iowa's longest stretch of the season of consecutive one-run games. In contrast, a single run decided just two of Iowa's last 24 games of the regular season. The I-Cubs are 24-15 in one-run contests in 2019.
ANSWERING THE CALL: Iowa called up several Tennessee Smokies to fill the roster for the playoff run. The combo of outfielders Charcer Burks and Connor Myers; infielder Vimael Machin; and catcher Jhonny Pereda are 10-for-34 (.294) as a group with two doubles, one home run (Machin) and six RBI. Their 10 hits account for more than 1/3 of Iowa's 29 total through this series and their six RBI are nearly half of the team's 14.
KO'D: Iowa whiffed 18 times last night to surpass its previous season high of 17 Ks set on June 15 at Sacramento. The Iowa franchise record is 19 strikeouts in a game, most recently matched on April 22, 2018 vs. Memphis in 12 innings. The next day, the Redbirds fanned 17 I-Cubs behind a 16-strikeout performance from Austin Gomber in 8.0 innings of work.
START ME UP: Through this series, Iowa starters claim three quality starts -- Colin Rea, Tyson Miller and Matt Swarmer -- while holding a 2.49 ERA (6ER/21.6 IP). Over the last 10 games, including the end of the regular season, Iowa's rotation has amassed a 3.23 ERA (17ER/47.1IP).
MACHIN-LIKE EFFORT: Vimael Machin bumped his hitting streak to five games with a 1-for-6 outing on Saturday. Machin has been Iowa's best hitter this postseason, holding a .316 average (6-for-19) with a home run to his name. He hit .294 in 117 games with Double-A Tennessee this season, while hitting at a .320 clip (8-for-25) in 12 games with the I-Cubs.
AGAINST ROUND ROCK: Prior to Friday's 3-2 victory and a 5-4 win last night, the I-Cubs held a 1-10 mark in games decided by one or two runs against Round Rock this season. All four playoff games to this point have been one-run games. Iowa holds a 31-30 mark in such games in 2019. The postseason series thus far has been a close affair, with the Express outhitting Iowa .226-.212, but Iowa leading the way in extra-base hits with a 10-5 advantage after holding the Express without one last night. Round Rock has had Iowa's number in recent seasons, holding a 52-29 edge since 2015. Iowa's last winning campaign vs. the Express came with a 9-7 season series in 2014.
WELL WHAT HAPPENED WAS: Last time the I-Cubs won their division, they faced the Oklahoma City Redhawks, a Texas Rangers' affiliate, and lost three games to two in the first round. Iowa's Game 5 was a 16-5 route in which the Redhawks out-hit the I-Cubs 12-10 but drew nine walks and blasted six home runs -- including a fourth-inning grand slam off the bat of Travis Metcalf . Iowa has won just one championship in its 51-season history with an American Association title in 1993. Tuffy Rhodes hit a walk-off home run in the 11th inning of Game 7 to win it for the Iowa Cubs.
EXTRA, EXTRA: Iowa improved to 2-5 all-time in postseason extra-inning contests with last night's victory, and 3-7 overall this season. Three of four games in this series have gone into extra innings. In 67 other minor league postseason games played this week, only eight others have gone into extra frames. Iowa and Round Rock are the only Triple-A teams to have gone past nine. Prior to last night, Iowa hadn't won an extra-inning contest since a 2-1, 10-inning victory at new Orleans on May 27. The team had seven losses in-between.
THE SWARM: Matt Swarmer gave Iowa his 11th quality start of the season last night. Since July 31, the righty holds a 3.50 ERA (18ER/46.1IP) with 11 walks compared to 43 strikeouts.
SHORT HOPS: Through four games in this series, Rogelio Armenteros is the only starter to record a decision, ending Friday with the loss...Friday's win was just Iowa's ninth when scoring three or fewer runs.