Generals Announce New Front Office Staff Additions
Six new members hired to lead Generals into 2020 season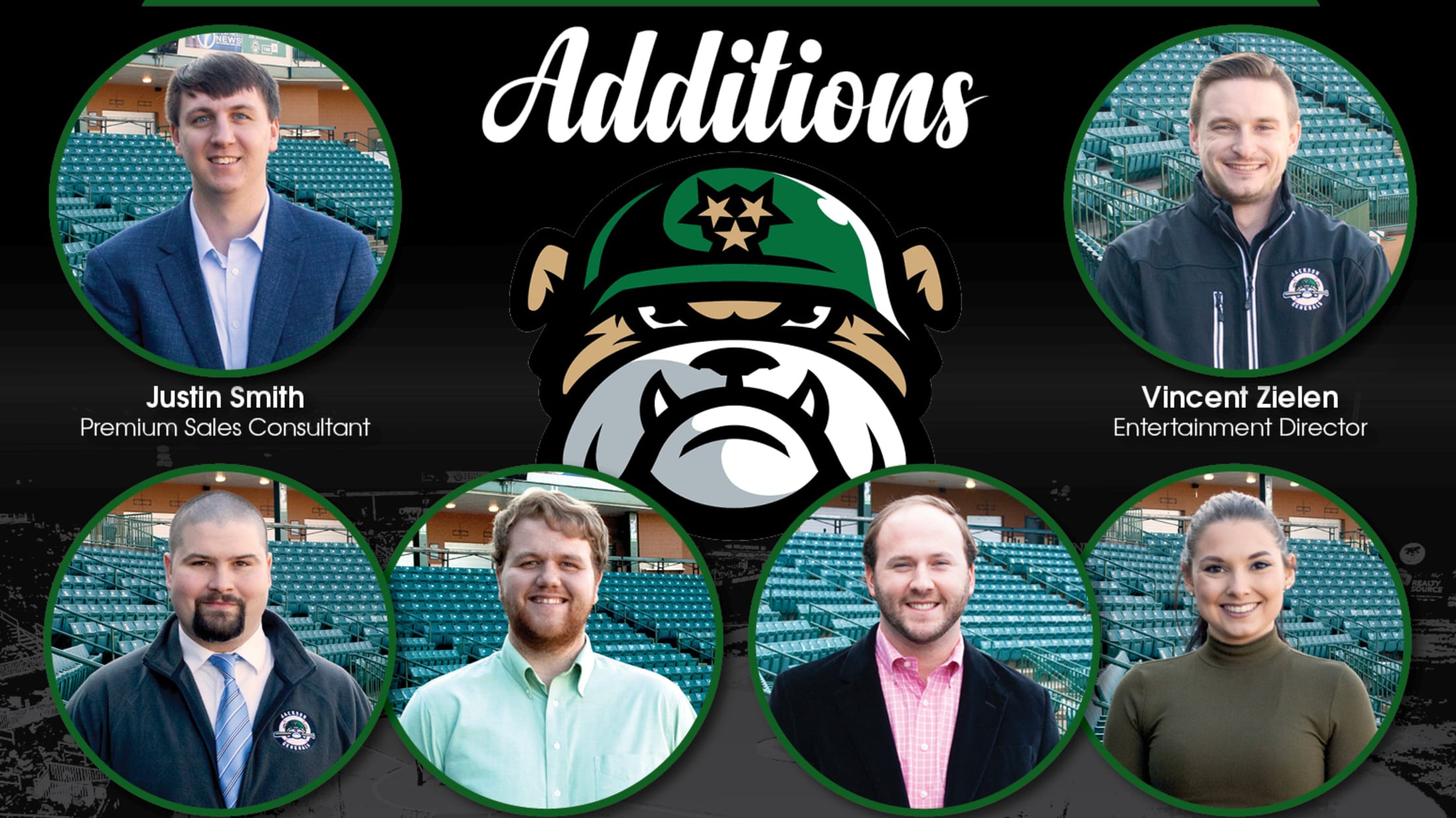 JACKSON, TN - The Jackson Generals, Double-A affiliate of the Arizona Diamondbacks, are pleased to announce the additions of six new front office members ahead of the 2020 season. Along with previously announced front office promotions and hires, the Generals welcome a total of eight front office members into new
JACKSON, TN - The Jackson Generals, Double-A affiliate of the Arizona Diamondbacks, are pleased to announce the additions of six new front office members ahead of the 2020 season. Along with previously announced front office promotions and hires, the Generals welcome a total of eight front office members into new roles to start the decade.
New to the front office is Box Office Manager, Patrick Adams, Assistant Box Office Manager, Austin Barber, and Entertainment Director, Vincent Zielen. The Generals have also added Ryan Whitt and Justin Smith as Premium Sales Consultants and Mika Burke as Assistant Manager of Catering & Concessions.
"We've had to deal with some turnover during the off-season but I couldn't be more pleased with the talented individuals that we've put together for the upcoming season," said Generals GM Marcus Sabata. "They are full of new ideas that will provide an increased fan experience at The Ballpark and we will be relentless in that pursuit. We look forward to seeing our great fans in a few short months."
Adams grew up in Hollow Rock, TN and attended Murray State University where he majored in applied physics before getting an MBA from Bethel University. Prior to joining the Generals, Patrick spent six years as a sales representative for Borden Dairy and the last four years as a field recruiter for Bethel University. When away from The Ballpark, Patrick likes to hunt, fish, and cheer for the Predators and Florida Gators. Patrick and his wife, Brandi, live in Atwood, TN with their two daughters Kinley Grace, and Shelby Faith along with their German Shepard, Bella.
Smith joined the Generals in January and begins his first season working in Minor League baseball as a Premium Sales Consultant. Before arriving in Jackson, Smith graduated from Bethel University in May of 2019 and worked as a graduate assistant in the university's athletic department. While attending Bethel, he was a member of the Wildcats golf team and still enjoys hitting the links on the weekends. The Winchester, Tennessee native cheers for the home state Titans and is also a St. Louis Cardinals fan.
Also new to the sales team is Ryan Whitt who joined the front office in November of 2019. The former ballplayer embarks on a career in Minor League Baseball after playing professionally over the last three years in the Pecos League and Pacific Association, as an outfielder for the Garden City Wind and San Rafael Pacifics. During his off-seasons, Whitt worked at the David Price IMAC Regeneration Center in his hometown of Brentwood, Tennessee, located just outside of Nashville. Whitt continues to play recreational sports, is a huge movie buff, and a diehard Atlanta Braves and Tennessee Titans fan.
Zielen makes his way from the West Coast for his first season as the Generals Entertainment Director and fourth overall in Minor League Baseball. He graduated from Bowling Green State University in 2017 with a degree in sports management and a minor in marketing before returning to his home state of California. Over three seasons in the California League, he worked as a promotions intern for the Rancho Cucamonga Quakes, an account executive for the Stockton Ports and promotions manager for the Inland Empire 66ers. When not at The Ballpark, Vincent enjoys watching all sports, golfing, and being outdoors with his dog, Tank. The Redlands native is a fan of the Lakers but also many Detroit sports franchises, including the Tigers, Lions and Red Wings.
Burke served as a stadium bartender over her first three years with the Generals and enters the 2020 season as the new Assistant Manager of Catering and Concessions. Burke has extensive experience in the fan hospitality industry, also having worked a Bridgestone Arena for their concessions team, along with Warehouse and Liquor distributors for a year. The McKenzie, Tennessee native graduated from hometown Bethel University and still has many family members and friends that live around the West Tennessee area. In her free time, Mika likes to take some swings in the batting cage and go off-roading and cheer for her alma mater Bethel Wildcats. She also roots for the St.Louis Cardinals, Nashville Predators and the Scotland National Football team.
Barber began working for the Generals in 2018 as a seasonal will call manager and now enters the front office in his third season with the franchise. Barber is a Bradford, Tennessee native and is preparing to graduate from UT Martin in May with a degree in sports business. While at UT Martin, Barber has had opportunities to attend academic practicum trips to the GolfWeek Amateur Golf Tour Championships and the 2018 Super Bowl. He is a Titans fan at heart, and also cheers for the Lakers, Red Sox and Boston Bruins.
VIEW FRONT OFFICE STAFF DIRECTORY
ABOUT THE GENERALS
The Jackson Generals, a West Tennessee franchise since 1998, are the Double-A minor league affiliate of the Arizona Diamondbacks. The Generals play at The Ballpark at Jackson, Tennessee's 2017 & 2018 Pro Sports Field of the Year. On June 22-23, The Ballpark at Jackson will host the 2020 Southern League Home-Run Derby and All-Star Game. For more information, to book your group, or purchase 2020 season tickets, call 731-988-5299 or visit JacksonGeneralsBaseball.com.