Jeffrey Baez wins 2019 Southern League Home Run Derby
Generals outfielder mashes 26 homers to take home top slugger title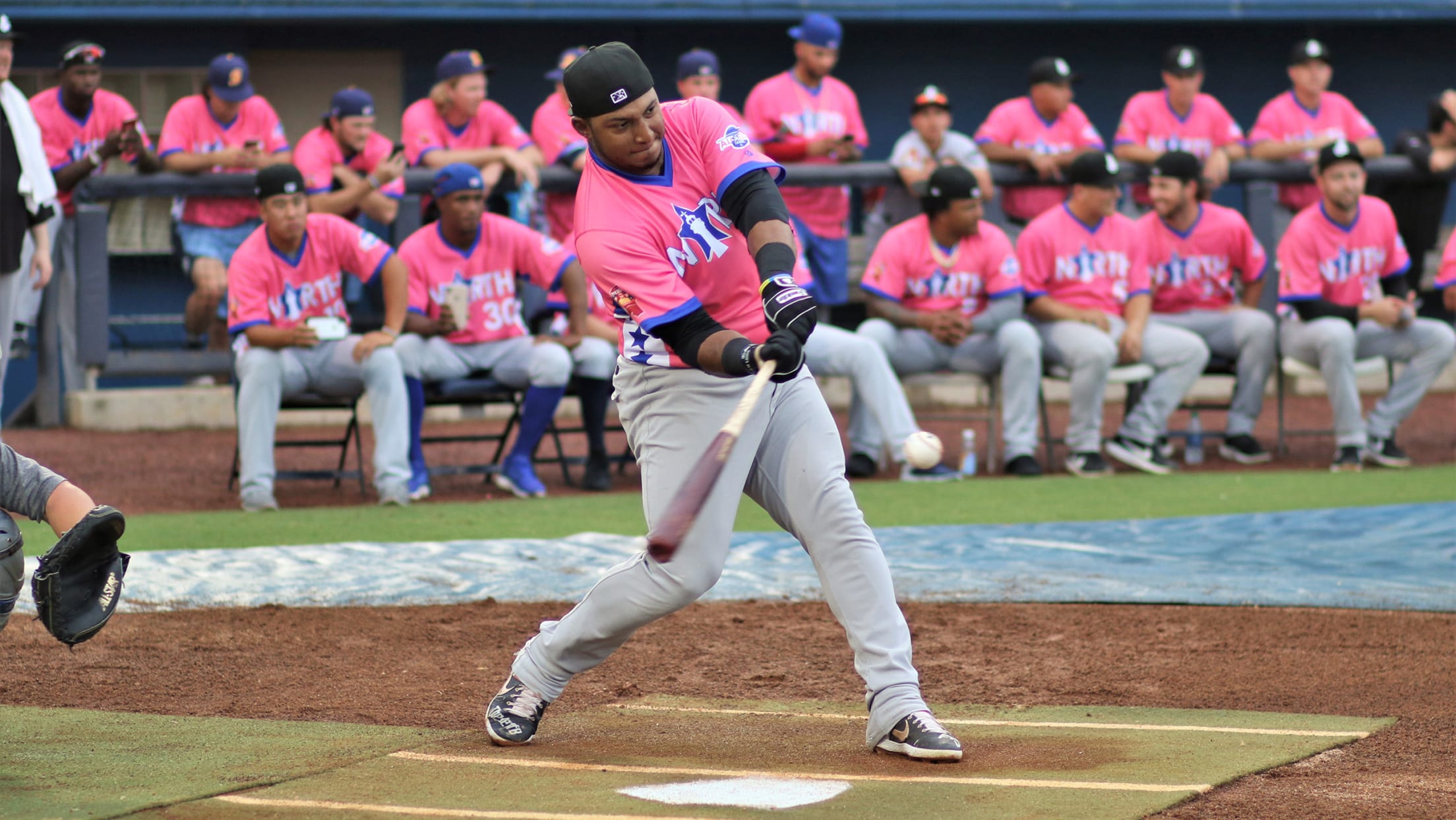 Generals outfielder Jeffrey Baez won the 2019 Southern League Home Run Derby at Biloxi's MGM Park. (Michael Krebs)
The following recap comes courtesy of Garrett Greene, broadcaster and media relations manager for the Biloxi Shuckers.
The following recap comes courtesy of Garrett Greene, broadcaster and media relations manager for the Biloxi Shuckers.
Biloxi, Miss. - The fans at MGM Park who waited out the weather were treated to a show on Monday night as Jackson Generals slugger Jeffrey Baez broke through with 26 home runs to win the 2019 Southern League Home Run Derby.

Baez bested his teammate Jamie Westbrook, who also advanced to the final round off the strength of 20 total homers including 13 in the first round.

"I just tried to put some balls in the air and see what would happen," Baez said following his victory. "I know on this field that the ball carries a lot to left field, so I just wanted to do that."

The Biloxi Shuckers boasted a pair of home run derby competitors, including third place finisher Weston Wilson who knocked nine balls over the fence during the derby's first round. Teammate Trent Grisham battled against a gusting wind from the Gulf and could only muster two home runs.

A pair of Pensacola Blue Wahoos hitters rounded out the field, as Jaylin Davis recorded eight home runs while Travis Blankenhorn pushed three over the right field fence.

"It was a tough day for lefties," the right-handed hitting Baez added. "Today was not a good day for them.

The All-Star Luncheon, located at Hard Rock Live, will take place from 11:30 am to 1:30 pm on Tuesday, June 18, and will feature the induction of the Southern League Hall of Fame and a keynote speech from former Mississippi State pitcher and 2003 eighth-overall selection Paul Maholm. The Southern League All-Star Game will begin at 6:35 pm at MGM Park and will include special All-Star jerseys, a performance by the Fur Circus and postgame fireworks. Tickets to the All-Star Game and events can be purchase at the MGM Park Box Office or online at biloxishuckers.com.
--
2019 Southern League All-Star Game on Tuesday, June 18, features six Generals
Along with Baez and Westbrook, Generals teammates Bo Takahashi, Riley Smith, Daulton Varsho , and Drew Ellis will represent the North Division in the 2019 Southern League All-Star Game on Tuesday, June 18. First pitch at MGM Park is set for 6:35pm CT, with the starting lineup for the North Division featuring Varsho, Ellis, Baez, and Smith. Westbrook and Takahashi are reserves. Lucas Luetge , the Generals' seventh selection, earned a promotion to Triple-A Reno earlier this month and will not be participating.
The Generals' coaching staff, led by manager Blake Lalli , will coach the North Division, and subscribing fans can watch the game live on MILB.TV. Fans can stream live audio for free through the Biloxi Shuckers Baseball Network on TuneIn Radio, the MILB First Pitch App, and MILB.com. Jackson Generals broadcaster Tyler Springs will be a part of the game's broadcast team, taking a supporting role beside Biloxi Shuckers play-by-play voice Garrett Greene. Further information on tickets and additional details regarding the All-Star Game is available at BiloxiShuckers.com.

2019 Southern League All-Star Game
6:35 pm CT Tuesday (6/18) - North Division vs. South Division
MGM Park - Biloxi, Miss.
Jackson RHP Riley Smith (4-4, 1.75 ERA) vs. Biloxi RHP Trey Supak (8-2, 1.91 ERA)
Watch: MILB.TV
Listen: Biloxi Shuckers Baseball Network (free)
UP AND COMING AT THE BALLPARK:
June 30-July 3 vs. Montgomery Biscuits (AA, Tampa Bay Rays)
…featuring Jackson's Independence Day Celebration (July 3), with a special fireworks night!

The Jackson Generals, a West Tennessee franchise since 1998, are the Double-A minor league affiliate of Major League Baseball's Arizona Diamondbacks. The Generals play at The Ballpark at Jackson, Tennessee's 2017 & 2018 Pro Sports Field of the Year. Purchase your tickets to see the defending Southern League champions today by calling 731.988.5299 or visiting JacksonGeneralsBaseball.com!