Saturday Theme Nights Revealed
Star Wars, Classic Cars, SEC Football and Fireworks Highlight Twelve Nights of Fun at The Ballpark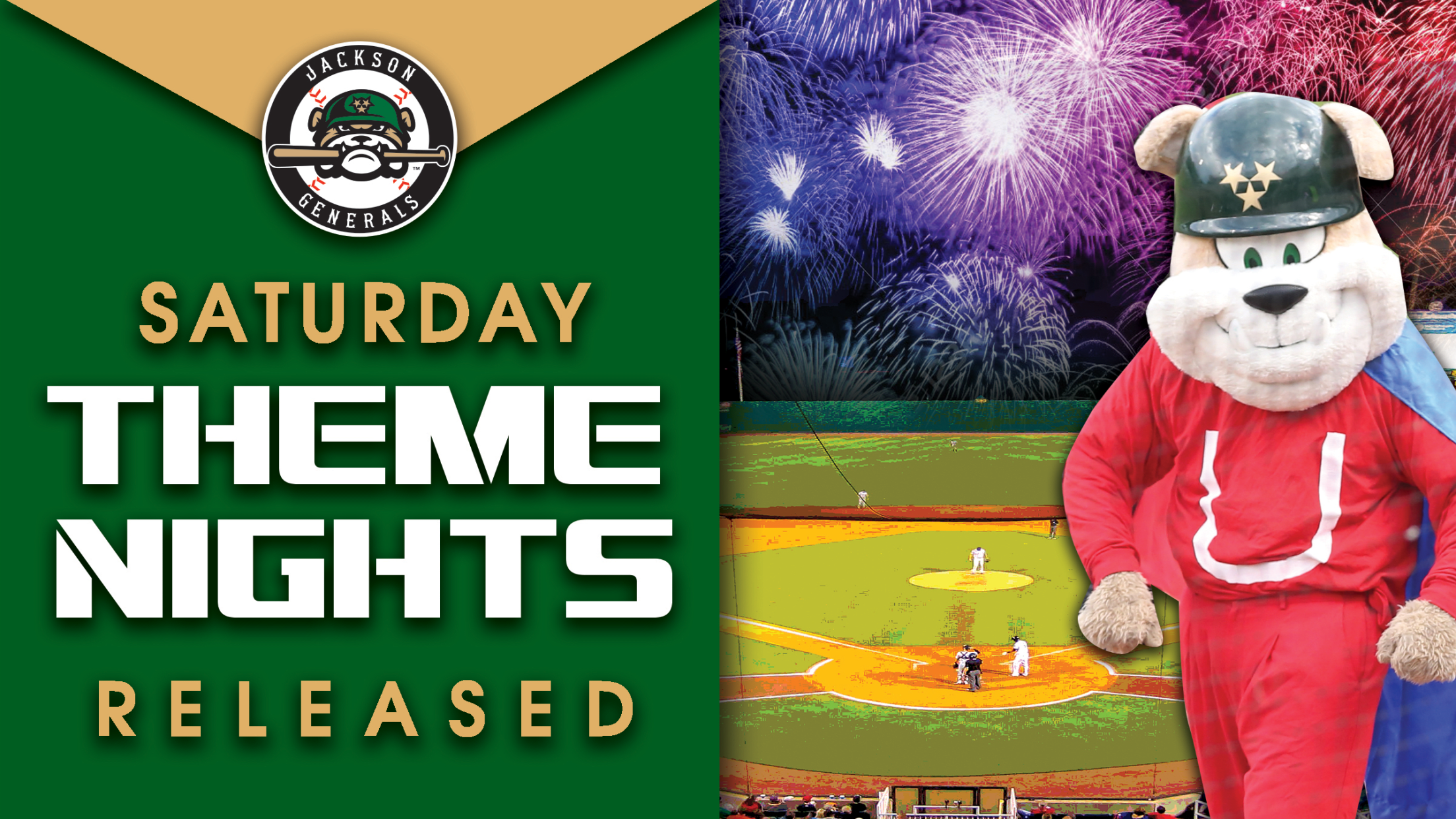 JACKSON, TN - The Jackson Generals, Double-A affiliate of the Arizona Diamondbacks, have released their Saturday night promotions ahead of the 2020 season. The defending Southern League champions kick things off with a victory celebration in April and are adding new fan-friendly feature nights to the summer calendar, including Hot
JACKSON, TN - The Jackson Generals, Double-A affiliate of the Arizona Diamondbacks, have released their Saturday night promotions ahead of the 2020 season. The defending Southern League champions kick things off with a victory celebration in April and are adding new fan-friendly feature nights to the summer calendar, including Hot Rods and Hot Dogs, Redneck Night, and a blast-from-the-past 80's Night.
Each Saturday night will also feature exclusive giveaway items, which will be released through further announcements in the coming weeks. The Generals will also wear specialty jerseys on select theme nights to be auctioned off after the game for charitable proceeds. Uniform designs will be released throughout the season. And don't forget, every Saturday night will be capped off with a unique fireworks show after the game! A schedule of the Generals promotional nights is listed below.
April 18 - Championship Night
April 25 - Beachin' at The Ballpark
May 9 - Star Wars Night
May 16 - Pat Tillman Salute to Service Night
May 23 - Redneck Night
June 13 - 80's Night
June 22-23 - Southern League HR Derby & All Star Game
June 27 - Hot Rods and Hot Dogs
July 4 - Patriot Day and 4th of July Celebration
July 18 - Olympic Night
August 1 - Magic and Wizards Night
August 15 - SEC Night
August 29 - Disney Night
ABOUT THE GENERALS
The Jackson Generals, a West Tennessee franchise since 1998, are the Double-A minor league affiliate of the Arizona Diamondbacks. The Generals play at The Ballpark at Jackson, Tennessee's 2017 & 2018 Pro Sports Field of the Year. On June 22-23, The Ballpark at Jackson will host the 2020 Southern League Home-Run Derby and All-Star Game. For more information, to book your group, or purchase 2020 season tickets, call 731-988-5299 or visit JacksonGeneralsBaseball.com.