Young's Gem Evens Series In Pensacola
Jackson survives with just 3 hits in 2-1 win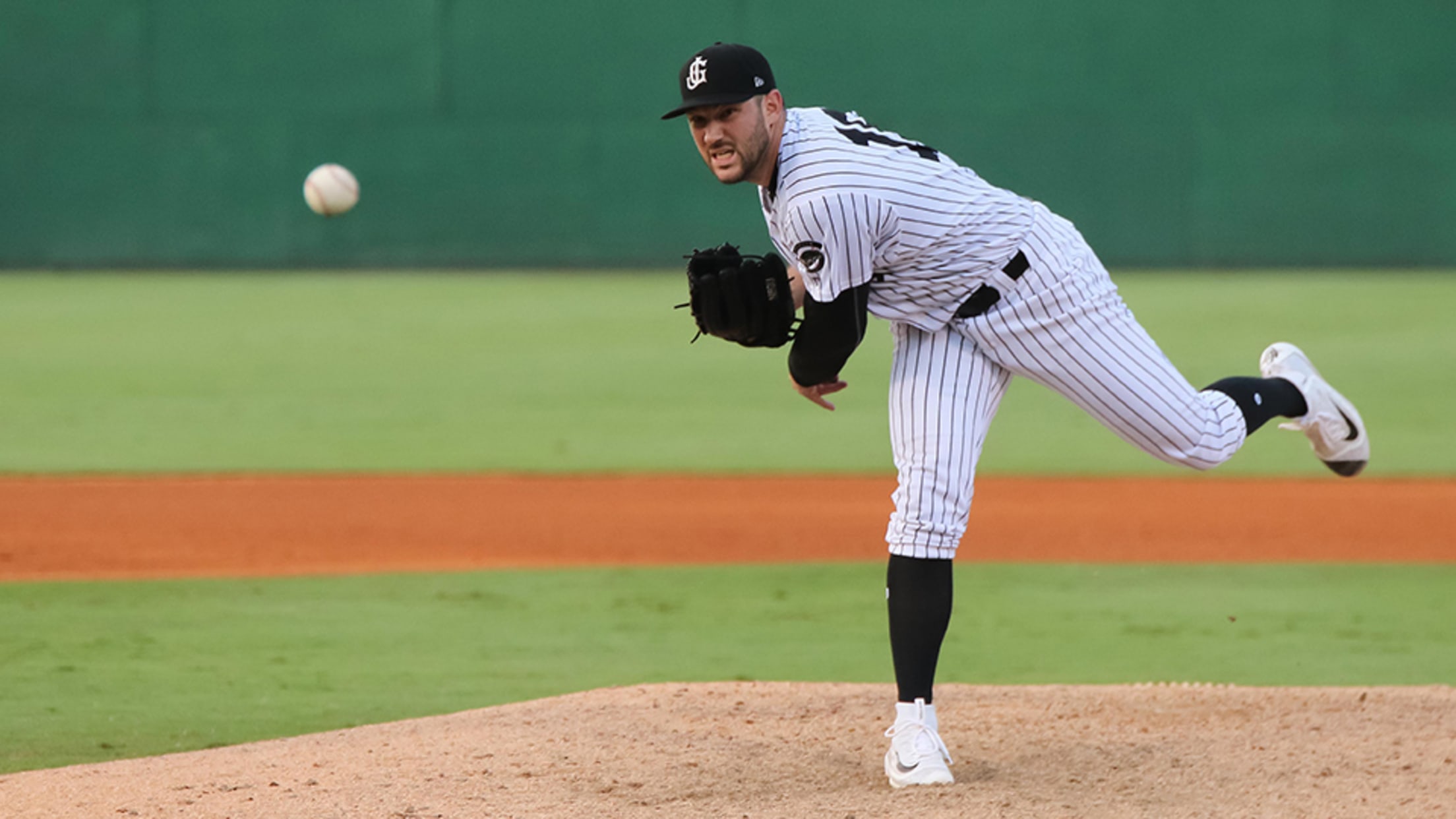 Alex Young threw six innings while giving up just a solo home run, marking his 11th straight start with 3 earned runs or fewer given up. Jackson won 2-1, pushing their series in Pensacola to a true rubber game on Friday. (Cody Cunningham)
Pensacola, Fla. - There's something to be said for playing in a lot of tight games. The Jackson Generals played their 35th one-run game at Pensacola on Thursday, and they scored a 2-1 victory to knot up the series with the Blue Wahoos.Alex Young (9-8, 3.88 ERA) hurled six innings
Pensacola, Fla. - There's something to be said for playing in a lot of tight games. The Jackson Generals played their 35th one-run game at Pensacola on Thursday, and they scored a 2-1 victory to knot up the series with the Blue Wahoos.
Alex Young (9-8, 3.88 ERA) hurled six innings with just a solo home run allowed to Gabriel Guerrero. The Generals lefty made his 11th consecutive start with 3 or fewer earned runs allowed, and the Generals' offense seized on a few early opportunities to upend Pensacola starter Jesús Reyes (1-4, 3.19 ERA).
After a scoreless first inning, the Generals (27-32, 64-65) drew first blood when Kelly Dugan led off the second inning with his 13th home run for a 1-0 lead. Dugan matched his 2016 mark with the Tennessee Smokies in the process, marking his second straight season with at least 13 home runs and 96 games played. The Generals went down in order after Dugan, but they returned in the next frame with another necessary run.
To begin the third, Vladimir Frias drew a walk, but Young was unable to successfully lay down a sacrifice bunt to move Frias to second base. With one out, Frias took matters into his own hands, stealing second base to get into scoring position with Victor Reyes at the plate. Frias' aggression paid off, as Reyes punched a single into center field on the third pitch of his at-bat to score Frias for a 2-0 Jackson edge.
Young, who lowered his road ERA to 2.64 during the game, shut down the Wahoos 1-2-3 in the third inning. Young then faced only three batters in the fourth inning by picking off Jonathan Reynoso after issuing a walk. A groundball double play helped the 23-year-old face only three men in the fifth, and he escaped the sixth inning in spite of the two-out solo shot ceded to Guerrero. Young's night included just one walk and six strikeouts with five hits allowed to the Blue Wahoos.
Behind Young, both Mason McCullough and Andury Acevedo were credited with holds after scoreless eighth and ninth innings, and Joey Krehbiel (S, 3) entered with the slimmest of margins for the ninth. The right-hander permitted a one-out walk and a single to put the game-winning run on base, but he struck out Aristides Aquino and drew an infield popout from Chad Tromp to finish his second Generals win in the last 3 games.
Between the two teams, only six instances with runners in scoring position occurred, and the Generals (1-for-2) outperformed Pensacola (0-for-4) just enough in those circumstances. The home runs from Dugan and Guerrero accounted for all of the extra-base hits in the game, and each side benefitted from a pair of double plays. Despite still not scoring more than four runs off of Pensacola, the Generals will have a chance to finish the season series at Pensacola tomorrow with a .500 record against the Wahoos. The aggregate scoring margin favors Pensacola through 9 games by a 36-24 count.
The Generals' series at Pensacola concludes on Friday, as right-hander Ryan Atkinson (2-2, 6.06 ERA) does battle for Jackson against Blue Wahoos right-hander José López (7-1, 2.50 ERA). First pitch from Blue Wahoos Stadium comes at 6:35 pm CT, and fans can listen to all the action starting with the Pregame Show at 6:20 pm CT on Willie 94 FM & 1390 AM!
After their series at Pensacola, the Generals will return home to face Chattanooga in the season's final homestand on Saturday, August 26. The series opener features the final Fireworks Show of the year! Jackson's annual SEC Night with Postgame Fireworks is sponsored by WBBJ and Jackson Sport & Fitness! The Generals will be giving away tickets to a
number of SEC Football games throughout the night! Early arrivers will take home a trucker hat, and the Memphis Grizzlies Caravan will be at the game with former Kentucky standout Andrew Harrison!
Make sure to get your tickets now to see the 20th season of professional baseball in Jackson, and the first for the team as an affiliate of the Arizona Diamondbacks! Call the team at (731) 988.5299, stop by The Ballpark or go online
to jacksongeneralsbaseball.com to secure your seats now!