Jacksonville walks-off on Montgomery in 11 innings
Jumbo Shrimp rally for 6-5 win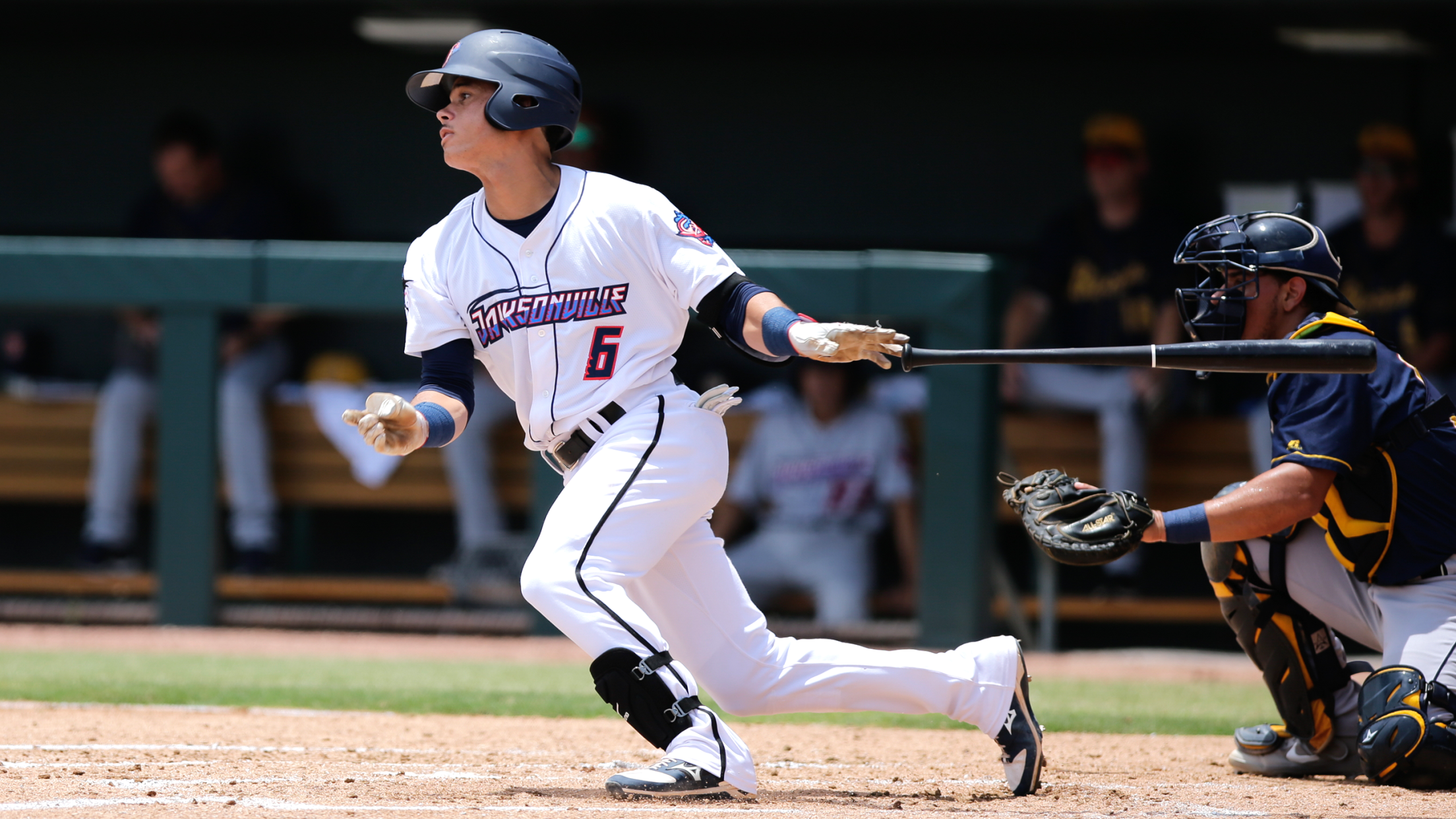 Bryson Brigman's walk-off single gave Jacksonville a 6-5 win in 11 innings on Tuesday against Montgomery. (David Rosenblum/David Rosenblum Photo)
JACKSONVILLE, Fla. - Bryson Brigman's walk-off single in the 11th inning on Tuesday netted the Jacksonville Jumbo Shrimp a 6-5 win over the Montgomery Biscuits from the Baseball Grounds of Jacksonville.After Jumbo Shrimp (25-40) reliever Tyler Stevens (2-1) spun a scoreless top of the 11th, Brigman drilled a ground ball
JACKSONVILLE, Fla. - Bryson Brigman's walk-off single in the 11th inning on Tuesday netted the Jacksonville Jumbo Shrimp a 6-5 win over the Montgomery Biscuits from the Baseball Grounds of Jacksonville.
After Jumbo Shrimp (25-40) reliever Tyler Stevens (2-1) spun a scoreless top of the 11th, Brigman drilled a ground ball through the hole on the left side of the infield to score J.C. Millan and win the game. Matt Krook (0-3) took the loss for Montgomery (39-25).

The Biscuits led for most of the contest. Brett Sullivan doubled off with one out in a scoreless first inning. Jesús Sánchez followed with an RBI double, and two batters later, Robbie Tenerowicz notched an RBI single to make it 2-0 Montgomery.
Sullivan singled and stole second with one out in the third. After a ground out, he scored on an RBI single by Tristan Gray to extend the margin to 3-0.
The Jumbo Shrimp tied to score in the fifth. Three consecutive doubles from Stone Garrett, John Silviano and Santiago Chávez, with the latter two scoring runs, started the frame. A Biscuits error later scored Chavez to tie the game at three.
With the score tied at three in the sixth, Sanchez collected a leadoff single. After a fly out, Tenerowicz walked. Two batters later, Lucius Fox cashed in an RBI single to give Montgomery (40-24) a 4-3 lead.
Justin Twine began the seventh with a base hit. After a fielder's choice ground out, Joe Dunand singled to put men on the corners. Millan then banged an RBI base knock to left to equal the score at four.
In the top of the 10th, Sullivan bashed an RBI double to put the Biscuits up 5-4. However, in the bottom of the frame, an RBI two-bagger from Brian Miller knotted the tally at five.

Tuesday's winning raffle number of 2068369054 won a prize of $65.
The Jumbo Shrimp begin a five-game series at the Birmingham Barons with Wednesday's 8:05 p.m. ET contest. RHP Jordan Yamamoto (3-5, 3.58 ERA) starts for Jacksonville against Barons RHP Blake Battenfield (2-2, 5.81 ERA). Coverage begins at 7:50 p.m. on MiLB.tv, Sunny 102.3 FM, TuneIn and JaxShrimp.com.
ABOUT THE JUMBO SHRIMP: The Jacksonville Jumbo Shrimp offer affordable family fun at the Baseball Grounds of Jacksonville. Their inaugural season garnered the Southern League's Don Mincher Organization of the Year, Promotional Trophy and Jimmy Bragan Executive of the Year, won by General Manager Harold Craw. To experience the excitement with the terrific value of ticket and group options, call the Jumbo Shrimp at (904) 358-2846 or visit www.jaxshrimp.com.