Trivia, Swing For Your Swag highlight July 25 MLB Opening Weekend celebration
Jumbo Shrimp to show baseball entertainment on high-definition video board during even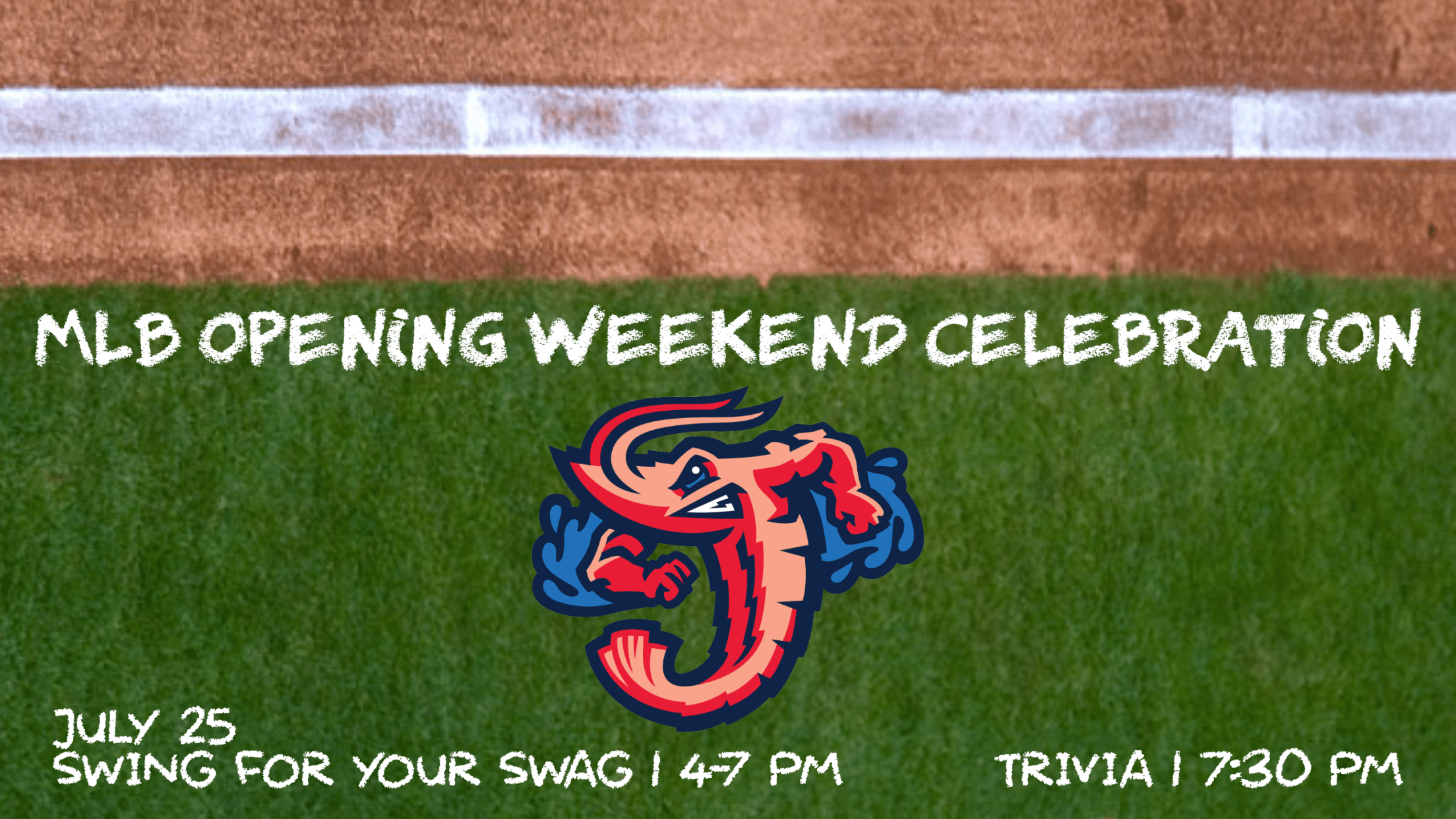 PURCHASE TRIVIA NIGHT TICKETS JACKSONVILLE, Fla. – In celebration of Major League Baseball's Opening Weekend, the Jacksonville Jumbo Shrimp are hosting a party at 121 Financial Ballpark on Saturday, July 25 that includes a Swing For Your Swag batting practice from 4-7 p.m. and a Trivia Night beginning at 7:30
JACKSONVILLE, Fla. – In celebration of Major League Baseball's Opening Weekend, the Jacksonville Jumbo Shrimp are hosting a party at 121 Financial Ballpark on Saturday, July 25 that includes a Swing For Your Swag batting practice from 4-7 p.m. and a Trivia Night beginning at 7:30 p.m.
The Jumbo Shrimp will celebrate MLB Opening Weekend with baseball entertainment on the high-definition video board during Swing For Your Swag, which offers fans the chance to win a Jumbo Shrimp swag pack, 2021 season ticket and souvenir store shopping spree by hitting from the batter's box at 121 Financial Ballpark. For just $10, fans will receive a jumbo hot dog, popcorn and either a 12 oz. beer or small soda plus five swings from a pitching machine to try to hit a home run. An additional five swings cost $5.
Successful participants who hit a home run will receive a free 2021 season ticket and $100 shopping spree to the Jumbo Shrimp Souvenir Store. Those who hit the wall on the fly will receive a Jumbo Shrimp swag pack. All fans hitting must wear a batting helmet, and also must also bring a hat to wear under the helmet.
The Jumbo Shrimp's Trivia Night, which begins at 7:30 p.m., features a roughly 90-minute trivia session. For just $50, teams of up to four players will receive four 12 oz. beers, four boxes of popcorn and four hot dogs. Teams must pre-register in advance of the event by signing up via this link or calling the Jumbo Shrimp at (904) 358-2846.
The grand prize for trivia is four team-worn Jumbo Shrimp jerseys. The second-place prize is four Jumbo Shrimp neck pillows, with the third-place team winning four Jumbo Shrimp hats.
Parking for both Swing For Your Swag and Trivia Night is free in Lot Z. All guests will enter 121 Financial Ballpark via the Third Base Gate, on A. Philip Randolph directly across from the arena.
ABOUT THE JUMBO SHRIMP: The Jacksonville Jumbo Shrimp offer affordable family fun at 121 Financial Ballpark. Their inaugural season garnered the Southern League's Don Mincher Organization of the Year, Promotional Trophy and Jimmy Bragan Executive of the Year, won by General Manager Harold Craw. The club added its second Promotional Trophy in three years following the 2019 season. To experience the excitement with the terrific value of ticket and group options, call the Jumbo Shrimp at (904) 358-2846 or visit www.jaxshrimp.com.