BlueClaws to Host Second Fireworks Extravaganza on August 6th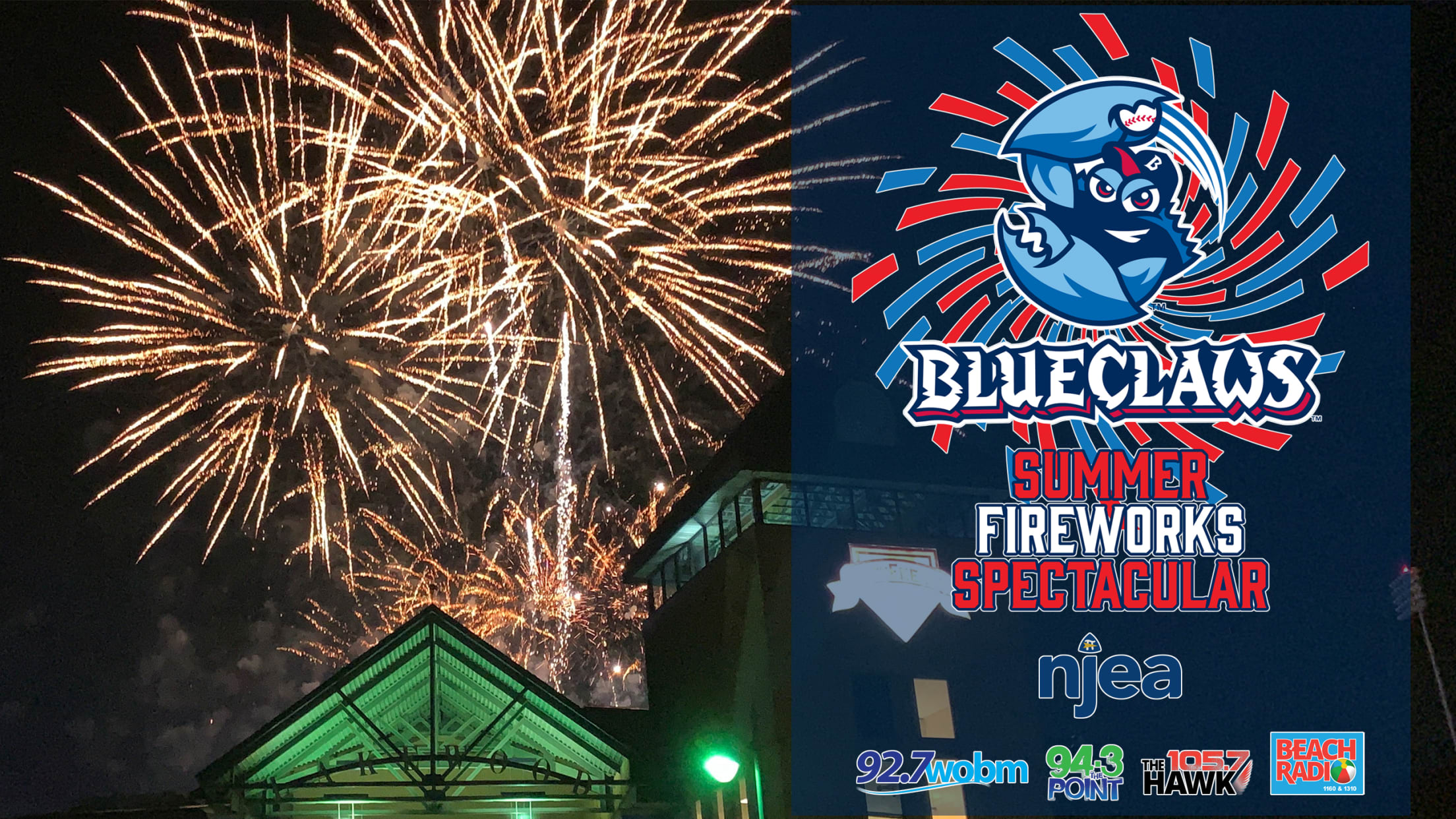 LAKEWOOD, NJ – Following up on a Clawsome, sold-out fireworks spectacular on July 5th, the BlueClaws will host a second BlueClaws Summer Fireworks Extravaganza, presented by the NJEA and radio stations 94.3 The Point, 92.7 WOBM, 105.7 the Hawk and Beach Radio 1160-1310 AM on Thursday, August 6th at FirstEnergy
LAKEWOOD, NJ – Following up on a Clawsome, sold-out fireworks spectacular on July 5th, the BlueClaws will host a second BlueClaws Summer Fireworks Extravaganza, presented by the NJEA and radio stations 94.3 The Point, 92.7 WOBM, 105.7 the Hawk and Beach Radio 1160-1310 AM on Thursday, August 6th at FirstEnergy Park.
Once again, a limited number of fans will be able to watch from inside the ballpark with parking lot-exclusive tickets also available.
Ticket Information
In-Park (gates open at 7:00 pm) – The in-park portion of the event will be limited to 450 fans, socially-distanced, within the stadium. Each ticket is just $40 and includes admission to the ballpark, food package (hot dog, hamburger, corn on the cob), ice cream, and merchandise (BlueClaws t-shirt and plush item). Beer will be available for sale.
The Pickles will be performing live within the ballpark from 7:30 pm until 9:30 pm, leading into the fireworks show, which begins at 9:30 pm.
Fans in the stadium are encouraged to send pictures of themselves and their families to [email protected]. These pictures will be used on the video board during the show.
Parking Lot (lot opens at 8:00 pm) – Parking lot tickets are just $15. There will be no access to the stadium, though the BlueClaws will provide portable bathrooms. Popcorn, pretzels, soda, and limited merchandise will be available, though fans will be required to wear masks while walking to the stands and waiting on line. Fans in the lot will be able to listen to a special show that includes Townsquare media personalities beginning at 8:00 pm with a special music set to accompany the fireworks show. Information on the signal will be available at the event.
The fireworks show will be the same quality and length as the July 5th show, and more than double the length of show that typically follows a BlueClaws game.
This event has a rain date of Friday, August 7th.
Additional Safety Information
Fans will be required to remain socially-distanced from those not in their traveling party while within the stadium.
Masks will not be required while eating or while isolated from a group, but masks will be required in the Claws Cove, in the bathrooms, and while moving about the concourse.
Bathrooms will be open but limited to ensure social distancing. Bathrooms will be continuously sanitized throughout the event.
FirstEnergy Park has undergone a significant cleaning process over the last several weeks and all areas of the stadium will be sanitized completely before the re-opening. Upgrades and cleanings have been conducted and hand sanitizing stations will be made available throughout the facility.
All staff members will be wearing masks while working the event.
The Claws Cove will be open, but capacity will be limited to 15 guests at a time. Masks are required in the store.
The BlueClaws are the Jersey Shore's top stop for affordable, family entertainment.
-BlueClaws -