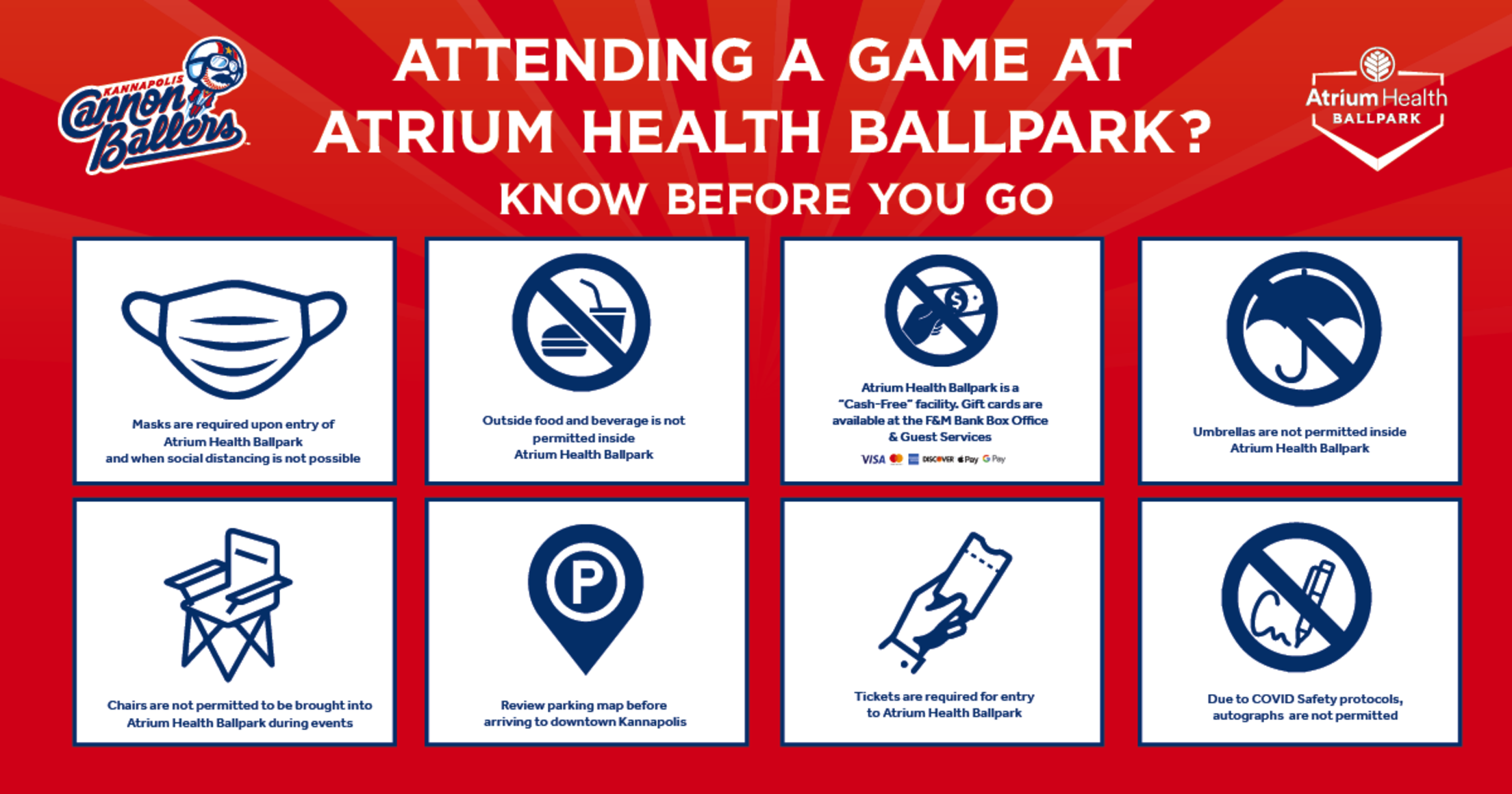 Atrium Health Ballpark Policies
Each guest must have a game/event ticket for entry. Children who are going to sit in a parent's lap and not occupy a seat do not need a ticket (general rule 2 years or younger).
Outside food and beverage is not permitted to be brought into Atrium Health Ballpark.
All bags are subject to search.
Chairs are not permitted to be brought into Atrium Health Ballpark during events, but blankets are welcome for those that wish to sit on the outfield berm.
Generally, we discourage re-entry once a guest enters Atrium Health Ballpark. However, we will accommodate requests on a case-by-case basis. We ask the guest to alert a ticket taker at the gate and to return to the same gate after leaving.
Fans and staff should be alert for bats and balls entering fan areas of the ballpark.
Atrium Health Ballpark is a "Cash-Free" facility meaning cash is not accepted inside the facility. For those that do not have credit/debit cards can convert their cash into gift cards at the F&M Bank Box Office.
We are mandating masks to be worn by guests upon entry to Atrium Health Ballpark and when social distancing is not possible.
Atrium Health Ballpark is a smoke/vape-free facility. Those that wish to smoke or vape during an event must exit at gate #4 in centerfield to a designated area off Ballpark grounds.
Alcoholic beverages are not permitted to be carried out of Atrium Health Ballpark.
Tickets for an event that is postponed/cancelled by inclement weather or other factors prior to or before a game reaches regulation length become rain checks that can be exchanged for future team events, based on ticket availability.
To comply with current governmental orders, we are employing pod seating and other measures to ensure social distancing. We ask that ticket holders sit in their assigned seats as listed on the ticket.