Staff Spotlight Featuring Caitlyn Gardner, Digital & Creative Designer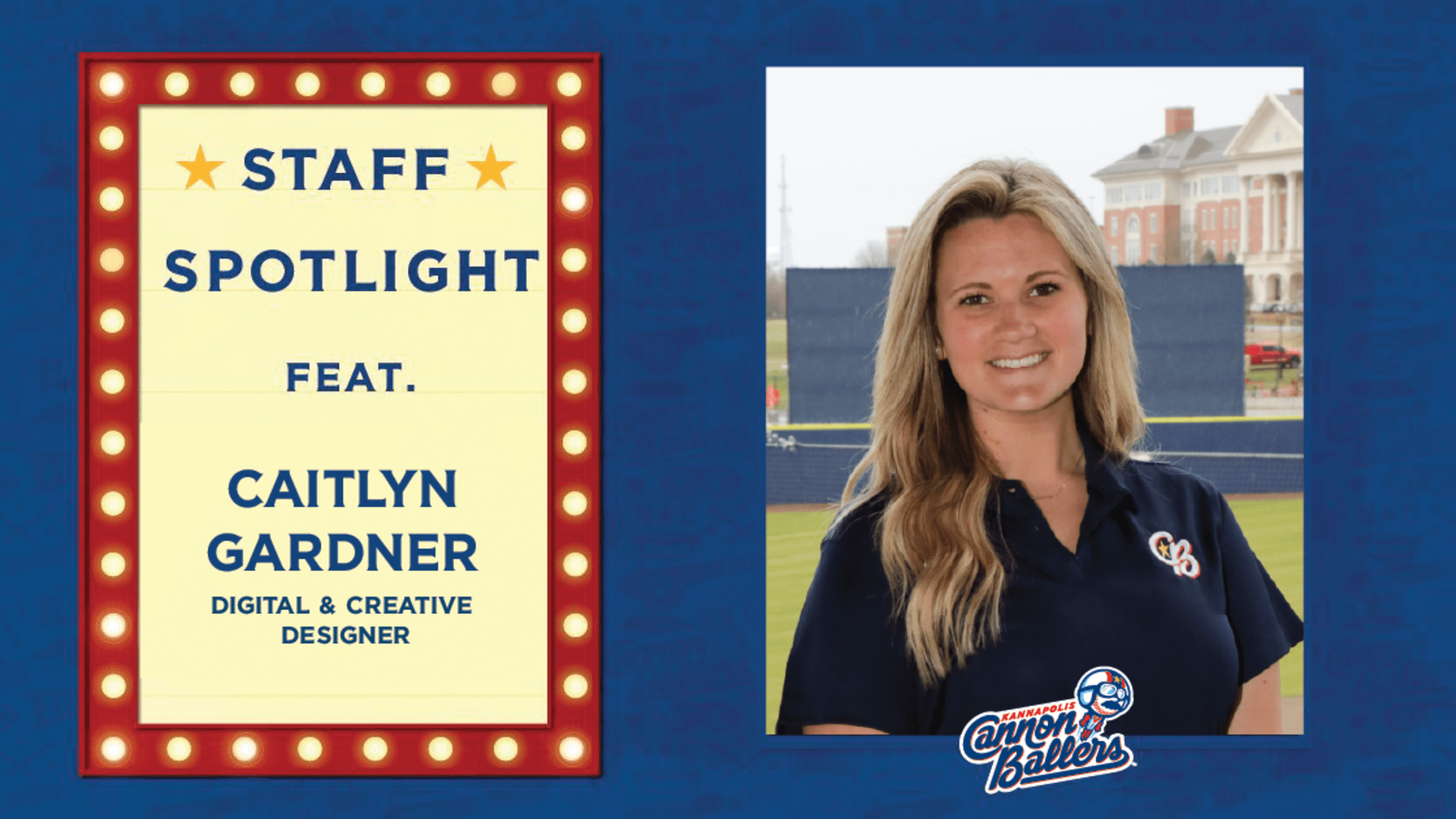 Caitlyn Gardner, Digital & Creative Designer | Birthday: May 13th | Hometown: Wharton, NJ Caitlyn Gardner enters her second year with the Kannapolis Cannon Ballers in 2020. A graduate of the University of Alabama (Roll Tide!) with a degree in Public Relations in 2017, Caitlyn worked as an intern at
Caitlyn Gardner, Digital & Creative Designer | Birthday: May 13th | Hometown: Wharton, NJ
Caitlyn Gardner enters her second year with the Kannapolis Cannon Ballers in 2020. A graduate of the University of Alabama (Roll Tide!) with a degree in Public Relations in 2017, Caitlyn worked as an intern at Charlotte Motor Speedway before joining the organization in 2019. She currently resides in Davidson, N.C. with her boyfriend, Mike, and two golden retrievers, Shady and Stanley. Caitlyn creates all graphics and digital media content, including coming up with other creative to roll out on Minor League Baseball's #1 social media pages. Give us a follow!
What song do you have completely memorized from start to finish?
Just about any Kenny Cheney song but 'Anything but Mine' takes the cake. I can recite that song by heart
What would your perfect room look like?
My perfect room would be a light and airy room with big floor-to-ceiling windows just steps from a beach in Key West or the Virgin Islands.
What's the farthest you've ever lived from home?
I attended the University of Alabama in Tuscaloosa, AL. Tuscaloosa was about a 17hr drive away from my hometown.
Where is the most relaxing place you've ever been to?
Most relaxing place I've ever been is at my families beach house in Delaware. I grew up going there so anytime I need a nice relaxing getaway that's where I head. It always feels like home when I'm there and at the beach
W**hat would be your ideal way to spend the weekend?**
My perfect weekend is spend on some type of body of water. I'm a fiend for water so anytime the temperature hits above 75 degrees I'm always looking for a body of water. Whether it's the ocean, lake, or pool I'm always looking to be there in the weekends (when I'm not at the ballpark)
W**hat are you looking forward to in the coming months?**
I'm really excited to open up a new ballpark. Our team has been working so hard to get this ballpark ready and I think it is truly amazing!
Why did you decide to work in baseball?
As lame as this sounds, I think baseball found me. I never really thought of minor league baseball to be my career path, I always knew sports but I never guess MiLB. Way back a trip to Fenway Park was what got me interested in a career in sports and I guess it was baseball all along that was my calling!
W**ho inspires you to be better?**
Both my mom and my dad made me who I am today. Both support and inspire me to be a strong and independent woman.
What's your favorite TV show—the one you're always watching on repeat?
Okay hear me out, I love the show Letterkenny. It's priceless and if you haven't seen it I fully suggest
What was your first job?
My first ever job was a camp counselor at a Girl Scout camp. I worked there all through high school and it really shaped me as a person and a worker
What is your favorite quote?
"Left foot, right foot, breath" - Pat Summitt. Pat Summitt is One of my idols and this quote is one I try to live by. Life is crazy out there and you're going to have to take huge steps in your life, remember to take a deep breath and continue to step forward. This quote is one that keeps me going everyday