Ota's Walk-Off Powers K Mets Past Pirates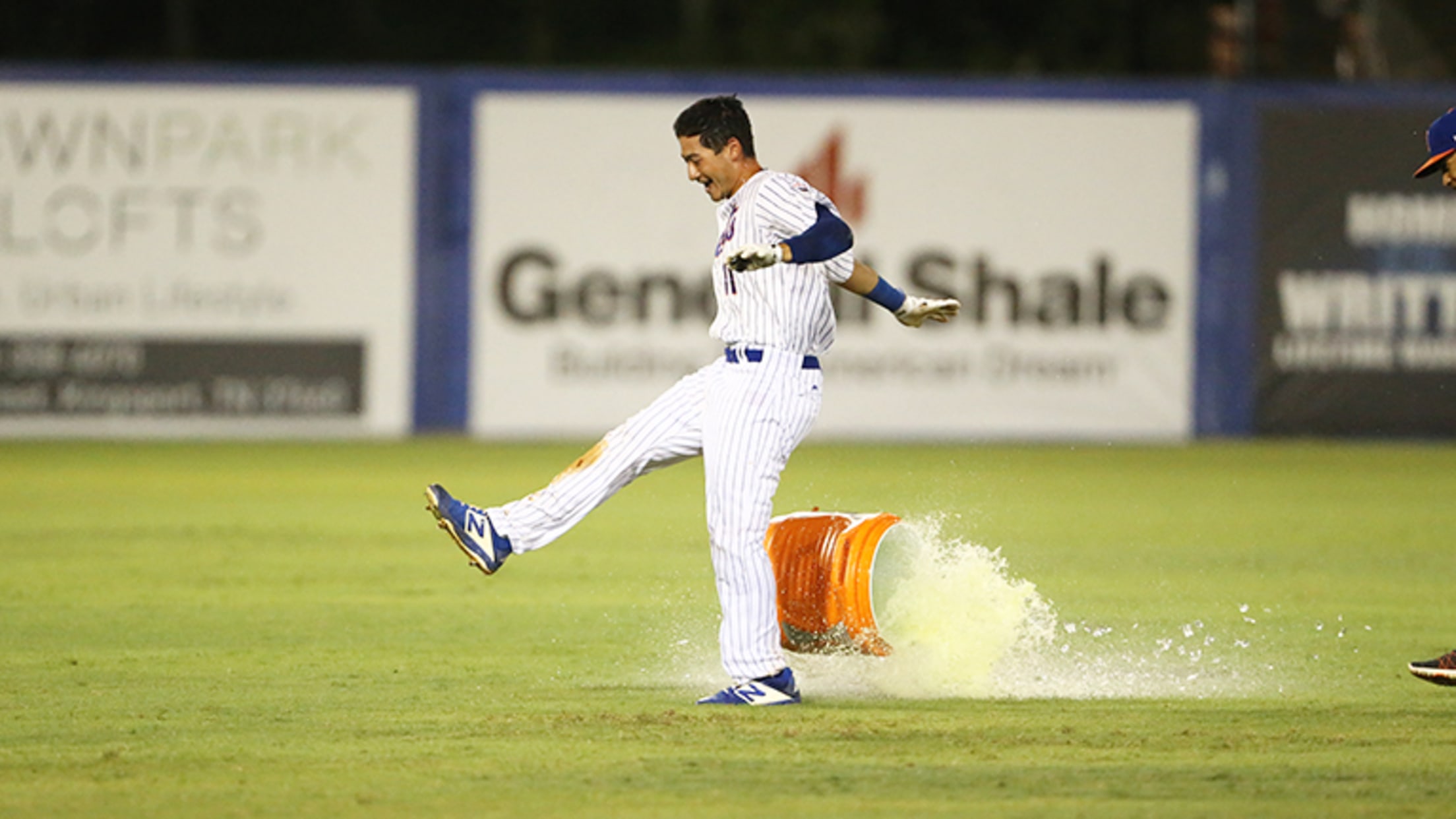 (Allen Greene)
KINGSPORT, Tenn. - Spirits were low at Hunter Wright Stadium going into the bottom of the ninth. The Pirates had tied the game at one in the 8th on a two-out RBI-single by Josh Bissonette and then took the lead with two runs in the 9th, including a go-ahead homer
KINGSPORT, Tenn. - Spirits were low at Hunter Wright Stadium going into the bottom of the ninth. The Pirates had tied the game at one in the 8th on a two-out RBI-single by Josh Bissonette and then took the lead with two runs in the 9th, including a go-ahead homer by Samuel Inoa.
However, the K Mets were able to get off the mat and plate three runs in the 9th to walk-off the Pirates 4-3 to send the home crowd happy.
The rally started when Cole Kleszcz, who drove home a run earlier in the game on an RBI-ground out, reached via a strike out accompanied by a wild pitch.
Wilfred Astudillo then singled to right to get the winning run to the plate. Murphy followed with what appeared to be a ground out that would have advanced the runners, but he too reached when the first baseman was unable to make the play.
With the bases loaded, Cristopher Pujols followed with an RBI-single to left that, with the help of another error, tied the game at three apiece.
Angel Manzanarez followed with a perfect bunt single, which loaded the bases, prompting Bristol to employ the five-man infield.
The maneuver immediately worked as Jhoander Saez hit into an unusual 7-2 fielder's choice that kept Bristol's extra inning hopes alive.
However, Scott Ota had other ideas as he roped a single off the left field wall to snap the Mets' four-game losing skid.
Lost in the shuffle was the tremendous start by Ramon Guzman, who threw 5.2 scoreless frames, striking out five while scattering three hits.
Jared Biddy got the win in relief.
The Mets and Pirates finish up the series tomorrow evening at Hunter Wright Stadium. It's Senior Night presented by Humana and USSSA Night. First pitch is at 6:30 with the gates opening at 5:30.
Follow the KMets on Twitter and Instagram at @Kingsport_Mets and on Facebook at KingsportMetsBaseball.