Burgos, Ponticelli stifle Hot Rods
Captains clinch series win over Bowling Green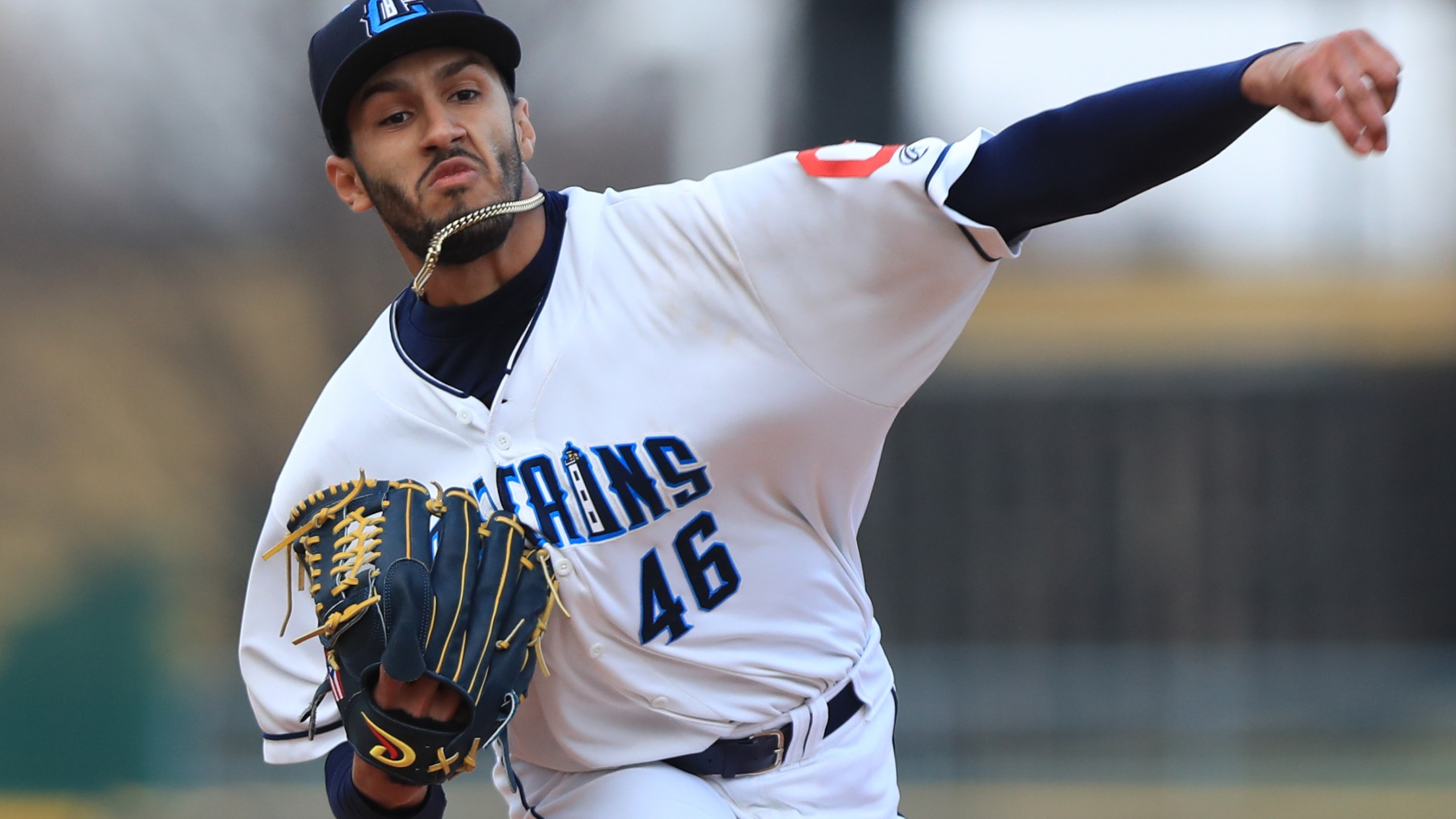 Raymond Burgos picked up his second win after hurling 5.1 strong innings on Thursday against Bowling Green. (Tim Phillis - TCP Photography)
(Eastlake, OH) - The Lake County Captains (6-2) took down the Bowling Green Hot Rods (3-5) on Thursday night at Classic Park, thanks to a pair of dominate pitching performances by Raymond Burgos and Thomas Ponticelli . Lake County earned a 2-1 win and secured the series victory over the
(Eastlake, OH) - The Lake County Captains (6-2) took down the Bowling Green Hot Rods (3-5) on Thursday night at Classic Park, thanks to a pair of dominate pitching performances by Raymond Burgos and Thomas Ponticelli . Lake County earned a 2-1 win and secured the series victory over the Hot Rods with three wins in the four-game set.
After tossing five scoreless frames last Friday against the Great Lakes Loons, Burgos took the ball for the second time this season and turned in another gem. The lefty allowed a single in each of the first three frames, but stranded each runner on second base. Burgos ran into trouble in the third after a leadoff double by Kaleo Johnson, but escaped with a pair of groundouts and a strikeout to leave the runner 90 feet from home. He then stranded Michael Smith on second in the fifth after a two-out walk and a balk. Burgos did not allow more than one runner in each frame and kept the Hot Rods off the board in the first five innings.
Jose Fermin sparked the Captains' offense, scoring both of the team's runs in the victory. Fermin led off the first inning with a single, stole second and scored when Josh Rolette singled to left field. Two innings later, Fermin began the frame with a double and was on third with one out after a pair of walks by Hot Rods starter Joe Ryan loaded the bases. Mitch Reeves then hit chopper to third that might have started an inning-ending double play, but Jake Palomaki bobbled the grounder and threw wide to second. Reeves reached first on a fielder's choice, Rolette was safe at second on the throwing error and Fermin scored to make it 2-0. Reeves was credited with an RBI.
Burgos stayed in the game for the top of the sixth and, for the first time, ran into a jam he could not escape. Connor Hollis led off with a line drive to right that turned into a triple when Will Benson 's diving try came up short. After Burgos got Johnson to ground out to the mound, Grant Witherspoon hit a grounder to the right of Reeves at first. Reeves stopped the ball on the backhand and threw to first, but ball deflected off Burgos' glove and rolled behind the tarp for a dead ball. Hollis scored the Hot Rods' first run. Witherspoon was credited with an RBI infield single and moved to second on the missed-catch error by Burgos.
Ponticelli came on to relieve Burgos after the hectic run-scoring play. With one out and a man on second, Witherspoon took off for third and Bo Naylor threw him out to clear the bases. Ponticelli then got Roberto Alvarez to ground to short to end the inning.
Ponticelli went on to pitch the remainder of the game and earned his first save of his career with a final line of 3.2 innings, no runs, one hit, one walk and five strikeouts. After retiring seven straight batters out of the bullpen, he escaped trouble in the ninth. A walk, an infield single and a wild pitch put two men in scoring position with two outs, but Ponticelli got Tony Pena to ground out to Jesse Berardi at third to end the game.
Burgos (2-0) earned his second win of the season after spinning 5.1 innings and allowing just one run on six hits. He struck out four and walked one. Ryan (0-1) suffered the loss for Bowling Green after allowing both Captains runs. He pitched 4.2 innings and gave up five hits, walked three and struck out three.
The Captains will be back in action Friday night when they hit the road for six games. The trip begins with a three-game set against the Dayton Dragons at Fifth Third Field. First pitch for game one of the three-game series is scheduled for 7:00 p.m.
Information about Classic Park or the Captains can be found online at www.captainsbaseball.com and by phone at 440-954-<st1:stockticker w:st="on">WINS (9467). Affordable ticket packages and group party and picnic options are available now.