Captains sweep double header against Dayton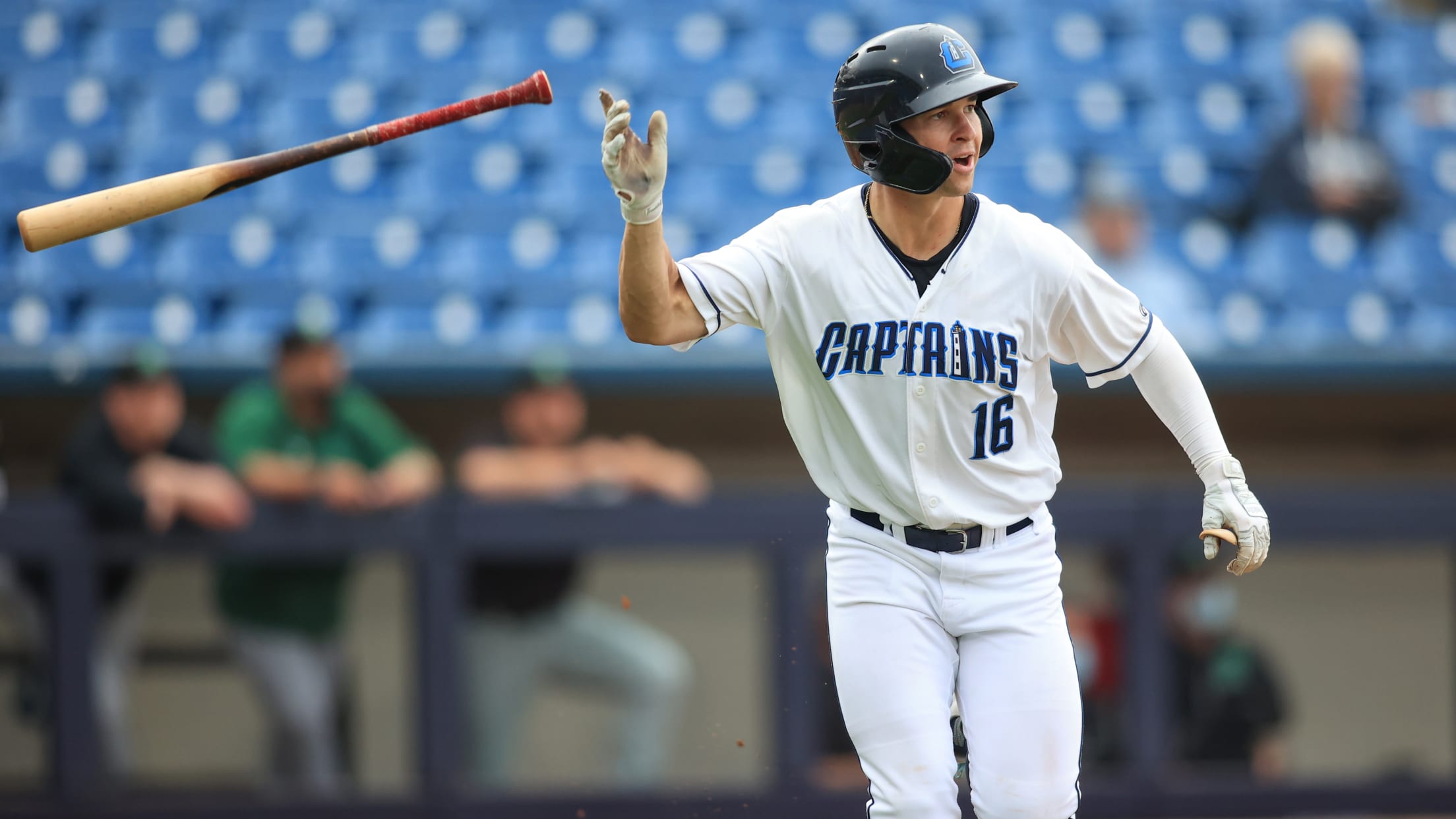 Will Brennan celebrates his go-ahead, three-run home run in game one of Thursday's doubleheader sweep of Dayton. Brennan hit the walk-off double to win game two. (Tim Phillis - TCP Photography)
(Eastlake, OH) – The Lake County Captains (13-14) took both games of a double header, 6-3 and 1-0, on Thursday against the Dayton Dragons at Classic Park. Will Brennan was the hero in both games with a go-ahead home run in game one and a walk-off double in game two
(Eastlake, OH) – The Lake County Captains (13-14) took both games of a double header, 6-3 and 1-0, on Thursday against the Dayton Dragons at Classic Park. Will Brennan was the hero in both games with a go-ahead home run in game one and a walk-off double in game two to help the Captains snap a seven-game losing streak.
In game one, the Dragons jumped out to an early lead. Jacob Hurtubise and Michael Siani led off the game with back to back singles. After a strikeout, Quin Cotton hit a ground ball to third base. The Captains were a half step slow turning the double play and Hurtubise raced all the way home from second base to give the Dragons a 1-0 lead.
Aaron Bracho tied the score for Lake County in the third inning. With two outs and nobody aboard, Bracho hooked a high fly ball around the right field foul pole for a solo homer. Bracho's second long ball in as many games evened the score at 1-1.
A two-run homer put Dayton back on top in the fifth. Captains starter Logan Allen walked Eric Yang with one out. Miguel Hernandez replaced Yang on first on a fielder's choice that forced out Yang at second. Francisco Urbaez then hit an opposite-field, two-run homer to right-centerfield to give Dayton a 3-1 advantage.
The Captains rallied with two outs in the bottom of the fifth. Both Brennan and Joe Naranjo walked with two outs. Then Bracho hit a soft line drive down the right field line to score Brennan and push Naranjo to third base. José Tena hit a ground ball to shortstop that Miguel Hernandez bobbled, which allowed Naranjo to score and tie the game, 3-3.
Two more Captains walks got a rally started in the sixth. Both Daniel Schneemann and Victor Nova reached on free passes. With two outs, Brennan came to the plate. He connected on a pitch from Sam Hellinger for a home run to right-center to give the Captains a 6-3 lead.
Nic Enright (1) worked a clean seventh inning to earn his first save of the season with two-strikeouts.
Pedro Garcia (1-1) took the loss in game one. He allowed two runs.
Allen (3-0) earned the win for Lake County. He allowed three runs on five hits with one walk and eight strikeouts.
In game two, a pitchers duel developed between Captains starter Juan Zapata and Dragons starter Eduardo Salazar.
Zapata worked 5.2 scoreless innings in his Captains debut. He walked three and struck out three while allowing one hit.
Salazar went six full innings on the mound. He allowed just one hit on five walks and three strikeouts.
The Captains broke the scoreless deadlock in the bottom of the seventh. Jonathan Engelamann walked to lead off the inning, then Nova singled to put runners on first and second. With one out, Brennan pinch hit for Austen Wade. He lined a ball down the right field line over the head of Quin Cotton to score Engelmann and give the Captains a 1-0 walk off win.
Tim Herrin (2-1) tossed 1.1 innings of scoreless baseball to earn the win in game two. He allowed two hits and struck out one.
Andy Fisher (0-1) was on the mound for the Captains walk off. He recorded one out, allowed two hits, one run with a walk and a strikeout.
The Captains and Dragons play the fourth game in their six-game series on Friday night. First pitch is set for 7:00 p.m. at Classic Park.
About the Captains
The Lake County Captains are the High-A affiliate of the Cleveland Indians. For more information, visit the Captains' website at www.CaptainsBaseball.com, Facebook page at www.Facebook.com/CaptainsBaseball, Twitter @LCCaptains and Instagram @LCCaptains. Fans can also get the latest Captains news and offers by signing up for the Captains' newsletter, The Anchor.