ICYMI: Greatest Comeback In Franchise History As Storm Score 10 Runs In The Ninth, Win 14-13 In 10 Innings
Storm Take Two Of Three From The JetHawks As The Playoff Race Continues At The Diamond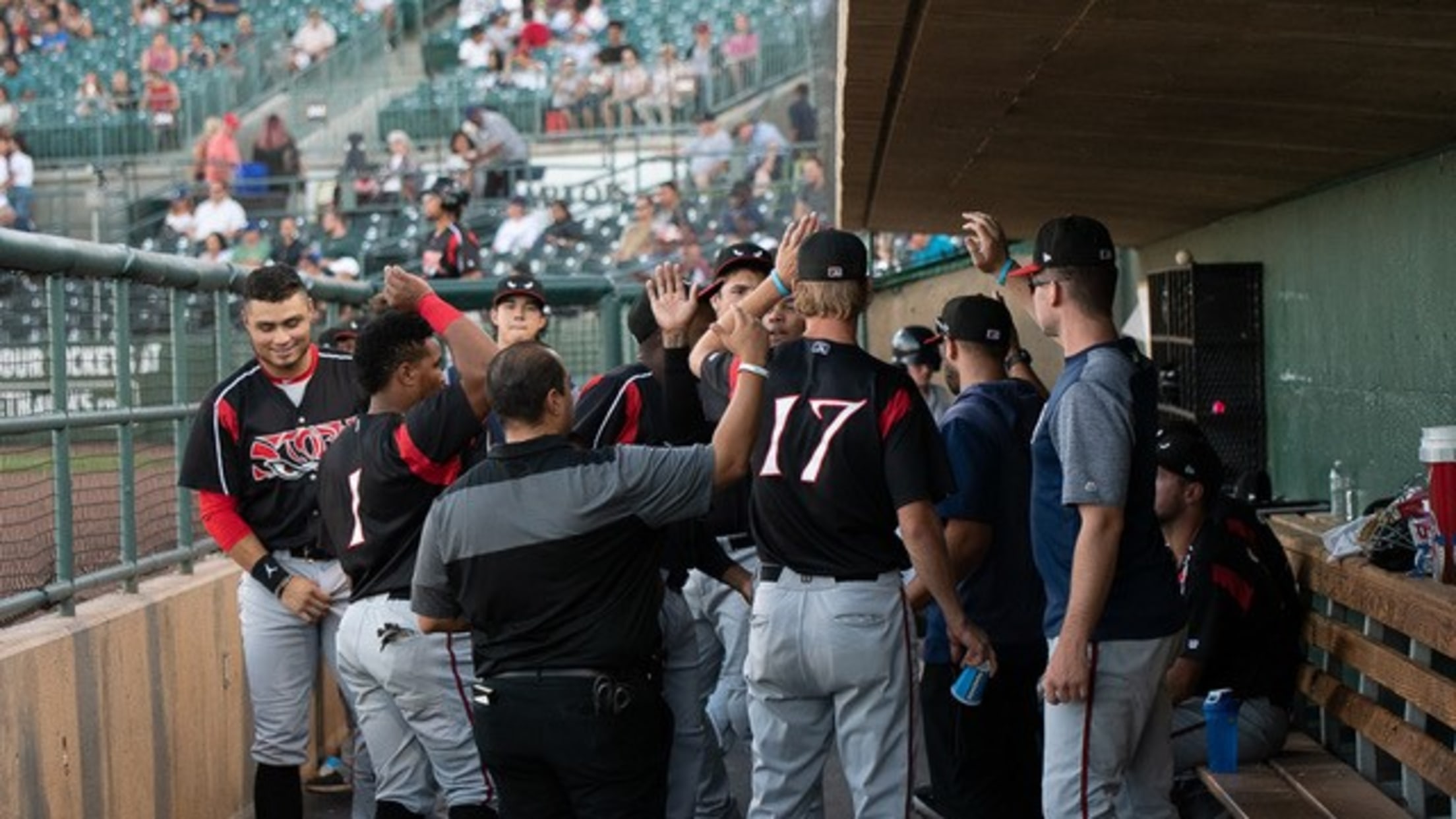 LANCASTER, Calif., - On Wednesday night in Lancaster, trailing 13-3 in the top of the ninth inning with two outs and a runner at first base, the Lake Elsinore Storm staged a rally for the ages, producing the greatest comeback in team history as the San Diego Padres' affiliate scored
LANCASTER, Calif., - On Wednesday night in Lancaster, trailing 13-3 in the top of the ninth inning with two outs and a runner at first base, the Lake Elsinore Storm staged a rally for the ages, producing the greatest comeback in team history as the San Diego Padres' affiliate scored 10 runs to tie the game and eventually force extras before prevailing 14-13 against the Jethawks in 10 innings at The Hangar.
Lancaster plated nine runs in the sixth inning, eight of those runs coming with two outs, to take a commanding 12-2 lead, as the hosts were seeking their sixth straight victory against Lake Elsinore. But with two outs in the ninth, in a most improbable come-from-behind win, the Storm had 11 consecutive batters reach safely on six base hits and five walks against three different relievers. Seven times the Storm were down to their final strike, and yet on a night when even two outfield sprinkler delays in the bottom of the 10th couldn't derail a miraculous win, the visitors found a way.
With LF Allen Córdoba at first and 26 outs in the books, DH Luis Campusano drew a walk before an RBI single by SS Gabriel Arias got the Storm within nine runs. 3B Eguy Rosario then slugged a two-RBI double to right center followed by three walks and a two-RBI single to left field by C Jalen Washington that made it 13-9 Jethawks.
With runners at first and second and Cordoba, the leadoff hitter, due up, Lancaster turned to California League saves leader Tommy Doyle to secure the win. Cordoba would reach on an infield single that, with the help of an error on shortstop Taylor Snyder, scored CF Jeisson Rosario from second to make it 13-10. After 2B Xavier Edwards walked to load the bases, Campusano lined a two-RBI single to right center to bring the Storm within one run. On an 0-2 count, Arias, who drove in the first and the 10th run of the inning, then tied the game on a soft liner into center that plated Edwards from third to even the score at 13-13 before a strikeout ended the 15-batter half inning.
LHP Fred Schlichtholz, the third pitcher for Lake Elsinore (RHP Reiss Knehr 5.2 IP, RHP Nick Kuzia 2.1 IP), worked a scoreless ninth to send the game to extra innings. In the 10th, RF Tirso Ornelas singled home Eguy Rosario, who began the frame at second base per MiLB rules, to give the Storm their first lead since a 2-1 advantage in the second inning.
Schlichtholz, the Chula Vista, CA native, still had the task of denying the Colorado Rockies' affiliate their 10th walk-off win of the season. With a runner at second and nobody out, the former Fresno State Bulldog struck out LeeMarcus Boyd to bring up CF Matt Hearn, pacing the league with 148 hits. After a fielder's choice out on the bases, the Storm were now one out away from the unlikely win. But a strikeout on a wild pitch followed by a two-strike hit-by-pitch loaded the bases for the league's top home run slugger, clean-up hitter Casey Golden, who hit his 23rd of the season in the sixth inning.
On a one-one count, Golden lifted a high fly ball toward the 410 mark in center field where Jeisson Rosario, while falling to the warning track, made a game-saving catch to secure a wild 14-13 victory and the first California League win for Schlichtholz.
With this win, Lake Elsinore is now 62-58 overall and 27-25 in the second half, trailing first place Rancho Cucamonga by two games in the second half while now leading Lancaster by one game in the Wild Card race. The Storm have six remaining games against Rancho and will play Lancaster eight times in the final 17 games, including August 30-September 2 at home to close out the regular season.
Noteworthy:
LHP Fred Schlichtholz: First California League win
LF Allen Cordoba: 4-6, one double (15), one RBI (31), two runs
DH Luis Campusano: 2-4, three RBI (67), two walks, one run
3B Eguy Rosario: 2-4, one double (20), two RBI (54), two runs, two walks
RF Tirso Ornelas: 2-4, game-winning RBI (22), one run, two walks
C Jalen Washington: 2-5, home run (4), three RBI (25), two runs
SS Gabriel Arias: 2-6, two RBI (62), five-game hitting streak
2B Xavier Edwards: 1-5, one triple (5), two runs, one walk
CF Jeisson Rosario: 1-5, one triple (3), two runs, one walk, seven-game hitting streak
WP: Fred Schlichtholz (1-0)
LP: Nick Kennedy (1-3)
Save: None
HR: LE: Washington (4th, solo, T7) | LAN: Golden (23rd, two-run, B6)
Time: 4:05
Att: 3,264
On Deck:
The Storm have 10 home games remaining and return to The Diamond on Friday, August 16 for six games in seven days. Storm pitching leader in wins (10), LHP Aaron Leasher (10-6, 3.14 ERA), will be on the hill against RHP Bryce Conley (3-0, 1.35 ERA) for the Stockton Ports. For the best available seats buy online at stormbaseball.com or call 951-245-4487.