Bradley gem leads to first Lemonade League shutout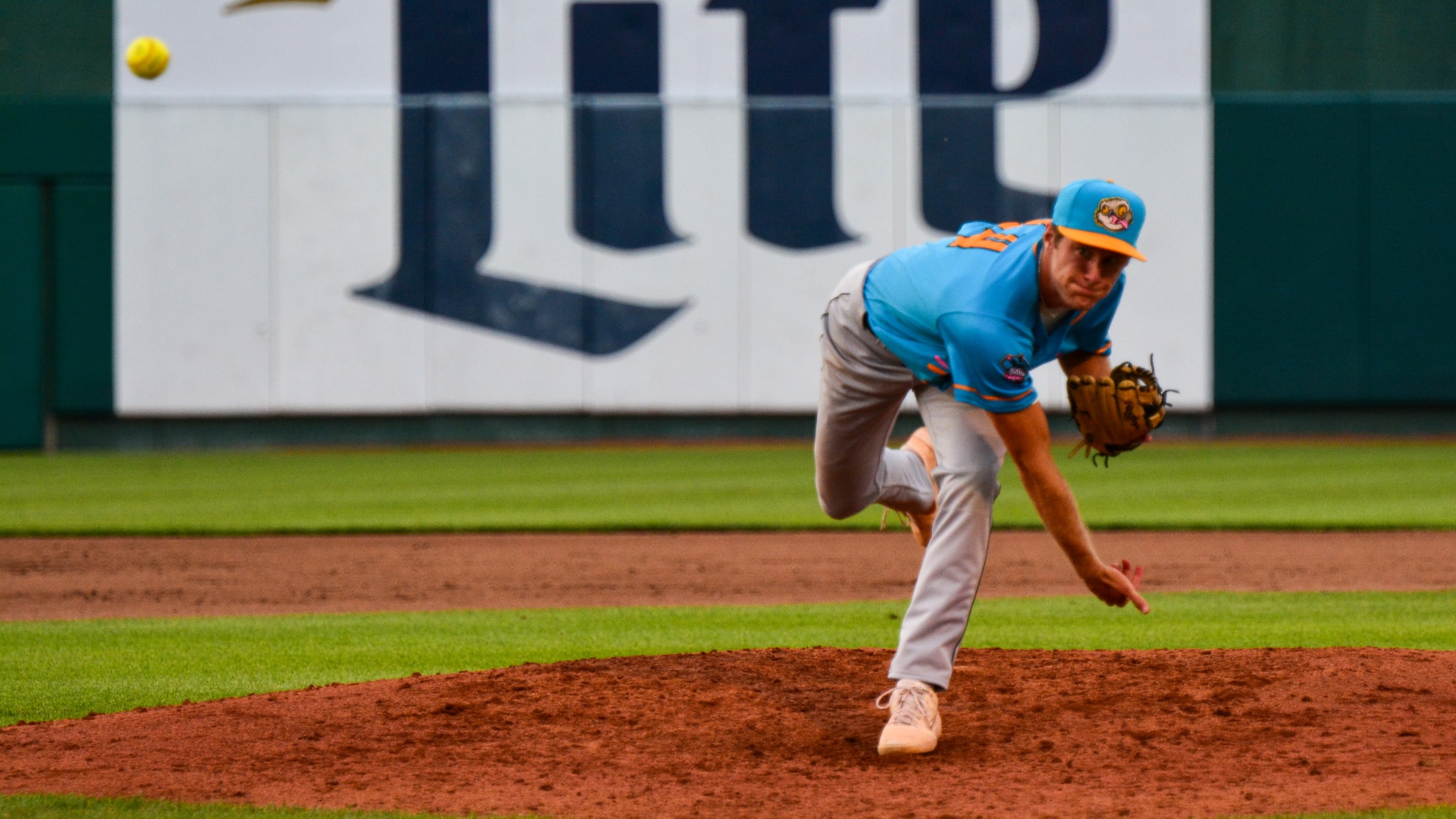 (MQH Photo Video)
LANSING, Mich. – Collin Bradley combined with Nick Powers (Michigan State) on a two-hitter, helping the Locos blank the Lugnuts, 3-0, on Sunday afternoon at Cooley Law School Stadium. It was the first shutout achieved in the Lemonade League, coming in the league's 16th game. It was also the Locos'
LANSING, Mich. – Collin Bradley combined with Nick Powers (Michigan State) on a two-hitter, helping the Locos blank the Lugnuts, 3-0, on Sunday afternoon at Cooley Law School Stadium.
It was the first shutout achieved in the Lemonade League, coming in the league's 16th game. It was also the Locos' seventh straight win, giving them an overall record of 10-6.
Bradley had tossed a five-inning complete game in his previous outing, Game 1 of a doubleheader seven days prior. He topped himself on this afternoon, following a walk to Colin Cornwell (Saginaw Valley State) to lead off the home first inning with 12 straight batters dispatched, including four straight strikeouts between the second and third innings.
The spell was broken when Gabe Sotres (Michigan State), leading off the fifth, reached on an error by third baseman Brock Henley (Davenport). Bradley followed with two more strikeouts before Jake Rydquist (Grand Valley State) broke up the no-hit bid with an infield single. On the play, however, Sotres was tagged out in a rundown between third and home.
Bradley then fired a perfect sixth inning, finishing with eight strikeouts and just one walk and one single allowed.
The Locos had already supplied all the run support he needed back in the third inning: Michael Stygles (Oakland) singled home Adam Purdy (Concordia) off Lugnuts starter Garrett Larner (Cleary), followed by an Alex McCormack (Grand Valley State) RBI groundout.
In the fifth, the Purdy/Stygles combination struck again. Purdy drew a walk from reliever Ryan Steinhauer (Lansing CC), moved to second on a wild pitch, and came home on a Stygles double to left.
The Lugnuts had one last gasp. Facing Powers in the seventh, Zaid Walker (Michigan State) doubled to left-center and stole third base while Andrew Morrow (Michigan State) was drawing a walk. But with the potential game-tying run at the plate, Powers retired Sotres on a foulout, Joey PeJuan (Madonna) on a popout and Vann Acker (Concordia) on a flyout to end the game.
In the losing cause, the Lugnuts received their own excellent pitching: Larner tossed three innings, striking out two, scattering four singles, and allowing two runs (one earned). Steinhauer struck out six in his Lemonade League debut, working three innings. Robert Adkins (Schoolcraft) pitched around a leadoff walk in a scoreless seventh.
The game was played before a capacity crowd of 100 at Cooley Law School Stadium – a 16th straight sellout. (The stadium capacity is limited to 100 fans by health directive of Ingham County.)
The Lemonade League's next game is on Monday at 7 p.m., with the Cedar Street gate opening to fans at 6 p.m. Masks are mandatory for admission.
The Lemonade League is a college wood-bat league featuring Minor League Baseball umpires, yellow baseballs, seven-inning games, and extra innings replaced by a one-on-one Home Run Derby. Every Lemonade League game is livestreamed FREE across multiple social and digital platforms, including the Lansing Lugnuts' Facebook and YouTube pages.
For more information, visit lansinglugnuts.com or call (517) 485-4500.
# # #