Glaude provides relief, Lugs blast Bees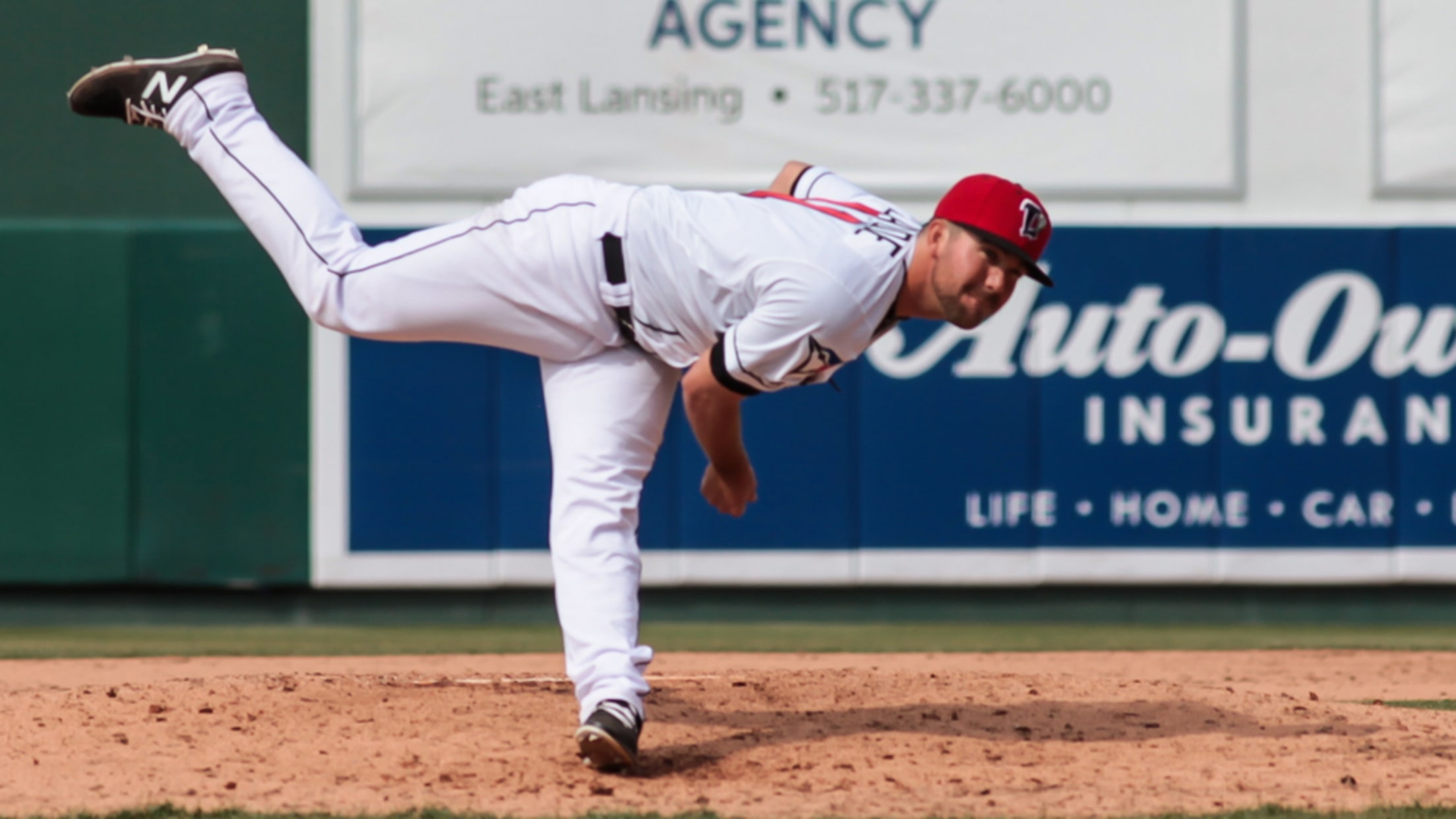 Griffin Glaude picked up his first win of the year with four scoreless innings of much-needed relief. (Tyler Marcotte)
LANSING, Mich. - Griffin Glaude began a sterling bullpen performance with four scoreless innings and the Lansing Lugnuts (16-12) pulled away from the Burlington Bees (10-16), 9-4, in a Sunday afternoon rubber match at Cooley Law School Stadium.A three-run second-inning rally had given the Lugnuts a 3-1 lead, but Lansing starter Denis Diaz walked
LANSING, Mich. - Griffin Glaude began a sterling bullpen performance with four scoreless innings and the Lansing Lugnuts (16-12) pulled away from the Burlington Bees (10-16), 9-4, in a Sunday afternoon rubber match at Cooley Law School Stadium.

A three-run second-inning rally had given the Lugnuts a 3-1 lead, but Lansing starter Denis Diaz walked the first four batters of the third inning. With one run in and the bases loaded, manager Cesar Martin brought in Glaude. A Josh Merrigan RBI single tied the score, and a hit-by-pitch of Jeyson Sanchez put the Bees up 4-3.

And then the right-hander settled in.
Glaude (Win, 1-1) struck out Angel Almao and Juan Moreno and coaxed a flyout from Angels top prospect Jahmai Jones, leaving the bases loaded. He then held the Bees off the scoreboard through the fourth, fifth and sixth innings, racking up three more strikeouts. In the fourth and the sixth, he stranded a Bees base runner at third base.

The Lugnuts' offense took care of the rest. A three-run double by Ryan Hissey put the Nuts in front for good in the bottom of the fourth, with Christian Williams singling in Hissey for a 7-4 lead.

In the sixth, Bo Bichette and Bradley Jones connected with doubles for an 8-4 edge.

In the eighth, Jones and Hissey swatted back-to-back triples to close the scoring.

The rest of the relief work was equally in control. Geno Encina followed Glaude to the mound, retiring all six Bees faced in the seventh, and Zach Jackson notched a perfect ninth to finish the victory.

Vladimir Guerrero, Jr. drew a walk in the fourth to extend his on-base streak to 25 games. During the at-bat, Burlington Bees manager Adam Melhuse was ejected for arguing balls and strikes.

Hissey, Jones, Williams, Bichette, J.B. Woodman and Joshua Palacios each collected two base hits, helping the Lugnuts pile up 13 total hits. Jones also drew two of the Nuts' six walks.

Bees starter Andrew Vinson(Loss, 2-3) suffered the defeat, allowing five runs on six hits and four walks in 3 2/3 innings.

On Monday, the Lugnuts open a six-game road trip with the first of three games in Clinton, Ia., against the Seattle Mariners-affiliated LumberKings. Right-hander Mike Ellenbest (0-2, 6.65) starts against L-Kings lefty Tim Viehoff (0-3, 3.91) at 7:30 p.m.

The next Lansing Lugnuts homestand runs from Monday, May 15th, through Wednesday, May 17th, against the Fort Wayne TinCaps. Tickets may be purchased at the Cooley Law School Stadium box office, by calling (517) 485-4500 or via lansinglugnuts.com.
# # #