Heeke, Locos win a wild one, 9-8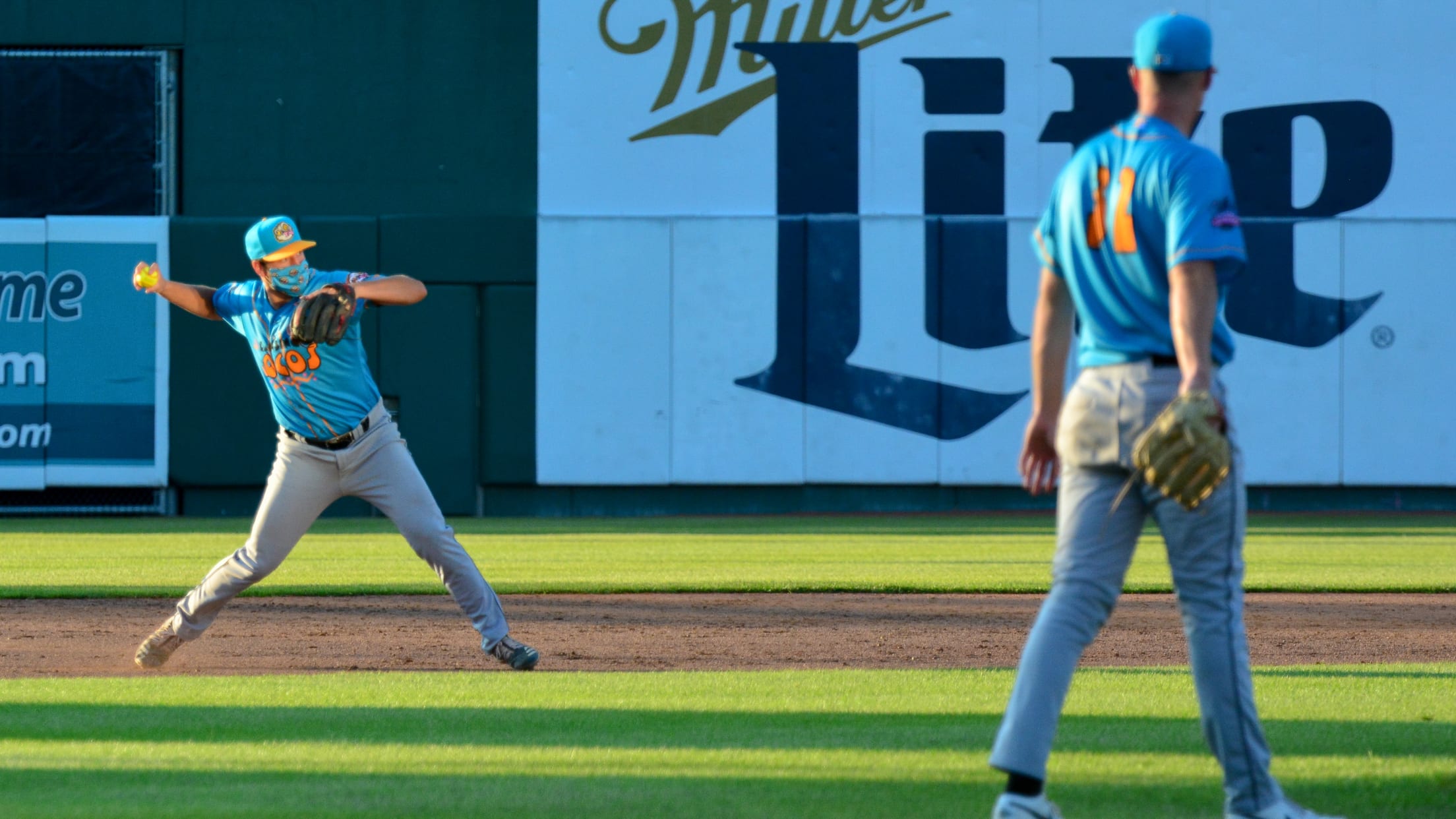 (MQH Photo Video)
LANSING, Mich. – Zach Heeke (Central Michigan University) broke a seventh-inning tie with a two-run single, and the Lemonade League's Locos held off the Lugnuts in a wild final inning, 9-8, on Wednesday night at Cooley Law School Stadium. The game, 12th on the Lemonade League docket, was played before
LANSING, Mich. – Zach Heeke (Central Michigan University) broke a seventh-inning tie with a two-run single, and the Lemonade League's Locos held off the Lugnuts in a wild final inning, 9-8, on Wednesday night at Cooley Law School Stadium.
The game, 12th on the Lemonade League docket, was played before a capacity crowd of 100 at Cooley Law School Stadium – a 12th straight sellout. The Lansing Lugnuts additionally announced before the game that tickets were all sold out for the remainder of the Lemonade League schedule. (The stadium capacity is limited to 100 fans by health directive of Ingham County.)
The Locos conducted two separate rallies in the game, overcoming an early 4-0 deficit with a run in the third inning and four runs in the fourth before responding to a 7-5 deficit in the seventh and final inning.
Playing on his birthday, Adam Purdy (Concordia) led off the top of the seventh against Lugnuts reliever Adam Dorstewitz (Kalamazoo) with a grounder to second and reached on a throwing error by Vann Acker (Concordia). Owen Ruddock (Davenport) followed with a single to right, taking second base while Purdy moved up to third on a throwing error by right fielder Zaid Walker (Michigan State).
Kade Preston (Central Michigan) singled home Purdy to narrow the Lugnuts' lead to 7-6. Two batters later, Michael Stygles (Oakland) singled in Ruddock, tying the game. After a wild pitch put Stygles and Preston at second and third, Heeke lined a single to left field to give the Locos the lead for good.
But the victory would not come easy. With one out in the bottom of the seventh, Joey PeJuan (Madonna) coaxed a walk from Locos reliever Nolan Knauf (Saginaw Valley State) and was wild-pitched to second. Colin Cornwell (SVSU) ripped an infield single to first with Preston's throw to the bag going awry, allowing PeJuan to score and putting Cornwell at second as the potential game-tying run. Mark Connelly (Lansing CC) followed with a double over Stygles in right field. Cornwell raced around third looking to deadlock the score at nine, but second baseman Brock Henley (Davenport) delivered a relay throw to catcher Craig Palidar (LCC), who tagged Cornwell out at the plate.
Walker then grounded out to Heeke at third, giving the Locos their third straight victory.
Heeke finished the game 1-for-2 with two walks, a run scored and a steal in addition to his two runs batted in. Teammate Matthew Williams (Albion) added an RBI single and a triple in three at-bats, while the Lugnuts were led by Cornwell (2-for-3, two walks, four steals) and Connelly (2-for-3, two doubles, two sacrifice flies).
The Lemonade League's next game is on Thursday at 7 p.m., with the Cedar Street gate opening to fans at 6 p.m. Masks are mandatory for admission.
The Lemonade League is a college wood-bat league featuring Minor League Baseball umpires, yellow baseballs, seven-inning games, and extra innings replaced by a one-on-one Home Run Derby – although none was needed on this night. Every Lemonade League game is livestreamed FREE across multiple social and digital platforms, including the Lansing Lugnuts' Facebook and Twitter pages.
For more information, visit lansinglugnuts.com or call (517) 485-4500.
# # #