McCormack powers Locos in 12-11 slugfest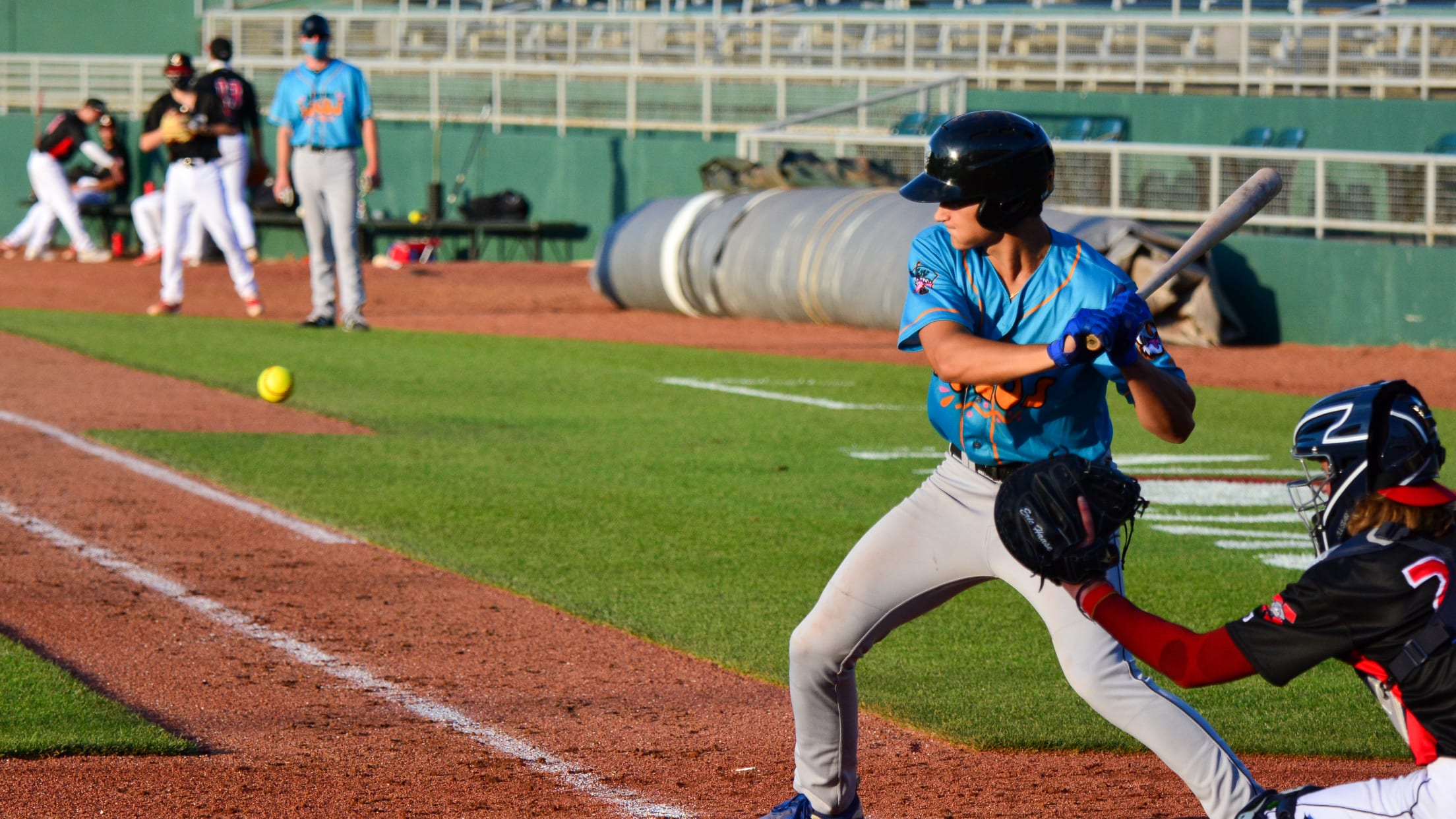 (MQH Photo Video)
LANSING, Mich. – Alex McCormack (Grand Valley State) belted a pair of long two-run homers, including one that provided important insurance, and the Locos survived a late Lugnuts comeback, 12-11, on Saturday night at Cooley Law School Stadium in the Lemonade League. The Locos have now six straight games and
LANSING, Mich. – Alex McCormack (Grand Valley State) belted a pair of long two-run homers, including one that provided important insurance, and the Locos survived a late Lugnuts comeback, 12-11, on Saturday night at Cooley Law School Stadium in the Lemonade League.
The Locos have now six straight games and lead the overall series, 9-6, scoring a combined 39 runs over the past three games.
That offensive onslaught began with McCormack, who followed up a Kade Preston (Central Michigan) two-run homer in the first inning with his own two-run shot out to the right-field Chevrolet Terrace, giving the Locos a quick 4-1 lead against Lugnuts starter Adam Dorstewitz (Kalamazoo).
The Lugnuts tied the score at 4-4 with three runs in the second against Locos starter Christopher Schmees (Saginaw Valley State), only to see Preston break the tie with an RBI single and Michael Stygles add a two-run double in the bottom of the second, putting the Locos in front, 7-4.
The Locos added two runs in the third and one in the fourth against Lugnuts reliever Kameron Marnon (Lansing CC), bringing a 10-8 lead to the bottom of the sixth inning, their last chance for insurance.
Stygles led off the sixth inning with a walk against Cal Johnston (Lansing CC). Johnston then fell behind McCormack 3-0 and grooved a pitch that McCormack caught all of, launching it out to deepest right-center for a 12-8 Locos lead.
It was McCormack's third home run in the Lemonade League, tying Preston for the league lead. It was also the GVSU redshirt-freshman's second straight game with four runs batted in.
As it turned out, the Locos needed the cushion.
In the seventh and final inning, the Lugnuts received consecutive two-out RBI singles from Michigan State Spartans Zaid Walker, Andrew Morrow and Gabe Sotres to narrow the deficit to one. On Sotres's single to left, however, Morrow attempted to advance to third base and was thrown out by left fielder Adam Purdy (Concordia) in a cloud of dust at the bag, ending the game.
The three Spartans all finished with strong games: Walker went 3-for-5 with two singles, a triple and three runs scored; Morrow went 1-for-3 with a single, two walks and a run scored; and Sotres went 2-for-3 with a three-run triple in addition to his RBI single.
Colin Cornwell (SVSU) added two triples, a walk, an RBI and two runs scored for the Lugnuts, giving him a league-leading four triples.
In addition to McCormack's starring performance, the Locos were bolstered by Stygles, who went 2-for-3 with two doubles, a walk, two runs batted in and three runs scored, and Ben Compton (Olivet), who walked three times, stole three bases, supplied a sacrifice fly and scored a run.
The game was played before a capacity crowd of 100 at Cooley Law School Stadium – a 15th straight sellout. (The stadium capacity is limited to 100 fans by health directive of Ingham County.)
The Lemonade League's next game is on Sunday at 1 p.m., with the Cedar Street gate opening to fans at 12 noon. Masks are mandatory for admission.
The Lemonade League is a college wood-bat league featuring Minor League Baseball umpires, yellow baseballs, seven-inning games, and extra innings replaced by a one-on-one Home Run Derby. Every Lemonade League game is livestreamed FREE across multiple social and digital platforms, including the Lansing Lugnuts' Facebook and YouTube pages.
For more information, visit lansinglugnuts.com or call (517) 485-4500.
# # #