Which Lugnut will make the Majors next? 12 potential candidates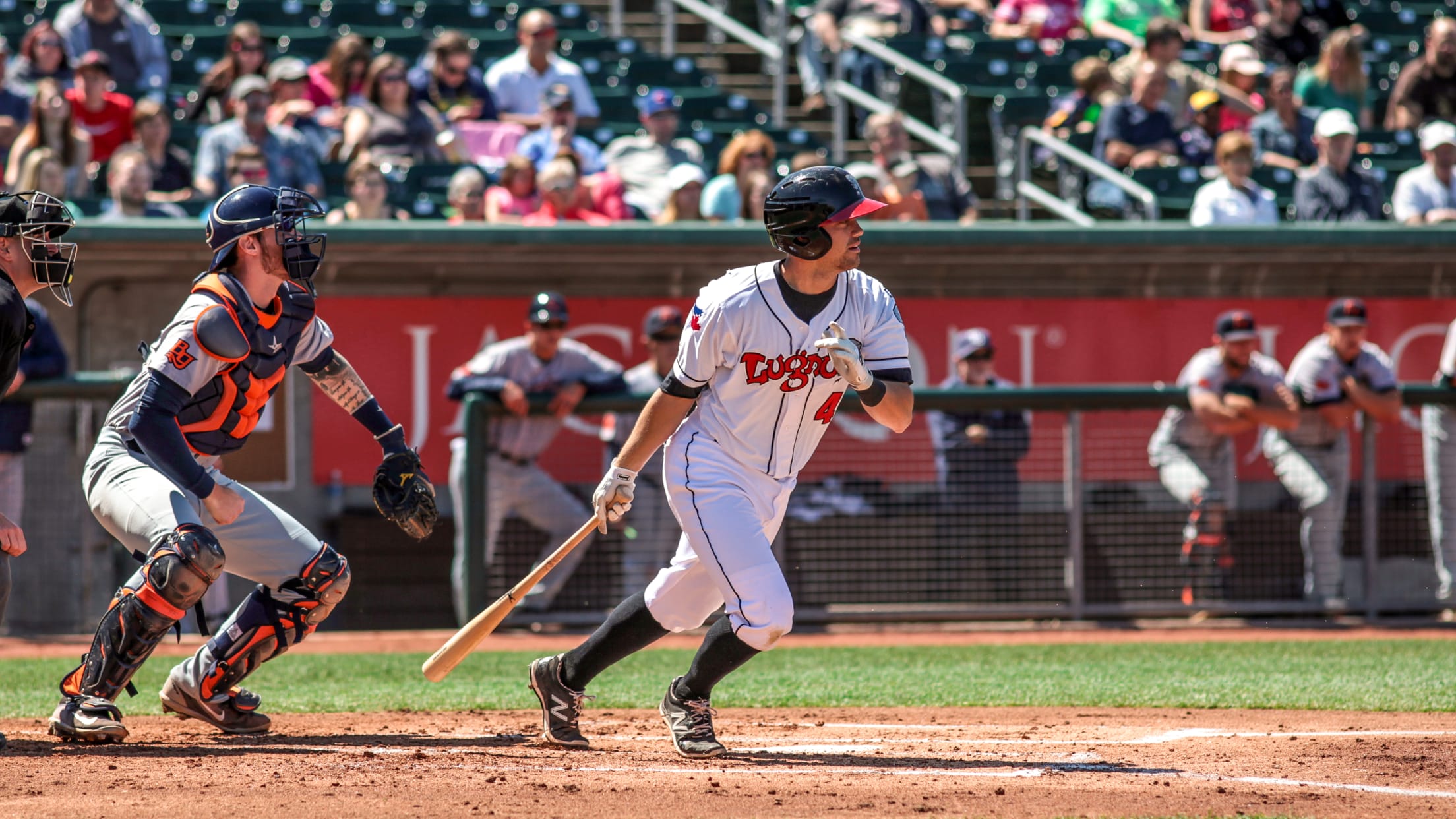 With outfielder Josh Palacios and relief pitcher Ty Tice debuting for the Toronto Blue Jays on the same night, April 9th, 156 former Lansing Lugnuts have now made the Major Leagues. Who could be next? 12. Let's begin with Nash Knight, pictured above, who played for the Lugnuts in 2017.
With outfielder Josh Palacios and relief pitcher Ty Tice debuting for the Toronto Blue Jays on the same night, April 9th, 156 former Lansing Lugnuts have now made the Major Leagues.
Who could be next?
12. Let's begin with Nash Knight, pictured above, who played for the Lugnuts in 2017. The switch-hitting Knight batted above .400 while with Bluefield, but since then has distinguished himself with defensive versatility, plate discipline, and being the greatest human being you'll ever meet. He's on the Blue Jays' Alternate Site Roster, one step away from the big call-up.
11. Reliever Claudio Custodio began his career as a middle infielder in the New York Yankees organization, received his release, reinvented himself as a pitcher, played in the Intercounty Baseball League with the Barrie (Ontario) Baycats, was signed by the Blue Jays in 2018, made 13 appearances with the Lugnuts, advanced up to Triple-A, signed with the Braves' organization that offseason, pitched well in Double-A in 2019, and then signed with the Orioles this past offseason. Now 30 years old, being with Baltimore provides a pretty good opportunity for a Major League chance.
10. Infielder Peter Mooney was considered a glove-first player when the Blue Jays drafted him in the 21st round from South Carolina, though he hit well for the Lugnuts in a brisk seven-game span to end the 2011 season in his pro debut. In the decade since, he was released by Toronto (2014), played in independent baseball (2015), was signed by Miami (2016), made it up to Triple-A (2017-2018), joined the Rockies' organization for one Triple-A season (2019), and recently re-signed with the Marlins. Just like with Custodio, he's in the right organization, one step from the Majors, to get a chance on the biggest stage.
9. Pitcher Josh Winckowski was brilliant for the Lugnuts in 2019, earning the starting nod in the All-Star Game, and it was clear that scouts took notice. Winckowski was traded twice in the offseason, first from the Blue Jays to the Mets in a package for Steven Matz, and then from the Mets to the Red Sox in a three-team deal centered around Andrew Benintendi heading to Kansas City. He should start this season in Double-A, but the Red Sox like him, and if they need pitching...
Meet Josh Winckowski, the pitching prospect the Red Sox acquired in a three-team trade for Andrew Benintendi. https://t.co/Qi4DBlyEmh

— NESN (@NESN) February 11, 2021
8. When it comes to the Blue Jays' outfield depth, they have Josh Palacios, now up in the Majors, followed by Forrest Wall, and then...? That means an opportunity could knock for Chavez Young, a member of the 2018 Lugnuts, who impressed with his defense and speed in spring training.
7. Like Nash Knight, Cullen Large is a switch-hitting infielder at the Blue Jays' alternate site, getting increased time and attention after injuries sabotaged a promising 2018 season with the Lugnuts. Large flexed his muscles in the Grapefruit League and likely starts the year in Triple-A.
6. Before we dive into a slew of pitching, where the needs are expected to be plentiful during the summer ahead following the 60-game season last year, consider Kevin Smith, the 2018 Lugnuts' superstar, who provides great glovework and defensive versatility around the infield to go with the potential of pop at the plate.
Kevin Smith: Clerk who CRUSHES!

💪 @KJS_4 💪 pic.twitter.com/ELi1HNcHTM

— Toronto Blue Jays (@BlueJays) March 21, 2021
5. Now to the pitchers, starting with the 2019 Minor League Relief Pitcher of the Year, Jackson Rees, and his unhittable assortment of sinkers, cutters, and sliders -- so many sliders! -- coming out of a deceptive release and from a herky-jerky motion.
4. Master of the Invisi-Ball Joey Murray made waves for Toronto in the Grapefruit League with his extraordinary-above-average fastball and curveball spin rates. He's getting to the Major Leagues at some point, whether as a starter or reliever. Murray, like Rees and Winckowski before him, was a member of the 2019 Lugnuts.
The average spin rate on a Major League fastball is 2,308 rpm.#BlueJays prospect Joey Murray averaged 2,742 rpm over seven fastballs that inning, topping out at 2,973 rmp. #BlueJays

— Keegan Matheson (@KeeganMatheson) February 28, 2021
3. Our top three most likely candidates are all relief pitchers and for good reason, since bullpen holes open up more often than other spots on the roster. Southpaw Jake Fishman was picked up by the Miami Marlins in the Minor-League portion of the Rule 5 draft -- makes sense that Fishman would be a Marlin, right? -- and is on Miami's alternate site roster, waiting for the call if they need a lefty in the pen. Fishman enjoyed a memorable cameo with the Lugnuts in 2017, striking out 15 batters in just 6 2/3 innings.
2. Right-hander Zach Jackson was also selected in the Rule 5 Draft, Minor-League portion, joining the Lugnuts' new MLB partner, the Oakland Athletics. A former third-round pick and 2017 Nuts relief ace, Jackson spent 2019 in Triple-A in the Toronto system.
1. Lastly, lefty Kirby Snead pitched in Lansing in 2016 and 2017, working his way up to Triple-A in 2019, and then making eight appearances for the Blue Jays this past Spring Training. Snead's role, similar to Fishman's, of being a lefty specialist has been challenged by the new rule mandating relievers face at least three batters upon entering an inning, but there's always room for left-handers. We should see Kirby with Toronto sooner rather than later.