Aviators win series in Sacramento, move on to Albuquerque
Las Vegas takes four of six games against River Cats, continues 12-game road trip against Isotopes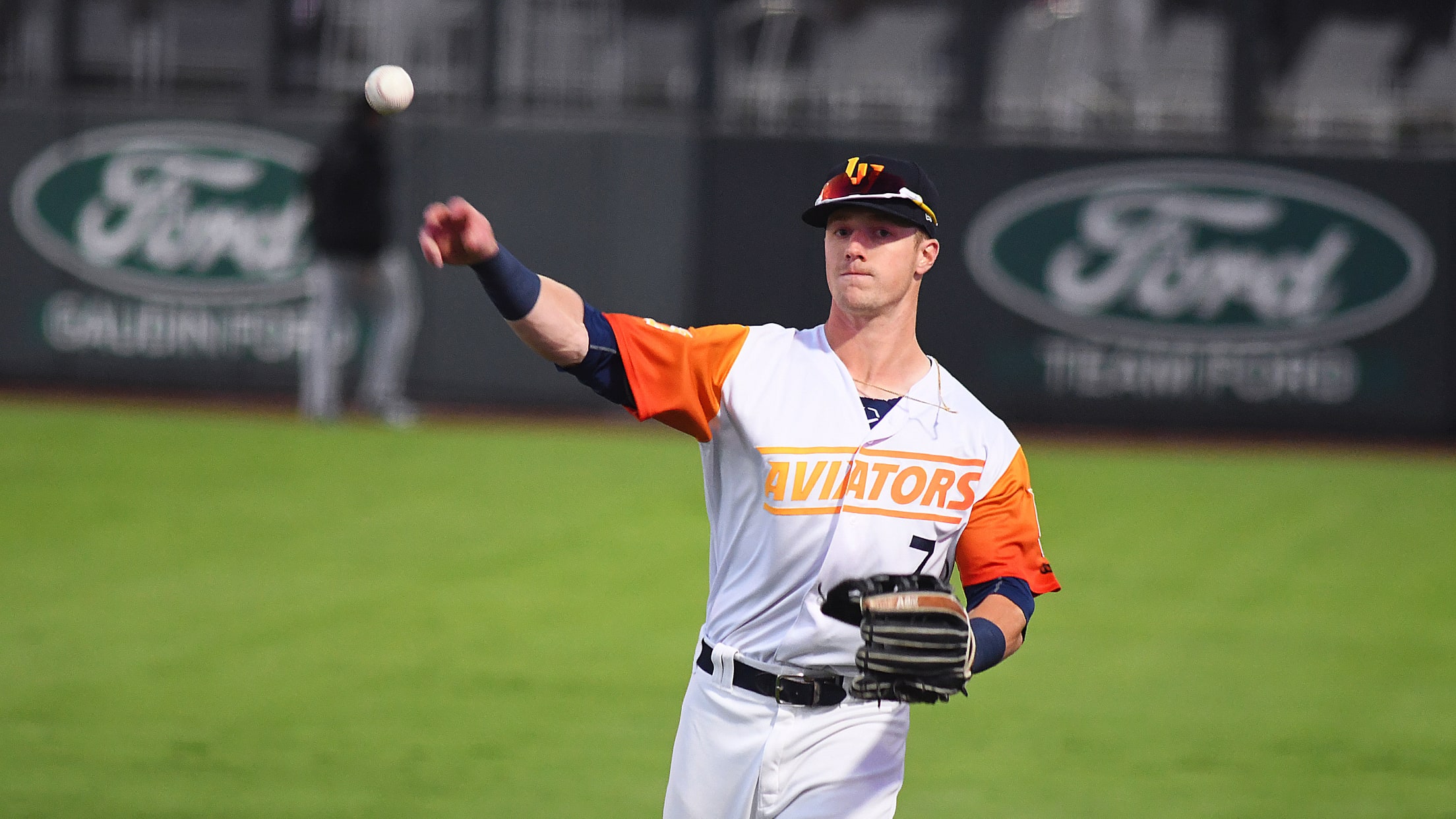 Outfielder Greg Deichmann led the way offensively for the Aviators during their six-game series in Sacramento, collecting two doubles, a triple, two home runs and seven RBI. (Steve Spatafore | Las Vegas Aviators)
To say the Aviators' most recent homestand ended with a whimper is an understatement akin to "Mike Trout is pretty good at baseball." Las Vegas didn't just drop the final four games of a six-game set against the Salt Lake Bees, it got ambushed by the combined score of 36-10,
To say the Aviators' most recent homestand ended with a whimper is an understatement akin to "Mike Trout is pretty good at baseball." Las Vegas didn't just drop the final four games of a six-game set against the Salt Lake Bees, it got ambushed by the combined score of 36-10, capped by a 12-0 whitewash in the series finale.
Needless to say, manager Fran Riordan's troops were in a foul mood when they arrived in Sacramento on Thursday for a six-game series against the River Cats. Rather than dwell on their poor play against the Bees, though, the Aviators regrouped and took out their frustrations on the River Cats, winning four of the first five games at Sutter Health Park.
Although Sacramento rallied for a 5-4 walk-off victory in Tuesday's series finale, it was still a successful series for the Aviators (12-12), who climbed back to .500 and to within four games of first-place Reno (16-8) in the Triple-A West standings.
With the exception of Saturday's 4-2 victory over the River Cats — when starting pitcher Daulton Jefferies and four relievers came within three outs of recording the team's first shutout of 2021 — the offense carried the load for the Aviators. They finished the series with 41 runs and 46 hits, 22 of which went for extra bases.
Outfielder Greg Deichmann accounted for five of those extra-base hits himself: two doubles, a triple and two home runs, to go with four runs and a team-high seven RBI. First baseman Frank Schwindel also belted two homers, as Las Vegas went deep eight times in the six games.
On the mound, Las Vegas received stellar performances from right-handed starters Jefferies (4 1/3 scoreless innings, one run, no walks, three strikeouts) and Parker Dunshee (6 innings, one run, five hits, four walks, four strikeouts). Fellow right-hander Paul Blackburn was also solid in two starts, allowing a combined six runs (five earned) on 16 hits and two walks while striking out eight in 10 2/3 innings.
The pitching staff — which sports the third-worst ERA (6.48) in the 10-team Triple-A West and has allowed a league-high 48 home runs — figures to catch a break during the Aviators' six-game series in Albuquerque that kicks off Thursday. That's because the Isotopes have the league's most anemic offense, ranking dead last in batting average (.209), runs (87), hits (163) and OPS (.665). To put those numbers in perspective, every other team but El Paso has at least 200 hits, 140 runs, a .248 batting average and a .775 OPS (El Paso has scored 108 runs on 177 hits and is batting .231 with a .724 OPS).
Unfortunately for Albuquerque, the pitching hasn't delivered this season, either, as its 6.64 ERA also ranks at the bottom of Triple-A West. Not surprisingly, the league-worst offense and league-worst ERA has equated to a league-worst 7-17 record, including four consecutive losses heading into the series against Las Vegas.
As if being 10 games under .500 (and 10½ games back of first-place Sugar Land in the East Division standings) wasn't bad enough, there's also this: Albuquerque has a minus-70 run differential. The next worst? El Paso at minus-25.
TRANSACTION ACTION: The Aviators' clubhouse was a bit of a revolving door in Sacramento, with a lot of comings and goings. The most significant: The Oakland A's (Las Vegas' parent club) called up outfielder Skye Bolt to take the roster spot of outfielder Ramon Laureano, who was placed on the injured list Tuesday with a right hip strain.
Bolt, who spent the majority of the 2019 season with Las Vegas, was off to a stellar start to the 2021 season, batting a team-best .375 (24-for-64) with five doubles, a triple, three homers and 11 RBI. Bolt departed Las Vegas with the league's third-best batting average, a six-game hitting streak and a team-high .488 on-base percentage.
Making Bolt's journey back to Oakland all the more remarkable is the fact he was released by the A's after spring training. The San Francisco Giants claimed Bolt on waivers, but right before the start of the Triple-A season in early May, they traded him back to the A's, who then optioned Bolt to Las Vegas.
In other transaction news:
• Left-handed starting pitcher Jésus Luzardo (fractured pitching hand) made one rehabilitation start for the Aviators, tossing 1 2/3 scoreless innings in Thursday's series opener in Sacramento. He returned to Oakland and was activated Sunday.
• Right-handed relief pitcher Jordan Weems was recalled by the A's on Friday, then sent back to Las Vegas on Sunday.
• Left-handed relief pitcher A.J. Puk, who had been pitching for the Aviators on a rehab assignment, was activated and immediately optioned to Las Vegas.
• Outfielder Luis Barrera, who earned his first big-league promotion when the A's called him up May 18, was optioned to Las Vegas on Thursday. During his nine-day stint in Oakland, Barrera appeared in four games and went 1-for-5.
• Catcher Marcos Betancourt was promoted from the Arizona League (rookie ball) to take the place of catcher Carlos Perez, who was placed on the temporary inactive list while he tries out for Venezuela's Olympic team.
ON DECK: Jefferies, who is one of Oakland's top pitching prospects, is slated to make his third start for Las Vegas in Thursday's series opener in Albuquerque. Jefferies, who has yet to allow a run or walk a batter in 8 1/3 innings, is expected to oppose Isotopes southpaw Ryan Rolison (1-0, 8.10 ERA).
Brian Howard (0-2, 6.35) is scheduled to start Friday for the Aviators, followed by Matt Milburn (1-2, 10.45) on Saturday and Grant Holmes (0-1, 11.07) on Sunday.
First pitch is 5:35 p.m. on Thursday, Friday, Saturday and Monday; 5:05 p.m. on Sunday; and 11:05 a.m. on Tuesday.
Catch every Aviators game throughout the season on Raider Nation Radio 920-AM, and follow us on Twitter, Instagram and Facebook @AviatorsLV.