Cider & Wine Festival returns Saturday, Oct. 5
Enjoy great ciders, wines, games and more on the field at Coca-Cola Park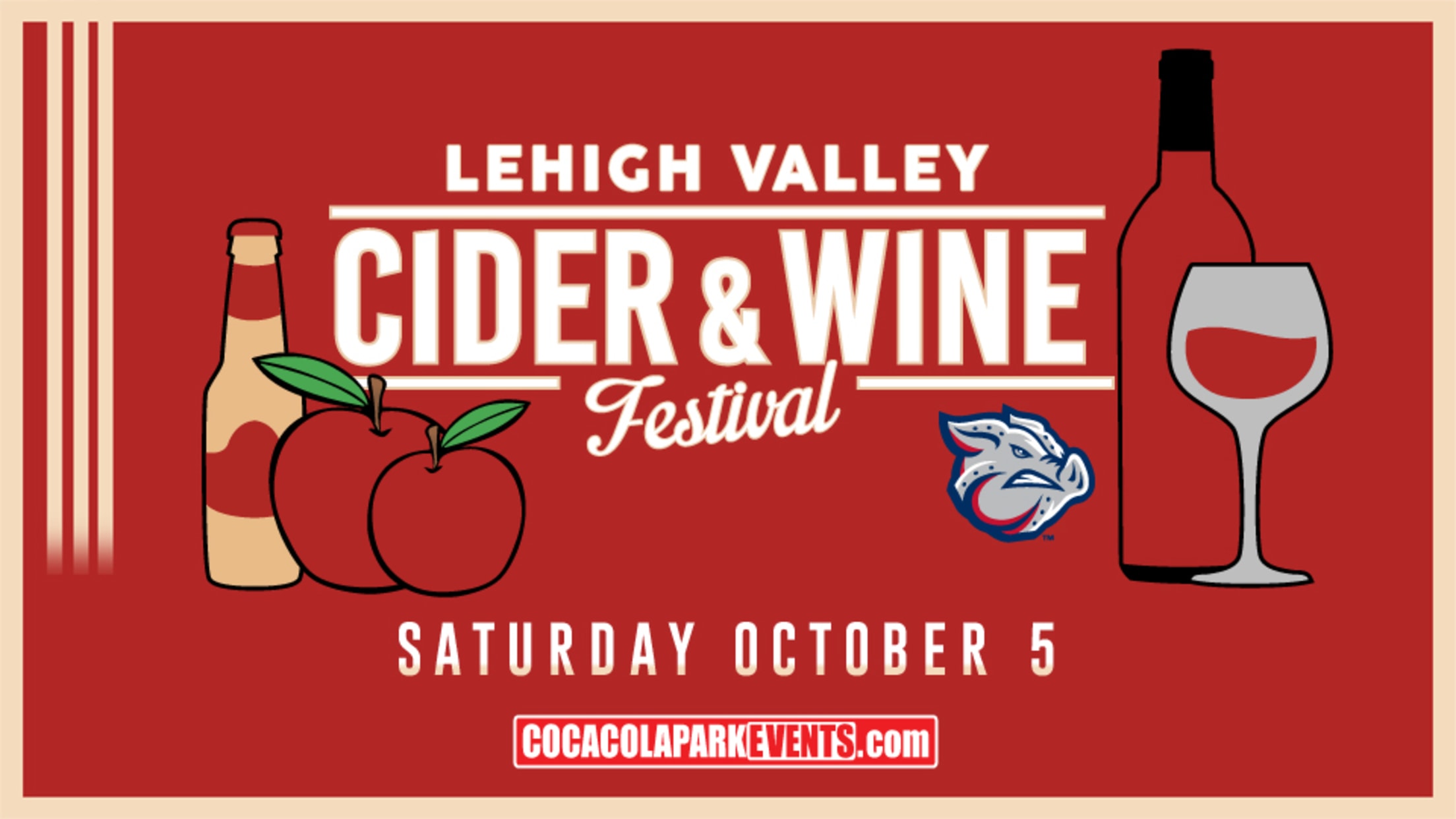 Follow @IronPigsThe 2019 Lehigh Valley Cider and Wine Festival -- an on-field event featuring hard cider and wine tastings from local and regional cideries and wineries -- returns to Coca-Cola Park on Saturday, Oct. 5.CLICK HERE TO PURCHASE CIDER & WINE FESTIVAL TICKETS
Follow @IronPigs
The 2019 Lehigh Valley Cider and Wine Festival -- an on-field event featuring hard cider and wine tastings from local and regional cideries and wineries -- returns to Coca-Cola Park on Saturday, Oct. 5.

The event begins at 2 p.m. and features a four-hour tasting session. Last year, a combined total of more than 30 cideries, wineries and food trucks attended, and another exciting lineup is expected in 2019!
Tickets for the event start at just $35 per person. VIP tickets are available for $45 include an extra hour of access (1-6 p.m.).
Tickets are also available for designated drivers. For just $5, DDs may enter the event with the VIPs and enjoy a five-hour session of complimentary soda and access to various food vendors, games and more.
Interested parties are encouraged to purchase their tickets in advance as sessions have sold out each year of the event's existence. Should tickets remain the day of the event, they will be available at the ticket window for $40 per person ($50 for VIP).
In addition to unlimited cider and wine tastings, the event includes live music, games (including the Great Apple Launch) and the chance to purchase cider and wine by the bottle or case.
Wineries including Renegade, Bouchette, Blue Mountain, Franklin Hill, Moon Dancer, Firehouse, Sleepy Cat, Capra Collina Vineyard and Wine-O-Clock Somewhere.

Guests will also have the chance to sample offerings from The Colony Meadery and Kilimanjaro Distillery.
Stay tuned to CocaColaParkEvents.com and the IronPigs' social media channels for updated lists of 2019 attendees.
Parking for the Cider and Wine Festival is free to all attendees. Please note, however, that you must be 21-or-older to attend -- no exceptions.
The 2019 IronPigs season is the team's 12th as the top affiliate for the Philadelphia Phillies and 12th at Coca-Cola Park. Follow the IronPigs on Twitter at @IronPigs and like them on Facebook via Facebook.com/LHVIronPigs.
The 2019 IronPigs season is presented by Capital BlueCross.