IronPigs to host 'The Links at Coca-Cola Park'
Tee times are now available for June 19, 20, 26 and 27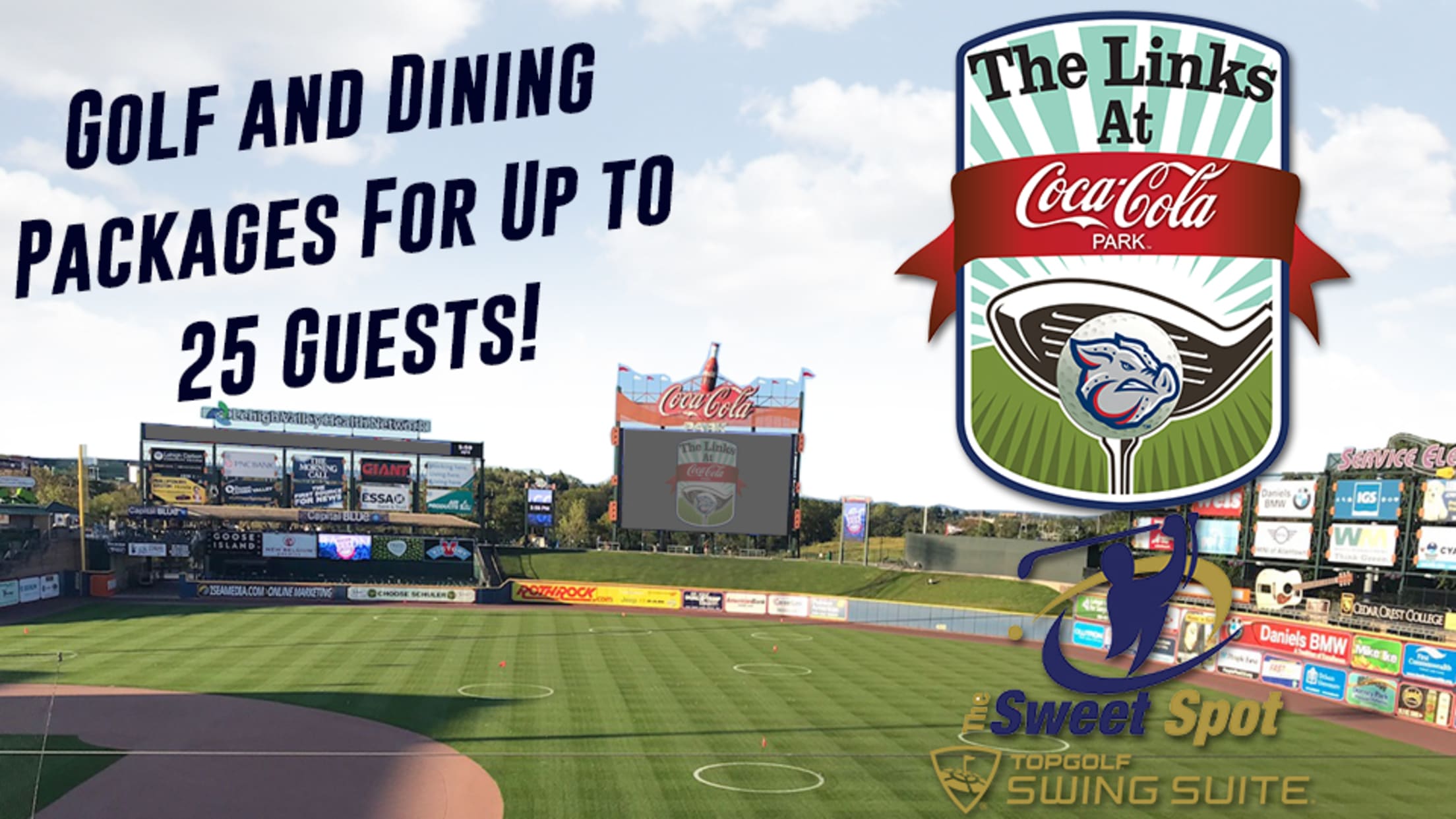 The Lehigh Valley IronPigs are turning in their gloves and baseballs for wedges and golf balls as they prepare to host "The Links at Coca-Cola Park" golf event on Friday, June 19, Saturday, June 20, Friday, June 26 and Saturday, June 27. "We are excited to bring another creative and
The Lehigh Valley IronPigs are turning in their gloves and baseballs for wedges and golf balls as they prepare to host "The Links at Coca-Cola Park" golf event on Friday, June 19, Saturday, June 20, Friday, June 26 and Saturday, June 27.
"We are excited to bring another creative and fun event to Coca-Cola Park," said IronPigs President and General Manager Kurt Landes. "It continues to be our mission to find new and inventive ways to entertain our fans in a safe and socially distant environment. Over these four days, small groups can come out and enjoy golf inside the Lehigh Valley's most popular and distinctive venue."
Groups such as bachelor/bachelorette parties, graduation parties and corporate group outings are encouraged to attend this event. Golfers of all ability levels will have the opportunity to tee up from the scoreboard area near the Capital BlueCross Lawn in centerfield and hit towards targets placed all across the playing field at Coca-Cola Park.
Groups of up to 25 people can register to play "The Links at Coca-Cola Park." The price per group is $1,250. Time slots will be available between 12-6 p.m. daily. Mizuno Golf will be providing golf clubs and golf balls for players to utilize during the event. Players will also have the option of bringing their own clubs. Groups can click on the dates listed to register to play: June 19, June 20, June 26 and June 27.
Each group will enjoy access to Coca-Cola Park for two hours. The two-hour event features dining and an unlimited ball-drop driving range. Upon entry, each group will enjoy a meal from the Capital BlueCross Tiki Terrace and then be provided access to Coca-Cola Park's tee boxes during the second hour of the event while still having the opportunity to continue access to food and drink. An alcohol drink package is available for an additional charge.
The menu for "The Links at Coca-Cola Park" will be as follows: pulled pork sandwiches, hot dogs, mac & cheese (with or without bacon), corn on the cob, coleslaw, cookies, brownies, popcorn, and non-alcoholic beverages.
Groups can purchase online or call the IronPigs at 610.841.7447 x2 to reserve a spot or to ask any questions.
The entire event will be facilitated using all up-to-date guidance from the State of PA and the Allentown Health Bureau. Maskswill be required at all times, except when eating. All areas will be cleaned and sanitized thoroughly between groups, restrooms will be monitored and cleaned continuously and the golf clubs at the ballpark will be thoroughly sanitized before and after each group's use. Hand sanitizer stations will also be located throughout the ballpark.
_The 2020 IronPigs season is the team's 13th at Coca-Cola Park. Follow the IronPigs on Twitter and like them on Facebook. _
The 2020 IronPigs season is presented by Capital BlueCross.