Lexington's MJ Melendez Named South Atlantic League Player of the Week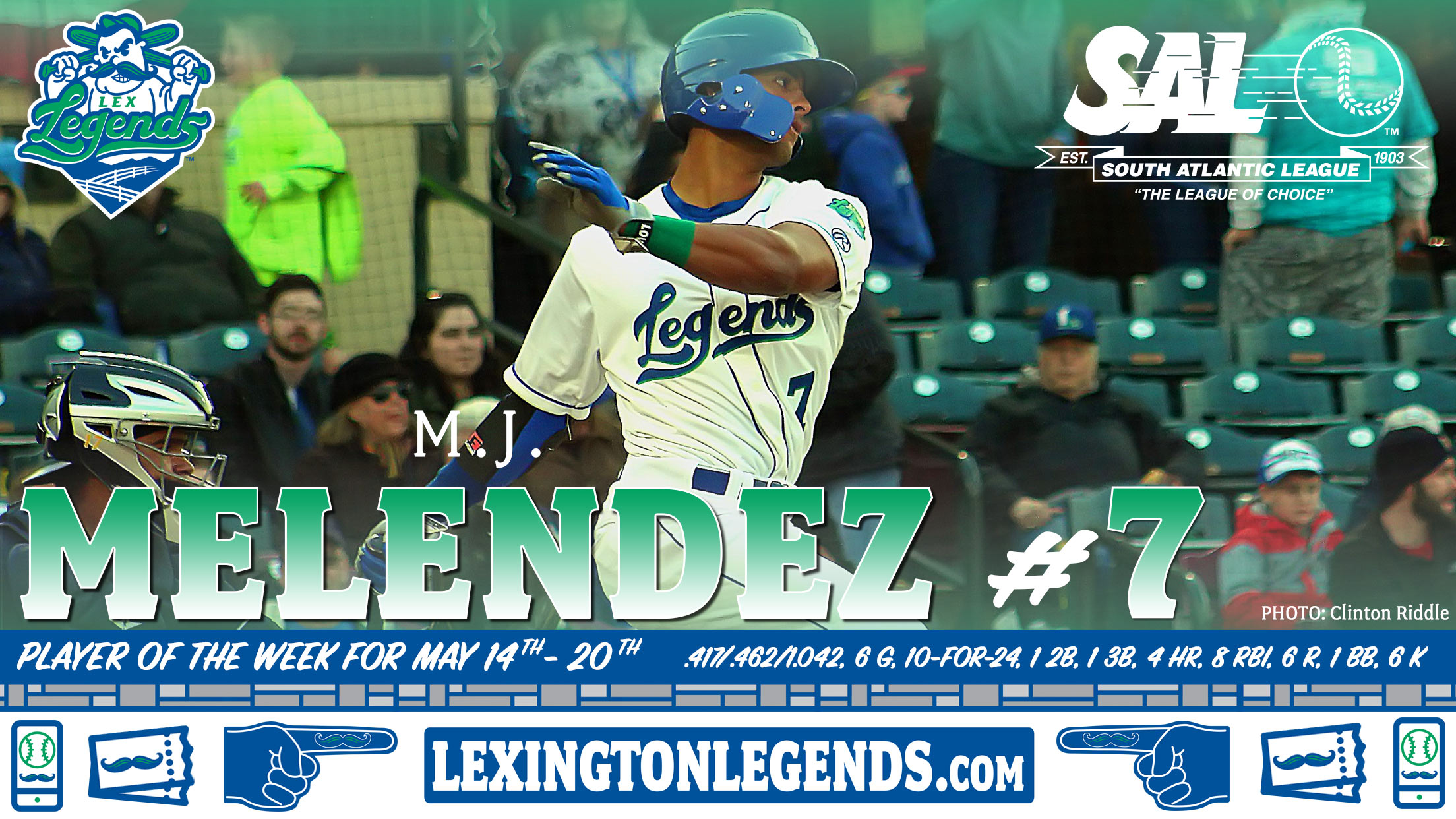 WHITAKER BANK BALLPARK (Lexington, KY) - The Lexington Legends are pleased to announce that catcher MJ Melendez has been named South Atlantic League Player of the week. During the week of May 14-20, Melendez went 10-for-24 at the plate, batting .417/.462/1.042 with a double, triple, 4 home runs, eight RBI
WHITAKER BANK BALLPARK (Lexington, KY) - The Lexington Legends are pleased to announce that catcher MJ Melendez has been named South Atlantic League Player of the week. During the week of May 14-20, Melendez went 10-for-24 at the plate, batting .417/.462/1.042 with a double, triple, 4 home runs, eight RBI and scored six runs.
"We are always excited to have one of our players receive such an honor as SAL Player of the Week. MJ Melendez has been superb at the plate and has worked hard to earn this award. Not only is he very talented, but he is also a young man with great character that we are proud to have representing Lexington," said Legends President/CEO Andy Shea.
Melendez started the week blasting home runs in back-to-back games on May 14 and 15 facing Greenville in Lexington. On May 15, he went three-for-four with one home run, two runs scored and two RBI.
On May 16 facing the Greenville Drive, Melendez hit a leadoff bomb to the opposite field leading off the bottom of the second inning. He recorded two more hits in that ballgame, both to right field.
On May 18, Melendez had another strong outing. He went three-for-five with two home runs and a double. He blasted his first homer of the game in the first inning after Travis Jones reached on a leadoff double. He brought in Jones again in the third with an RBI double, then followed that up with another two-run dinger in the fifth, again with Jones on base.
The Legends continue their four-game series facing the Rome Braves tonight, May 22 at Whitaker Bank Ballpark at 7:05 p.m. after last night's 18-2 victory over the Braves.
The Legends, a Class A affiliate of the Kansas City Royals and member of the South Atlantic League, play all home games at Whitaker Bank Ballpark in Lexington, Kentucky. For ticket information, call (859) 422-7867 or visit LexingtonLegends.com.