Holland Living in the Fast Lane
Loons speedster key to Loons success on the basepaths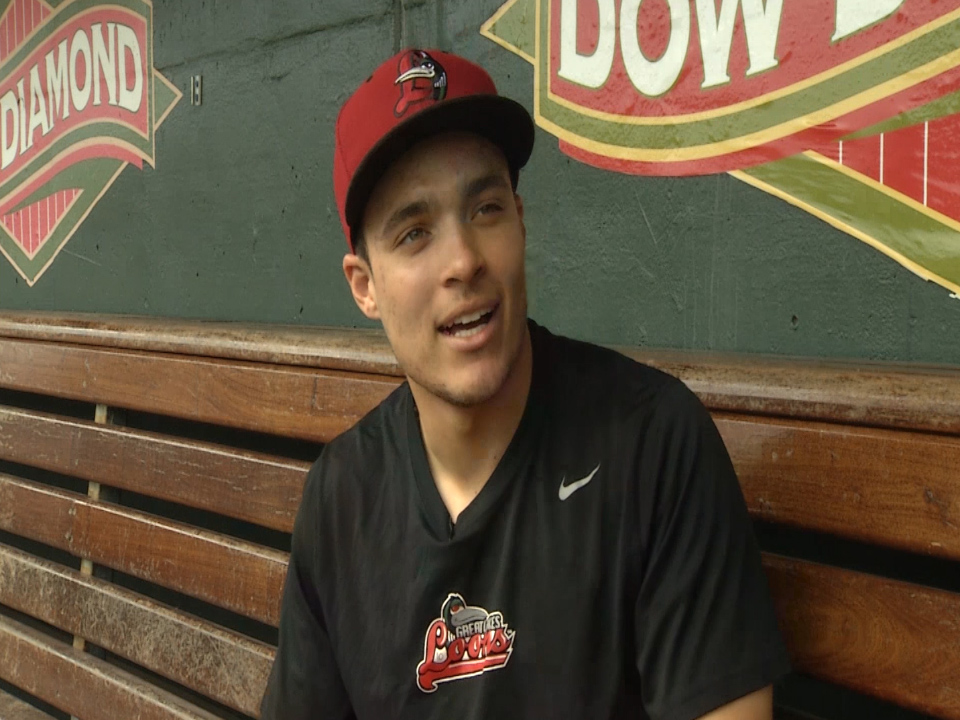 By Bruce Gunther / Great Lakes Loons | May 21, 2014 10:08 AM ET
MIDLAND, Mich. - Getting on base has been a license to steal for the Loons Malcolm Holland.
Holland has been the ringleader of a Loons offense that leads the Midwest League in stolen bases by a vast margin. He's also provided the kind of baserunning that his coaches say is uncommonly good.

"Malcolm is an advanced baserunner for this level," said Loons manager Bill Haselman. "He just has a very good understanding of it."


Holland leads the Loons with 22 steals - in 26 attempts - while the Loons 82 steals are 17 more than the next highest total in the MWL. But it's nothing new for Holland, who swiped 44 bags in 60 games with Ogden in 2012, and 27 in 84 games with the Loons last year.

"I was confident coming into pro ball that I could steal bases," said Holland, "and I've had a lot help. But even when I was a kid, my dad would be yelling out to me to steal a base."

It certainly doesn't hurt that Holland has great speed. He ran a 4.45 40-yard dash as a senior at Hamilton High School in Chandler, Ariz., and made a verbal commitment to play football at Boise State. Moreover, his father, Andre Holland, played football at the University of Oregon.

But Holland felt that baseball offered more "options" and he signed with the Los Angeles Dodgers after being drafted in the 33rd round of the 2011 MLB June Amateur draft.

With 97 steals in 199 professional games, Holland has made his mark in professional baseball despite a .214 career batting average. He's batting .200 for the Loons, but that's offset with a .356 on-base percentage which includes a team-high 31 walks.

"For me, it's about getting on base in any way possible," he said. "I'm still working on my hitting, but I've only been hitting lefty for about three years now. It's like anything you do that isn't natural - it's just going to take time."

Holland is a natural right-handed hitter who became a switch-hitter upon turning pro. But his approach at the plate - one that is based on seeing a lot of pitches and drawing walks - has stayed the same. It's the approach of a leadoff hitter, which Holland most often is.

"I'll probably never swing at the first pitch and I'm probably never going to swing until I have a strike on me," Holland said. "I think if you look at the majority of my strikeouts, they've come on 3-2 counts."


When Holland does get on base, it often means the start of a cat-and-mouse game with the opposing team's pitcher and catcher. On his side is Loons first base/hitting coach Johnny Washington, who closely monitors the pitcher's tendencies with a runner on base.

"It's great having J. Wash here," Holland said. "He's helped us all so much on the bases. He's gives us (the pitcher's) keys and times to the plate so that you really have a feel for when you can go.

"If the pitcher is 1.3 (seconds) to the plate, then I feel like I have a really good chance of getting to second. Anything under that is a little tougher."
Washington said his job with Holland on base is made easier by Holland's sharp instincts as a baserunner.

"He's just very smart out there," Washington said. "He's always looking for a good jump, he reads his keys well and he has great instincts. I'm just reminding him what he should be looking for.

"The one thing I don't want him to do is to just steal bases when he hasn't been getting on as much. The tendency then is to just try and steal whenever you do get on base."

Holland's 20 steals in April were a team record for a single month. The season record is 73, set by Dee Gordon in 2009. Holland is a friend of Gordon's, who's now the starting second baseman for the Los Angeles Dodgers and leading the National League in steals.

"I met him in the seventh or eighth grade and he's been one of my favorite players ever since," said Holland. "I got to hang out with him in spring training, and he's such a nice, genuine guy. You just appreciate the way he treats everyone."

But if Holland has his way, he'll leave Gordon's single-season Loons steals record in the dust.

"I went in to this season with the goal of stealing 100," he said. "I know it sounds like a lot, but I really think I can get there. But whatever I do, it's for the team. I'm a team guy first.

"I steal bases because I know it can help us score more runs."
This story was not subject to the approval of the National Association of Professional Baseball Leagues or its clubs.
View More