Lowell Spinners Bobblehead History
From the first bobble head night on June 29, 2001, it was clear that the Lowell Spinners and Bobble Head Dolls were a match made in baseball heaven. Since Baseball Hall of Famer and Red Sox legend Carlton Fisk was honored that night, the Spinners have done numerous additional bobble head giveaway nights, including a record 10 in 2006 to celebrate the franchise's first 10 years of baseball. From Cooperstown, N.Y., where the Spinners' Jack Kerouac Bobble Head resides in the home of the Baseball Hall of Fame, to households throughout the Merrimack Valley and those of collectors around the world, bobble heads have become a major part of Lowell Spinners history. Below is a year-by-year guide to ensuring your bobble head collection is complete.
Bobblehead Facts
The David Murphy Bobble Head was a sponsor gift and not a give away. During the 2008 season, extra bobble heads were available for purchase in the Lowell Spinners Souvenir Store.
There are two variations of Jonathan Papelbon bobble heads. The bobble featuring Jonathan in a Spinners jersey was the giveaway item in 2006. The bobble featuring Jonathan in a Red Sox jersey was used as a sponsor gift following the 2007 season, as well as a giveaway item prior to the Red Sox Opening Morning Party at Hookslide Kelly's in April of 2008. Other dolls were sold as part of the "Spinners on Ice" promotion with the UMass Lowell Riverhawks in early 2008.
The Clay Buchholz Bobble Head was originally scheduled to be given away prior to the Spinners July 24, 2008 game. This game was completely rained out prior to gates opening. The bobble head was then given out on August 7, 2008.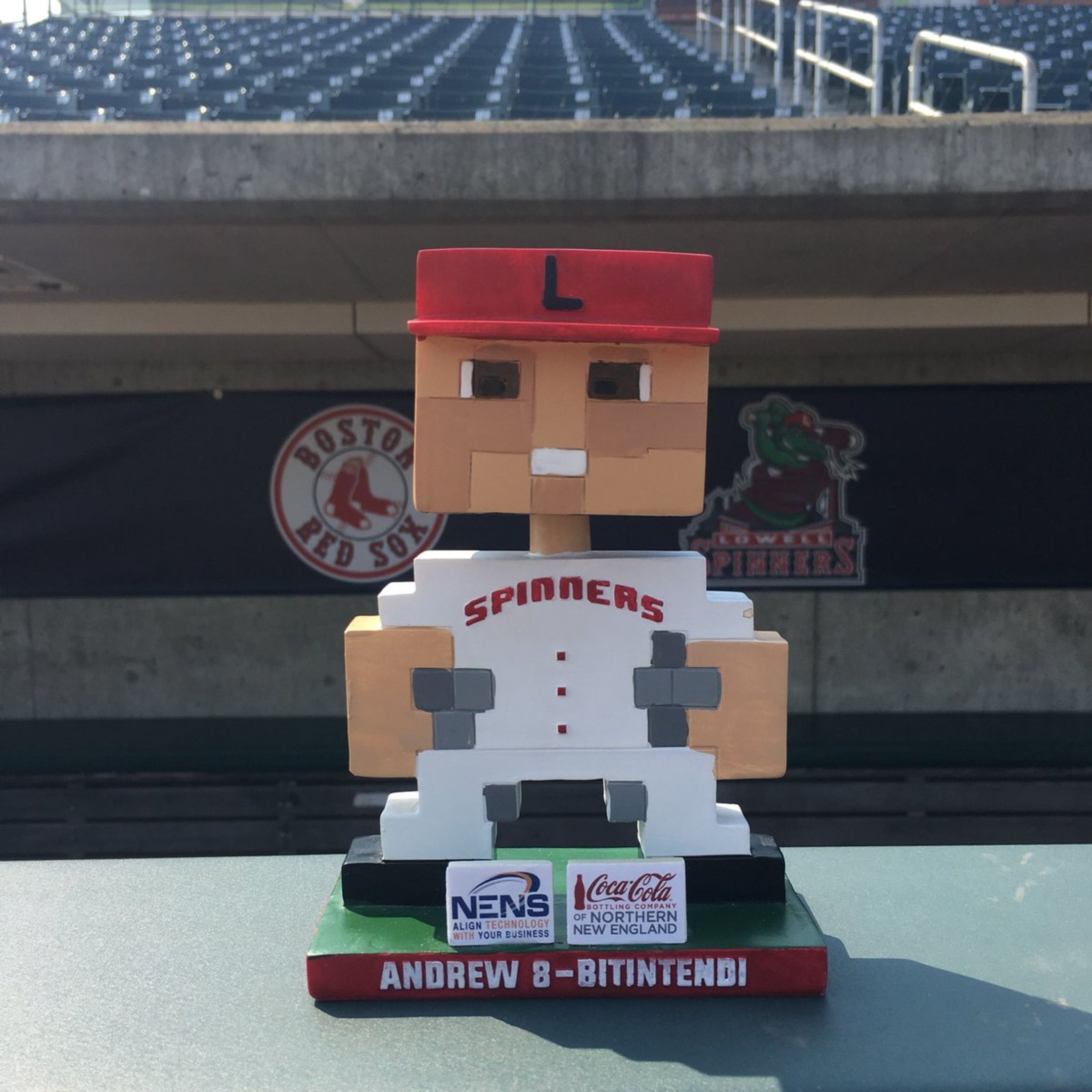 The Pete Frates isn't a bobble head, rather a bobble Ice Bucket. 1,000 were given away at the gates July 26, 2015 and another 1,000 were available for purchase to raise funds and awareness for ALS and the Pete Frates #3 Fund.
Similarly the Extreme Blue the Frisbee Dog Bobble Head, originally scheduled for August 29, 2009, but rained out and moved to the Spinners first playoff game in 2009, September 8, 2009.
Loren and Wally bobble heads were given out on the same night, however fans received only one of the pair, at random. The only way to complete the set was through trading with other fans.
Toucher and Rich bobble heads were also given out on the same night, fans having the option to choose just Fred or Rich, but not both. Just 500 of each doll was made.
The Orchestra Conductor Bobble Head was originally intended to be Boston Pops Conductor Keith Lockhart but was changed prior to the start of the season.
The Ted Williams Bobble Head was scheduled to be given away on July 1, 2008, but was delayed by United States Customs. In its place fans received coupons that could be exchanged for the doll upon its arrival.
Much the same way, the Milan Lucic Bobble Head, scheduled to be given away August 1, 2013, was held up in customs. The dolls did not arrive until September 2013, though Celebrities for Charities did have 1,000 of their own dolls made up which were sold at the Lucic Rock and Jock Classic, September 5.
The Al Kaprielian Bobble Head was scheduled to be given away July 8, 2010, but was delayed due to customs. The order then arrived damaged, allowing fans to exchange their vouchers beginning in August.
The Rick and Dick Hoyt Bobble Head is the first ever double bobble in Spinners history.
Kevin Youkilis has been honored twice, while Jacoby Ellsbury an Dustin Pedroia have been honored three times each.
Dracut High School's State Champion Football Team was honored with the first ever mini-bobble head.
The Ed LeLacheur Bobble Head was originally billed "Mystery Bobble Head," where even Ed didn't know he was being honored.
History of Bobbleheads
| Bobblehead | Date of Giveaway |
| --- | --- |
| Carlton Fisk | June 29, 2001 |
| Luis Tiant | June 24, 2002 |
| Canaligator | August 18, 2002 |
| Shea Hillenbrand | July 1, 2003 |
| David Eckstein | July 22, 2003 |
| Dog Man | June 24, 2003 |
| Jack Kerouac | August 21, 2003 |
| Jay Leno (Harley Davidson) | August 26, 2003 |
| David Murphy | 2003 Sponsor Gift |
| Corey Jenkins (NFL/ Spinners) | June 24, 2002 |
| Mike O' Malley | June 28, 2004 |
| Jimmy Buffett Parrot Head | July 24, 2004 |
| Peter Gammons | August 2, 2004 |
| Stephen King | August 13, 2004 |
| Tank McNamara | June 29, 2005 |
| Kevin Youkilis | August 1, 2005 |
| Paul Revere | August 13, 2005 |
| Emeril Lagasse | August 29, 2005 |
| Wilton Veras | June 22, 2006 |
| Bret Saberhagen | June 26, 2006 |
| Adam Everett | July 13, 2006 |
| Ramon Martinez | July 19, 2006 |
| Freddy Sanchez | July 26, 2006 |
| Rich Garces | August 1, 2006 |
| Hanley Ramirez | August 3, 2006 |
| Jonathan Papelbon | August 17, 2006 |
| Luis Alicea | August 21, 2006 |
| Keith Foulke | August 31, 2006 |
| James Whistler | June 21, 2007 |
| Orchestra Conductor | July 3, 2007 |
| Anibal Sanchez | July 16, 2007 |
| Loren | July 22, 2007 |
| Wally | July 22, 2007 |
| Mike Lowell | July 30, 2007 |
| Johnny Pesky (Pesky Pole) | August 23, 2007 |
| Jonathan Paplebon (Red Sox Uniform) | 2007 Sponsor Gift |
| Jacoby Ellsbury | June 19, 2008 |
| Ted Williams (Aviator in Jet) | July 1, 2008 |
| Dustin Pedroia | July 6, 2008 |
| Wade Boggs (Elmira) | July 18, 2008 |
| Clay Buchholz | July 24, 2008 |
| Joshua Papelbon | July 30, 2008 |
| Tom Glavine (Billerica High, 300 Wins) | August 11, 2008 |
| Jed Lowrie | July 2, 2009 |
| Mystery (Ed LeLacheur) | July 3, 2009 |
| Dustin Pedroia MVP | July 15, 2009 |
| Rick and Dick Hoyt | July 16, 2009 |
| Kevin Youkilis (Team USA) | July 17, 2009 |
| Justin Masteron | July 23, 2009 |
| Dracut High School Football (Mini Bobble) | July 29, 2009 |
| Micky Ward | August 27, 2009 |
| Gary DiSarcina | August 31, 2009 |
| Extreme Blue the Frisbee Dog | September 8, 2009 |
| Chris Smith | 2009 Thread Sox Nation |
| Johnny Pesky (Navy Uniform) | July 1, 2010 |
| Al Kaprielian | July 8, 2010 |
| Jacoby Ellsbury (Red Sox Stolen Base Record) | July 13, 2010 |
| Allie Gator | July 25, 2010 |
| Heidi Watney | August 1, 2010 |
| "Utility" Lou Merloni | August 11, 2010 |
| Sen. John Kerry | August 23, 2010 |
| Sen. Scott Brown | August 30, 2010 |
| Mike Eruzione (Team USA: 1980 Miracle) | August 31, 2010 |
| Aaron Bates | 2010 Thread Sox Nation |
| Carly Yastrzemski (limited to 500) | June 18, 2011 |
| Rich Gedman | June 27, 2011 |
| Bobby Doerr (Army Uniform) | July 1, 2011 |
| Terry Francona | July 20, 2011 |
| Ryan Kalish | July 25, 2011 |
| Freddy Sanchez | August 2, 2011 |
| Sgt. Mickey O'Keefe | August 18, 2011 |
| Sen. Scott Brown (in pick-up truck) | August 22, 2011 |
| Dustin Pedroia | August 26, 2011 |
| Bristles | 2011 Thread Sox Nation |
| Sen. Scott Brown (in pick-up truck, Bronze) | 2011 Thread Sox Nation |
| Dick Beradino (Season Ticket Holder Exclusive) | June 19, 2012 |
| Jacoby Ellsbury Gold Glove/ Silver Slugger | June 22, 2012 |
| Dom DiMaggio (Navy Uniform) | July 1, 2012 |
| Peter King | July 12, 2012 |
| Stephen King | July 13, 2012 |
| Human Home Run | July 27, 2012 |
| Jack Kerouac (Bobblehead/ Bobble thumb) | August 7, 2012 |
| Super Dustin Pedroia | August 9, 2012 |
| Will Middlebrooks | August 28, 2012 |
| Jacoby Ellsbury Gold Glove/ Silver Slugger (Blue) | 2012 Thread Sox Nation |
| Super Canaligator | June 20, 2013 |
| Band of Brothers | July 2, 2013 |
| Jack Kerouac (Lowell High School Football) | July 25, 2013 |
| Milan Lucic Rock & Jock Softball | August 1, 2013 |
| Zdeno Chara (Lowell Lock Monsters) | August 15, 2013 |
| Fred Toucher | August 17, 2013 |
| Rich Shertenlieb | August 17, 2013 |
| Jenny Dell | August 26, 2013 |
| Super Canaligator (Bronze) | 2013 Thread Sox Nation |
| Tooth Brush Holder | June 22, 2014 |
| Pedro Martinez | June 26, 2014 |
| Canaligator Military Style | June 10, 2014 |
| Dave Roberts the Steal | August 7, 2014 |
| Johnny Boychuk (Lowell Lock Monsters) | August 21, 2014 |
| Pedro Martinez (Blue Jersey) | 2014 Thread Sox Nation |
| Dogman (Faux Hair Mustache) | July 15, 2015 |
| Mookie Betts (Fan Choice) | July 21, 2015 |
| Keith Aucoin (Lowell Lock Monsters) | July 23, 2015 |
| Peter Frates Bobble Ice Bucket | July 26, 2015 |
| Balking Dead (Zombie) | August 23, 2015 |
| Bryce Brentz | 2015 Thread Sox Nation |
| George Washington | July 10, 2016 |
| Spinners Jedi | August 20, 2016 |
| Andrew "King of Pop" Benintendi | July 20, 2017 |
| Jackie Bradley Jr. Ski Jump | July 29, 2017 |
| "Slick Rick" Porcello | August 10, 2017 |
| Mookie Betts Does the Carlton | September 3, 2017 |
| Paw Patrol "Chase" | July 9, 2017 |
| Steve Horgan "Home Run Cop" | June 29, 2018 |
| Army Man | July 19, 2018 |
| Flow Bros | July 29, 2018 |
| Astronaut Rick Linnehan | August 18, 2018 |
| Andrew "8-Bit-intendi" | August 25, 2018 |
| Jackie Bradley Jr. MVP | July 14, 2019 |
| Jared Carrabis | August 3, 2019 |
| Andrew Benintendi Catch Super Hero | August 4, 2019 |
| Joe Kelly Harry Potter | August 11, 2019 |
| Mookie Betts MVP | August 25, 2019 |
| Canal'IT'gator | August 30, 2019 |