Spinners Late Rally Not Enough vs. ValleyCats Friday Night
Lowell's Rally Falls Short In Regular Season Home Finale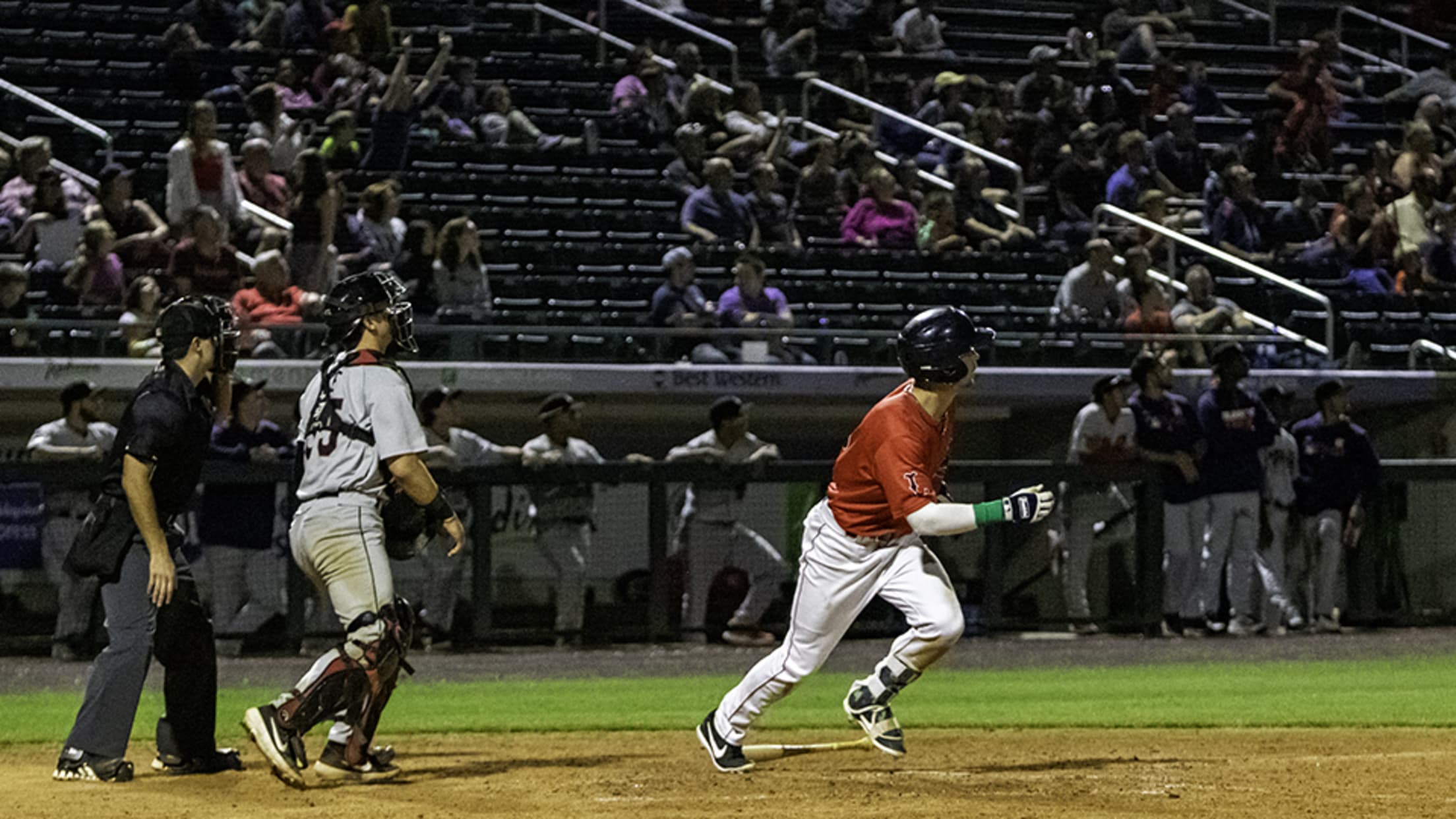 Wil Dalton (18, right) watches his late RBI double hit off the left field wall in 5-3 loss to the Tri-City ValleyCats in the home regular season finale at LeLacheur Park on August 30, 2019 (Jamie Arthur, Lowell Spinners Staff)
LOWELL, MA - Going into the bottom of the ninth inning, the Lowell Spinners, proud affiliate of the 2018 World Champion Boston Red Sox and 2019 Stedler Division Champions, trailed by a score of 5-2.After he fouled a pitch off to stay alive, Wil Dalton lined a double off the
LOWELL, MA - Going into the bottom of the ninth inning, the Lowell Spinners, proud affiliate of the 2018 World Champion Boston Red Sox and 2019 Stedler Division Champions, trailed by a score of 5-2.
After he fouled a pitch off to stay alive, Wil Dalton lined a double off the left field wall - scoring Alex Erro from first base. That's how the lead would stay as they fell by a final of 5-3 to the Tri-City ValleyCats, affiliate of the Houston Astros, on Friday night in the regular season home finale at LeLacheur Park.
Brock Bell got his first start for the Spinners (39-33) since being called up from the Gulf Coast League Red Sox. He was tagged with the loss, however, after going just 1.2 innings allowing two runs (both earned) on three hits. He also struck out one and walked two.
For the first five innings, the ValleyCats (29-42) held Lowell off the scoreboard both in terms of runs and with hits. After Rodani Baldwin to lead off the bottom of the fifth inning, Jaxx Groshans picked up the Spinners first hit with a line drive single to left field.
In the following frame, with Tri-City already up 5-0, Lowell finally got on the scoreboard when Cameron Cannon reached on a fielder's choice to Bryan Arias. Arias, instead, threw the ball past Nathan Perry at first base, scoring Wil Dalton from second base and advancing Cannon to second base.
2019 NYPL All-Star Joe Davis , however, kept the rally going with a double to deep left-center field that one-hopped the wall, cutting the lead to 5-2.
The game on Friday night was lackluster on for both sides defensively, as the teams combined for nine errors between them. Surprisingly, it was the ValleyCats who committed more with six on their ledger to the Spinners three.
Miguel Suero and Dylan Spacke were the ones that shined out of the bullpen as they tossed a combined four shutout innings, allowing just two hits between them. The duo also racked up six strikeouts and walked just one.
Tickets for the 2019 New York-Penn League playoffs are now on sale!
Playoff tickets options include a $20 All-You-Can-Eat ticket package. Box and Reserved seats will be lowered to $5, and Premium seats to $7. Students with a valid college ID can buy tickets for just $2, and the first 200 students through the gate will receive a swag bag.
The first game at LeLacheur Park will either be on Wednesday, September 4th, or on Thursday, September 5th, depending on seeding.
For more information, please visit: http://www.milb.com/lowell or call (978) 805-5124 for more information.

Follow us on social media to find out the latest on Spinners baseball. We're on Twitter, Instagram, and Facebook!